Upcoming Episodes / Appearances
(All listings subject to change) (Revenge Episodes In Red)

---
News, Rumors and Gossip
(Click Here to submit news, articles & rumors)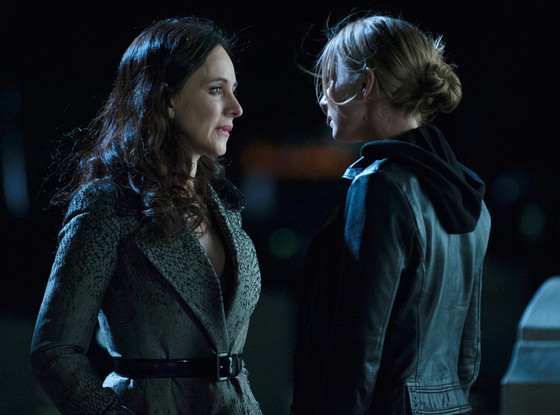 James Tupper thanks Emily Bergl for denying Anne Heche was 'crazy'
(8/15/22) James Tupper showed his appreciation after his "Men in Trees" co-star Emily Bergl hit back at rumors his late ex-girlfriend Anne Heche was "crazy."

The 57-year-old actor, who shares son Atlas, 13, with the "Another World" alum, called Bergl's Friday Instagram post "completely accurate and true."

He wrote, "Oh god thank you for writing this. … love you e."

In her lengthy post, Bergl wrote that Heche, who died on Friday at age 53, was a "genius."

"Anne was … one of the most astoundingly focused and prepared actors I've ever worked with," the "Shameless" alum, 47, told her followers of working with the Daytime Emmy winner from 2006 to 2008. "I don't think I ever saw her miss her mark.

"Her strength seemed super human," Bergl continued, noting that Heche never "phone[d] it in" on set.

"She would work for twelve hours, invite everyone to the bar, drink a couple of doubles and be back at work at four AM."

Heche was "always on time" and "luminous without a lick of makeup," the "Southland" alum added. "Scene after scene, her work would be flawless, and yet always remained spontaneous."

At the time of Bergl's post, Heche was declared brain dead and "not expected to survive" after crashing her blue Mini Cooper into a Los Angeles home and causing a fire one week prior.

The Tony nominee was removed from life support on Sunday, with her rep telling Page Six, "We have lost a bright light, a kind and most joyful soul, a loving mother and a loyal friend."

While Bergl and Tupper have yet to post via social media since Heche's passing, the late "Call Me Crazy" author's eldest son, Homer, 20, told us that he hopes she is "free of pain" now.

"After six days of almost unbelievable emotional swings, I am left with a deep, wordless sadness," Homer said over the weekend. "Hopefully my mom is … beginning to explore what I like to imagine as her eternal freedom."

Heche gave birth to Homer in 2002 while married to Coleman "Coley" Laffoon. After the couple split in 2007, she moved on with Tupper.

The former couple welcomed Atlas in 2009, calling it quits in 2018. Following Heche's car crash, the "Big Little Lies" alum wrote via Instagram that he will "love [her] forever."

As for Laffoon's tribute, the 48-year-old real estate broker told his Instagram followers Friday that Homer is "strong" and "going to be OK."

He gushed, "She came in hot and she had a lot to say and she was brave and fearless, loved really hard and was never afraid to let us know what she thinks and what she believed in."
Samara Weaving, Tony Revolori & Henry Czerny Join 'Scream 6'
(7/14/22) Samara Weaving (The Valet) and Tony Revolori (Spider-Man: No Way Home) are the latest additions to the cast of Scream 6, Deadline can confirm. They join an ensemble that also includes Melissa Barrera, Jasmin Savoy Brown, Mason Gooding and Jenna Ortega, who toplined the fifth film in the franchise, along with Hayden Panettiere, Courteney Cox, Dermot Mulroney, Jack Champion, Liana Liberato, Devyn Nekoda, Josh Segarra and Henry Czerny.

The next installment in the horror franchise from Spyglass Media and Paramount Pictures will pick up with Sam (Barrera), Mindy (Brown), Chad (Gooding) and Tara (Ortega)—four survivors of the most recent batch of Ghostface killings—as they leave Woodsboro behind and start a fresh chapter. Details as to the characters Weaving and Revolori will be playing have not been disclosed.

Radio Silence's Matt Bettinelli-Olpin and Tyler Gillett, who helmed the last Scream film, return as directors. James Vanderbilt and Guy Busick co-wrote the screenplay, with Project X Entertainment's Vanderbilt, Paul Neinstein and William Sherak serving as producers. Scream franchise creator Kevin Williamson and Radio Silence's third member, Chad Villella, are exec producing alongside Spyglass' Gary Barber and Peter Oillataguerre, Ron Lynch, Cathy Konrad and Marianne Maddalena. The film will hit theaters worldwide on March 31, 2023.

Weaving previously worked with Radio Silence on the 2019 horror Ready or Not. The actress can currently be seen in the Hulu film The Valet, having also recently starred in the streamer's series Nine Perfect Strangers. She'll next be seen in Stephen Williams' drama Chevalier with Lucy Boynton and Minnie Driver, and Damien Chazelle's buzzy period Hollywood pic Babylon.

Revolori is best known for his collaboration with Wes Anderson on films like The Grand Budapest, The French Dispatch and the upcoming Asteroid City, and for his role as Flash Thompson in the most recent trilogy of Spider-Man films. He stars in the Apple series Servant and will soon be seen in the Disney+ series Willow.

Bloody Disgusting was first to report the news of today's castings. Weaving is represented by CAA, 111 Media and Johnson Shapiro Slewett & Kole; Revolori by WME and Circle of Confusion.
'Miranda's Victim': Emily VanCamp, Sebastian Quinn, Enrique Murciano & More Round Out Cast Of Courtroom Drama
(6/23/22) Henry Czerny is set to join the growing ensemble cast of the latest Scream installment at Paramount and Spyglass Media. Melissa Barrera, Jasmin Savoy Brown, Mason Gooding and Jenna Ortega are reprising their roles after making their first appearance in the most recent sequel, with Matt Bettinelli-Olpin and Tyler Gillett returning to direct.

Hayden Panettiere is returning to reprise her role from a previous installment along with Dermot Mulroney, Jack Champion, Liana Liberato, Devyn Nekoda and Josh Segarra.

The new outing is due to shoot this summer and follows the bloody success of the fifth installment, released in January, which grossed more than $81 million domestically and $140 million worldwide. Plot details are being kept under wraps outside of it following the four survivors of the Ghostface killings as they leave Woodsboro behind and start a fresh chapter.

The pic will be released on March 31, 2023.

James Vanderbilt and Guy Busick are penning the script. Vanderbilt will also produce along with his Project X Entertainment partners Paul Neinstein and William Sherak. Original Scream scribe Kevin Williamson and the third member of Radio Silence, Chad Villella, are executive producing alongside Spyglass' Gary Barber and Peter Oillataguerre, Ron Lynch, Cathy Konrad and Marianne Maddalena.

The film reunites Czerny with the directing duo who worked with him on their horror comedy Ready Or Not. It was also recently revealed that he would be reprising his role of Kittridge in Mission: Impossible-Dead Reckoning-Part One. He first played the role in the original Mission: Impossible pic.

Czerny is repped by Innovative Artist and manager Perry Zimel.
'Miranda's Victim': Emily VanCamp, Sebastian Quinn, Enrique Murciano & More Round Out Cast Of Courtroom Drama
(6/8/22) Emily VanCamp (The Resident), Sebastian Quinn (Dynasty), Enrique Murciano (Panic), Brent Sexton (Long Slow Exhale) and Josh Bowman (Revenge) will round out the cast of Michelle Danner's courtroom drama, Miranda's Victim. They join a stacked ensemble led by Abigail Breslin, which also includes Luke Wilson, Andy Garcia, Donald Sutherland, Ryan Phillippe, Mireille Enos, Kyle MacLachlan and Taryn Manning, as previously announced.

The film will tell the true story of Trish Weir (Breslin), who in 1963 was kidnapped and brutally raped by Ernesto Miranda (Quinn). Committed to putting her assailant in prison, Trish's life is destroyed by America's legal system as she triggers a law that transforms the nation. Her case notably results in the establishment of the Miranda rights afforded to criminal suspects taken in police custody, to ensure the admissibility of statements made during interrogation, as part of subsequent criminal proceedings.

VanCamp will play Trish's loving and supportive sister Ann Weir, who is her rock through this ordeal. Murciano will portray Detective Cooley, with Sexton as Sergeant Nealis and Bowman as Trish's husband Charles, who was left in the dark about her trauma. The film written by George Kolber and J. Craig Stiles is currently in production in New Jersey, with Danner and Kolber producing alongside Valerie Debler, Brian Drillinger and Alexandra Guarnieri. The production company involved is Navesink River Productions.

VanCamp plays Nicolette Nevin on Fox's medical drama The Resident and has also recently appeared on series including The Falcon and the Winter Soldier and Revenge. Notable film credits include Captain America: The Winter Soldier and Captain America: Civil War, The Ring Two and No Good Deed.

Quinn has appeared in films like La Flamme Rouge, as well as such series as NCIS, Dynasty and The Affair.

Murciano played Detective Marco Diaz on Netflix's popular crime drama Bloodline and has also been seen on such series as Panic, Tell Me Your Secrets, Briarpatch, The Blacklist, Hap and Leonard and Power. Notable film credits include Bright, Rough Night, Dawn of the Planet of the Apes and Black Hawk Down. He'll next be seen in the HBO Max rom-com Father of the Bride and Netflix's series The Night Agent.

Sexton recently appeared on the series Long Slow Exhale from Spectrum Originals and BET and has also recently been seen on shows including American Crime Story, Hacks and The Expanse. He's also been seen in such films as Irresistible, The Belko Experiment, W., In the Valley of Elah, Flightplan and Radio, among others.

Bowman's credits include BBC drama's Our Girl, ABC's Time After Time and Revenge, and the Naomi Watts thriller The Desperate Hour.

VanCamp is represented by UTA, Thruline Entertainment and Johnson Shapiro Slewett & Kole; Quinn by Industry Entertainment; Murciano by Gersh and Entertainment 360; Sexton by Greene & Associates; and Bowman by Gersh, United Agents in the UK and Inspire Entertainment.
Patrick J. Adams & Karine Vanasse Cast In CBC's English-Language Adaptation Of Time-Travel Drama 'Plan B'
(6/1/22) Patrick J. Adams (Suits) and Karine Vanasse (Cardinal) have been cast as the leads in an English-language adaptation of time travel drama Plan B for Canada's CBC.

Adapted from the Radio-Canada French-language drama created by Jean-François Asselin and Jacques Drolet and set in Montreal, Plan B is billed as high-concept, gripping and intimate psychological drama about a man on a desperate and relentless quest to save his relationship – and by extension, his whole world.

Adams plays Philip, who discovers how to go back in time, giving him the chance to save his relationship with love of his life Evelyn (Vanasse), his law firm and his dysfunctional family. But he soon realizes that even the smallest choice has repercussions — as uncontrollable as they are unexpected — on his life and the lives of others.

Quebec-based KOTV, which produces the original series, is attached to the adaption and will be going into production this summer ahead of premieres on CBC and streaming service CBC Gem in winter 2023. Asselin, Drolet and Lynne Kamm are the writers.

Adams is best known for playing college dropout turned lawyer Mike Ross in USA Network's Suits between 2011 and 2019, a role that garnered him a Screen Actors Guild nomination. He recently made his Broadway debut in Richard Greenberg's Tony-nominated revival of Take Me Out and starred as original Mercury 7 astronaut John Glenn in National Geographic's first scripted series for Disney+, The Right Stuff. Other TV roles on Sneaky Pete, Luck and Orphan Black, while his big screen roles include sci-fi feature and 2019 Toronto International Film Festival selection Clara, Todd Phillips comedy Old School and 2009 Berlin Film Festival competitor Rage.

Vanasse is an award-winning actress who starred as Detective Lise Delorme in CTV's drama Cardinal between 2017 and 2020, for which she won a Canadian Screen Award for Best Lead Actress in a Drama Series in 2019 and 2020. She also starred in ABC drama Pan Am and appeared in three seasons of Revenge on the same network, and in the upcoming CBC series Bones of Crows. Her film credits include Denis Villeneuve's Polytechnique, Malek, Lea Pool's Set Me Free and Et au Pire, on se Mariera.

New Slate

News of the new series comes as CBC today unveils its 2022-23 program line-up at an Upfronts event in Canada.

Highlights include Fakes, a scripted comedy from David Turko co-produced with Netflix, following two best friends who accidentally build one of the largest fake ID empires in North America. Before they even graduate high school, Zoe and Rebecca move into a sick penthouse, earn more cash than they know what to do with, and then get raided by the feds. The series reveals the story of their ultimate betrayal, told from each of their unreliable POVs as they compete for the last word.

It stars Emilija Baranac (To All the Boys I've Loved Before), Jennifer Tong (Grand Army), and Richard Harmon (The 100).

On the factual entertainment front, Canada's Ultimate Challenge is an eight-part competition series from Boat Rocker-owned Insight Productions and The Gurin Company.

The reality format sees an entire country into a giant obstacle course and six extraordinary coaches, including Olympic sprint champion Donovan Bailey, guide and mentor teams of everyday Canadians at site-specific physical and mental challenges in a unique competition structure.

Stuff The British Stole, meanwhile, is a six-part show from Wooden Horse, WildBear Entertainment and Cream Productions and is co-produced with the ABC in Australia. It's based on journalist Marc Fennell's ABC podcast, which CBC Podcasts also launched in fall last year.

The show is based on the fact the British Empire stole many items as its grew around the world and today many of those objects are housed in genteel institutions across the U.K. and elsewhere. The series tells the not-so-polite history behind those objects.

Acquired international series include BBC spy drama Ridley Road, UKTV comedy travelogue Travel Man and season three of StudioCanal and Fox Networks Group drama War of the Worlds.
Emily VanCamp guests on The Resident 5/17/22
(5/10/22) Conrad contemplates his future as he reminisces about a special night that included a very important conversation with Nic (guest star Emily VanCamp). Meanwhile, Devon is presented with an amazing career opportunity out of state, and Ian is faced with a devastating diagnosis, which causes him to rely on the doctors at Chastain. Then, Kit and Bell celebrate their engagement and Padma receives the news she has been waiting for in the all-new "Neon Moon" season finale episode of THE RESIDENT airing Tuesday, May 17 (8:00-9:01 PM ET/PT) on FOX. (RES-523) (TV-14 D, L, V)

Cast: Matt Czuchry as Conrad Hawkins; Bruce Greenwood as Dr. Randolph Bell; Manish Dayal as Devon Pravesh; Malcolm-Jamal Warner as Dr. AJ Austin; Jane Leeves as Dr. Kit Voss; Jessica Lucas as Billie Sutton; Anuja Joshi as Dr. Leela Devi.

Guest Cast: Emily VanCamp as Nicolette Nevin; Tasso Feldman as Dr. Irving Feldman; Denitra Isler as Nurse Ellen Hundley; Kaley Ronayne as Dr. Kincaid Sullivan; Aneesha Joshi as Padma Devi; Ana Mackenzie as Marion Clark; Stephen Wallem as Winston Robards; Andrew McCarthy as Dr. Ian Sullivan; Remington Blaire Evans as Gigi Hawkins; Allie McCulloch as Dr. Gabbi Johnson; Vince Foster as Dr. Paul Chu; Alison Ball as Dr. Meghan Greer; Michael Hogan as Dr. Albert Nolan; Jessica Miesel as Nurse Jessica Moore; Randy Gonzalez as Matias Alvarez; Cosima Cabrera as Trini Alvarez; Carlos Solórzano as Miguel Alvarez; Suehyla El-Attar Young as Nurse Laura; Eliana Ghen as Anna
The Resident Twist: Emily VanCamp to Return as Nic in Season 5 Finale
(4/19/22) The Resident fans haven't seen the last of Nic Nevin, despite her tragic death last year.

Emily VanCamp, who exited the Fox drama at the start of its current fifth season, will return to the series in its upcoming Season 5 finale.

As co-showrunner Peter Elkoff tells us, VanCamp will appear in "four, maybe five" flashback scenes during the May 17 season ender, which will be used as a storytelling device to help Conrad move on from his relationship with Nic and pursue romance with another woman — either Jessica Lucas' Billie, or Kaley Ronayne's Cade.

"He hasn't been able to make a move and find that next love. He knows that he's still stuck in the past, in a way, with Nic," Elkoff explains. "At the top of Episode 23, he realizes he has to unstick himself, and he doesn't quite know how to do it. He gets some good advice about it. And he's basically circling the memory of this one night when Gigi was just born. He keeps going back to pieces of that night, because he thinks the answer of how he moves on is in that night… and he gets an answer, a realization that frees him in a certain way."

Elkoff adds that although Nic's return via flashbacks wasn't proposed until later in the season, he and the Resident writers have been looking for the right way to set Conrad up with someone new ever since the show's three-year time jump earlier in Season 5.

"We started to realize, what would hold a person back? Well, the love of his life who died. The mother of his young daughter," he continues. "We had to figure out a way to both free him and end that chapter. Emily was really up for the idea of coming back, so we built her story around that idea."

The news of VanCamp's Resident departure broke last August, several weeks before the show returned for Season 5. In the season's first two episodes, Nic was kept off-screen at a spa retreat, and she was later involved in a car accident on the way home from her trip; Nic ultimately died in the Oct. 5 episode, when she succumbed to her significant head injuries.

"I spent so many years on network television, but then suddenly priorities shifted," VanCamp told Deadline at the time of her exit, shortly after she'd welcomed daughter Iris with real-life spouse Josh Bowman. "I think there comes a moment in every woman's life — in every person's life — where it becomes less about work and more about family, and that's what happened while I was making the show."
'The Fall Of The House Of Usher': Michael Trucco, T'Nia Miller, Paola Nuñez & Henry Thomas Among 20 New Cast
(12/11/21) Netflix's The Fall of the House of Usher announced 20 new cast members including Michael Trucco, T'Nia Miller, Paola Nuñez and Henry Thomas.

Also aboard for Mike Flanagan's upcoming limited series based on the works of Edgar Allan Poe include Kyleigh Curran, Samantha Sloyan, Rahul Kohli, Kate Siegel, Sauriyan Sapkota, Zach Gilford, Katie Parker, Malcolm Goodwin, Crystal Balint, Aya Furukawa, Daniel Jun, Matt Biedel, Ruth Codd, Annabeth Gish, Igby Rigney and Robert Longstreet.

They join previously announced actors Frank Langella, Mark Hamill, Carla Gugino, Mary McDonnell, and Carl Lumbly.

The Fall of the House of Usher is a short story written by Poe. First published in 1839, it features themes of madness, family, isolation, and identity. The eight-episode series is described as an epic tale of greed, horror, and tragedy.

The series, which was created by Flanagan, is exec produced by the auteur along with Macy as well as Emmy Grinwis and Michael Fimognari. Intrepid Pictures' Melinda Nishioka will co-executive produce the project. Flanagan and Michael Fimognari will each direct four episodes.

The Fall of the House of Usher marks the fifth series for Flanagan and Trevor Macy at Netflix under their Intrepid Pictures overall deal, including The Haunting of series – The Haunting of Hill House and The Haunting of Bly Manor; the recently launched and critically-lauded Midnight Mass, and the upcoming The Midnight Club.
The Boys has unveiled a first look at Blue Hawk
(12/7/21) The Boys has unveiled a first look at the Season 3 supe Blue Hawk (played by Revenge vet Nick Wechsler): Photo.
Dianne Doan & Connor Paolo To Star In Rom-Com 'Better Half'
(11/8/21) Dianne Doan (Warrior) and Connor Paolo (Revenge) have been cast as leads in Better Half, a surreal romantic comedy marking the feature directorial debut of Patrick Henry Phelan.

Pic's plot is being kept under wraps, but it's describe as a stylized feature set in Joshua Tree, CA.

Better Half hails from StudioFest, a festival program that awards its winners the opportunity to produce a feature film. Charles Irving Beale and Jess Jacklin lead the initiative and will exec produce.

"We are so excited to bring Connor and Dianne together for our movie," said Phelan, "and hope audiences will have as much fun watching it as we're having making it."

Doan portrays lead Mai Ling in the Cinemax series Warrior. She's also known for turns on the TV side in Agents of S.H.I.E.L.D., Good Trouble, Disney Channel's Descendants franchise, Vikings and more. The actress will next appear alongside Nina Dobrev, Billy Magnussen and more in Chris Nelson's comedy, Reunion.

Paolo is best known for his turn as Declan Porter in ABC's Revenge. Additional TV credits include The Resident, Gossip Girl and Law & Order: Special Victims Unit. The actor has appeared on the film side in Simon Verhoeven's horror-thriller Friend Request and Jim Strouse's The Winning Season, among other titles. He'll next appear in the thriller Viral, directed by and starring Blair Underwood.

Doan is represented by Innovative Artists, Principals Talent Management in Canada, and Forward Entertainment. Paolo is repped by Paradigm and LINK Entertainment.
CHRISTMAS FOR KEEPS
(10/21/21) PREMISE: At Christmastime, a close-knit group of childhood friends returns home after 10 years to take part in the celebration of life of their beloved high school teacher. Ashley Newbrough, Ryan Rottman, Christa B. Allen and Marielle Scott star.

PREMIERE DATE: Saturday, Dec. 18 at 10/9c (Hallmark Movies & Mysteries)
Emily VanCamp Celebrates Four-Season Run On 'The Resident' As She Exits Series: "It's Such A Bittersweet Moment For Me"
(10/7/21) It was a bittersweet goodbye for Emily VanCamp on Tuesday night's episode of Fox's The Resident, as her character Nic Nevin succumbed to her injuries from an automobile accident.

But VanCamp says she made the right decision for her and her growing family, which now includes a daughter, Iris. Yes, there was some overlap between VanCamp's pregnancy and that of Nic, which helped the actress keep her special little secret quiet until she announced the birth in September—in her own time.

"It was very interesting, mostly because I'm very private about my family life," she tells Deadline exclusively about being pregnant on the show and in real life. "It allowed us to keep the pregnancy quiet and to have something that's just ours for a little while. That was beautiful in and of itself—to finally have a little privacy. The timing wasn't exactly the same, so I was wearing a [prosthetic] belly over my belly. You know, after all the Marvel stuff it was nice to not have to focus so much on all of those things."

In the first two episodes of the season, it's explained that Nic is away on a spa trip leaving Conrad, played by series star and co-executive producer Matt Czuchry, to care for their daughter, Gigi. In tonight's episode, Nic was due home but was in an accident that caused a brain injury. Conrad had no choice but to pull the plug, breaking hearts all across Chastain Park Memorial.

Of her experience on The Resident, VanCamp has nothing but positive memories and would "absolutely" consider coming back in the future in flashbacks. She teased, "Never say never."

"It's such a bittersweet moment for me. I loved doing The Resident so much for the four years I was on it. Oftentimes you hear about someone exiting a show because something bad had happened or there was some bad blood. But in this case, it's the exact opposite. There's nothing but love and respect between all of us and this decision was not an easy one for anybody but it was the right one for me, personally. I'm grateful that I was met with understanding and compassion," she shared.

"We started talking about [my leaving] awhile ago. I spent so many years on network television, but then suddenly priorities shifted. I think there comes a moment in every woman's life—in every person's life—where it becomes less about work and more about family, and that's what happened while I was making the show. Doing that many episodes in a different city and then you add Covid to that, most of us couldn't see our families for almost a year. It really solidified for me that family is where my heart is at the moment."

Nic, a nurse at Chastain Park, was one half of the dynamic duo known as CoNic, a portmanteau for the names Conrad and Nic. Conrad wasn't ready for a relationship when he was introduced in the series premiere but the bond between him and Nic was impossible to ignore. The duo tied the knot last season and became parents.

Czuchry was the first person VanCamp told about her decision to leave the show.

"The beauty of television… We've done 70+ episodes together and the audience has had time to see that relationship grow and change," he tells Deadline. "When reflecting back on it, I hope the audience feels like we gave them everything they could've ever wanted. Conrad was constantly there for Nic and vice versa. I hope their journey is something that's been rewarding for the audience and that we do them justice with episode three and moving forward."

He added, "I have so many great memories I've shared with Emily because we spent so much time together. She and I have such trust and respect for one another. I think we pushed each other. We inspired and supported each other. She wanted to focus on family, and I was the first person she told about that. I just wanted her to be happy. It's been incredibly rewarding to have a partnership with her."

VanCamp was not with her castmates shooting episode three because of "circumstances that proved to be challenging," sharing that it was all done using "movie magic." Due to the storyline in the episode, VanCamp has not screened it yet. Instead, she celebrates the life of a character who died as she lived—helping others.

"Nic had a very beautiful life. And as tragic as it is the way she goes, her ending is very fitting and representative of the person that she was," she says. "I'm glad they went that route with the character, she leaves quite the legacy. She's left a major stamp on my heart. I loved playing Nic and I'm grateful for everything she's taught me."

With that end, a new beginning lies ahead for Conrad as a single father grieving the loss of his true love. What can fans expect on that front moving forward?

"Episode four picks up right after everything has happened and we see how Conrad is putting his pain into finding out why the accident happened. He wants answers that make sense," teases Czuchry. "He's going back to the crash site in a compulsive way, that's where he's putting his pain. The loss was so sudden and so traumatic and he's trying to wrap his head around answers about why she died."

"I hope that we stay true to what would be organic to what it's like to lose the love of your life in a way that's so shocking," he adds. "I hope after watching that episode, people know we didn't pull any punches. It's heavy and dark and it's beautiful at the same time. What we all were collectively pushing for in production was to make something that was authentic and honest. When we get to this later chunk of episodes, I hope we see the struggle within Conrad trying to make sense of it all."

Hopefully, Conrad will count on his father-in-law Kyle's (Corbin Bernsen) support moving forward. In an emotional scene, Conrad has to get himself together as he tells Kyle he can't save his daughter. Nic's sister Jessie died in season 3.

"I feel so bad for Kyle, he's been through the wringer," VanCamp shared. "Some of my favorite scenes were with Corbin, he was like a dad to me on set & I just adore him."

VanCamp knows fans are sad to say goodbye but she asks they keep supporting The Resident, airing Tuesday nights on Fox.

"Please watch. It's just such a wonderful show with rich characters, and it's still going to be wonderful without Nic," she says. "It's always hard to say goodbye to a character. I remember growing up and watching different shows religiously and when a character would leave that you've felt a connection to, it's hard at first. But you always move past it."

As for what's up next for VanCamp, she plans to spend lots of quality time with her growing family. And if Marvel comes knocking for more of Sharon Carter/Agent 13, she wouldn't say no.

"One thing I've learned from working with Marvel all these years is we can never speak on anything," she shares. "I absolutely love working for Marvel and I love Sharon, she's so much fun to play. So, we'll see."
'Revenge' 10 Years Later: Creator Mike Kelley Reflects on Reviving the Primetime Soap
(9/21/21) (tvinsider.com) Ten years ago, executive producer/creator/writer Mike Kelley (Swingtown, What/If ) rejuvenated the primetime soap opera with the ABC series Revenge. The serial drama, which debuted September 21, 2011, and quickly became a guilty pleasure, told the story of Emily Thorne (Emily VanCamp), a former Hamptonite who returned to seek revenge against the wealthy Grayson family and their various hangers-on.

Armed with a burning desire for justice, unlimited financial resources, and a pack of red Sharpies, Emily (born Amanda Clarke) eliminated individuals who had framed her father, David Clarke (James Tupper), for conspiring with the terrorists who brought down Flight 197, killing all 247 souls on board. Emily couldn't account for every contingency, but the fun was watching her take control and remain two steps ahead of her adversaries—especially Victoria Grayson, played by the unparalleled Madeleine Stowe.

TV Insider sat down with Kelley for a retrospective, focusing on Revenge's first stellar season. Read on for some insights into the series that recaptured the love TV viewers have for the nighttime soap.

How did you develop the show? I know The Count of Monte Cristo was the inspiration, with Emily as a version of Edmond Dantès. Only Emily's dog Sammy recognized her.

Mike Kelley: I had done the series Swingtown on CBS, and I was working on a script for ABC. Paul Lee had come in as the new network entertainment president, and I got a call saying he wanted to program a big, fun soap opera. Can you come up with a big nighttime soap opera? I went back home and sat down with [writer] Joe Fazzio. I read through The Count of Monte Cristo and came up with counterparts for the characters.

The Hamptons setting had been pitched to me. Joe helped me come up with that. As for Sammy, I'm dog-obsessed. Sammy told us that Emily was worthy of love and affection so the audience wouldn't have a problem with what she was doing. At the time, my dogs were getting quite old. I had to put [one] to sleep during the course of the first season. It was very crushing. I knew where I was taking Sammy's story and that he'd bring Jack [Nick Wechsler] and Emily closer together.

Each episode ended with "I can't wait to see what happens next!" That's just what TV should be.

Thank you. It was a high-wire act for sure. We did 22 episodes the first season and the network wanted more. I had always seen the show as a 60-episode series to keep the integrity of the story. We had six act breaks in each episode and we wanted to come up with a twist to keep people coming back with each one.

We learned in Episode 15 that it was Tyler (Ashton Holmes) who was shot dead — not Daniel (Josh Bowman), as was teased. Was it ever going to be Daniel?

I had fully expected Revenge to end after 13 episodes just as Swingtown had done, so I set up a complete story. At the time, I left myself the room to kill Daniel. I figured that would be it. However, it became clear early on that the show was a hit, so I had to make an adjustment. Emily's whole plan was to put an amount of pain on Victoria equal to that [which] had been put on her. I wasn't sure exactly how, but Emily would have been responsible for Daniel's death—I always wanted her to steal from Victoria the person she loved the most.

Another reason Daniel lived was that his and Emily's romance became substantial. He was a person worth rescuing. I had a great team of writers, especially Mark B. Perry. At the end of the day, I instinctively ask, "What does the audience want to see?" I want to be a fan of the show as well as its author.

Was Victoria capable of feeling true love?

Trust was a major problem for her. If she wasn't capable of feeling love, the show wouldn't have worked. She felt it for Daniel and also her daughter Charlotte [Christa B. Allen], but she'd been damaged by her own mother, who taught her to see men as stepping stones to security.

Victoria made two bad decisions. She loved Dominik [James Purefoy], the artist, but she saw security with Conrad [Henry Czerny]. And she fell for David, but then she made the worst decision of her life by betraying him to protect her own brood.

Did her guilt over that betrayal lead to Victoria immerse herself in so many charitable endeavors?

Yes. She kept trying to fill that big, empty cup.

The dialogue on the show was sharp and lyrical. Emily asked Victoria if she minded if she started calling her by her first name. Victoria responded, "Of course." That could be taken both ways.

Yes. "Of course, I mind," and "Of course, you can." We tried to do as much double entendre as possible without making it comical, but we also didn't mind when it was comical. We wanted everyone to have a fun time. When I was a kid, I fell for Knots Landing and the character of Abby Ewing [Donna Mills] in particular. She was a woman who could be quite vicious but was very glamorous and a woman of few words. She didn't need to say much to make an impact. I loved that.

Revenge truly was the return of the nighttime serial.

I wanted to honor the nighttime soap opera that I remembered. A lot of that dialogue is homage to the outsized way of speaking. Emily and Victoria would have these battles of wit and verbiage. I got lucky with both actors. They were so committed to their characters. I want to take credit for the template, but we found it in tone with the actors, the writers, and in the edit bay. If you're lucky, you find it, and you follow it.

Even in moments of great animosity between Conrad and Victoria, they'd exchange a knowing smile; they'd banter as only true partners can.

Conrad and Victoria understood each other in many ways. Henry's another fantastic actor. His dynamic with Madeleine was a special gift. They had a family therapy session in one episode and said things like, "I hear what you're saying and I want you to know…" It's one of my favorite scenes mostly because of the way Henry plays it. They were great together.

Was Victoria's relationship with Charlotte strained because her daughter was a reminder of how she betrayed David?

It was. Also, there was a template set with her own mother. I wanted that mother/daughter dynamic to be "thorny," if you will.

Tech guru Nolan (Gabriel Mann) had all that money, yet all he really wanted was family. For a while, Nolan would get close to having a family and establishing trust, and then the rug would get pulled out from under him. Gabe is terrific and a sweetheart, too.

Nolan had great zingers, such as calling sociopath Tyler "The Talented Mr. Hamptons." He dubbed Conrad's mistress Lydia (Amber Valletta), who survived a near-fatal fall, "The Unbreakable Lydia Davis."

Those characters lived in my head and in the heads of my writing staff. [Writer] Mark Perry had Victoria stalking him inside his brain. Nolan had great specific dialogue. I'll hear things that almost sound like a song. I know when it feels right. Once you get into the swing of a character like Nolan, it's just fun. He was a hoot. Emily was trickier in that she was conditional with whom she was talking to. She chose her words very carefully.

Did you have a memorable dialogue exchange from Revenge?

At one point, Emily tells Nolan she's decided to give up her revenge plan. She goes to tell Daniel, only he first says that his mother told him that David raped Victoria [which he had not]. Emily sees red. Then, Daniel [rhetorically] asks Emily if she still wants to marry into his crazy family? She smiles and says, "More than ever."

Victoria did not want Charlotte to end up with Declan Porter (Connor Paolo)!

She was afraid of Charlotte feeling true love, knowing what kind of pain can come from that. That struck terror in Victoria's heart not just because she's an awful person but because she knows about heartbreak.

When Victoria threatened to "destroy" other people, it was almost as if she was saying she couldn't control herself. After all, she destroyed David, whom she loved.

Victoria had her emotions roiling inside her at all times. Emily was able to cauterize her emotions. She could be more tactical. The two women were birds of a feather in some ways.

Jack and Declan each turned down bribes from, respectively, Daniel and Victoria. Can you talk about having moral characters who were also "have-nots"?

You're always going to have that "class clash" in a tried-and-true soap opera. I did a little research on the Hamptons and Montauk and what it's like for working people who bump against these people who have no end to their finances. It was important for me to have those two brothers who made sacrifices for each other, their father, and their loved ones.

One wild card that Emily couldn't control was Amanda (aka the real Emily).

Emily needed obstacles that were real. Also, having Amanda fall for Jack was another fun element. We didn't realize how long we were going to keep her, but the actress, Margarita Levieva, was just so great.

These series gave their characters and fans a proper goodbye.

In the time-jumping episode "Legacy," we see Victoria and David meet in the 1990s; in 2002, Emily infiltrates a Grayson New Year's Eve party.

There were practical reasons for doing those flashback episodes. They were like little plays of characters you already know. We showed Victoria when she could still feel love and we showed Emily when she was a little rougher. It's better when you can fill in the blanks of someone's life.

Tyler was obsessed with Daniel — maybe even in love with him?

Tyler was heartbreaking. He did have elements of The Talented Mr. Ripley. I love the actor who played him. He took the work and his character very seriously. Tyler had real feelings, but Daniel wasn't available to him and never would be—nor was Daniel's life that Tyler coveted.

Was there anyone else involved with the show I haven't asked about?

I have to give a shoutout to iZLER, who composed the music. I don't think the show would have worked without his score. [Director] Phillip Noyce did such a great job setting the template with the pilot. It was Hitchcockian, noir, and lush. I owe them both a big debt of gratitude. I'll be out getting coffee and I'll hear someone's ringtone be the Revenge theme.

What has this show meant to you?

I look back on it and I feel a lot of gratitude to all the people I worked with and to ABC. In between Seasons 1 and 2, I went to Italy and visited a place famous for glassblowing. There's a gallery where you can buy a tchotchke. A translator with me said the merchant wants to know if I was the same Mike Kelley who created Revenge. I said, "You've got be kidding me." We took some pictures together. I ended up taking a little trip around the globe and found all these cultures that had been exposed to the show. Revenge resonated culturally all over the world. What a gift. Who gets to have that experience?

Revenge, Seasons 1-4, Streaming Now, Prime Video and Apple TV+
Netflix Orders 'Grendel' Series Based On Dark Horse Comic With Abubakr Ali To Star, 8 More Cast
(9/14/21) Netflix has given an eight-episode series order to Grendel, a series based on the masked vigilante from Matt Wagner's popular, award-winning Dark Horse comic book series, with Abubakr Ali (Power Book II: Ghost, Katy Keene) set to star in the titular role. With Ali's casting, he becomes the first Arab Muslim male actor to portray a series lead in a comic book adaptation. The series, written and executive produced by Resident Evil and Supernatural alum Andrew Dabb, comes out of Netflix's first look deal with Dark Horse Entertainment.

Also joining the cast are Jaime Ray Newman (Dopesick, The Time Traveler's Wife), Julian Black Antelope (The Flash, Debris), Madeline Zima (Californication, Hacks), Kevin Corrigan (Scenes from an Empty Church, The Get Down), Emma Ho (Star Trek: Strange New Worlds, The Expanse), Erik Palladino (The Marvelous Mrs. Maisel, Watchmen), Brittany Allen (What Keeps You Alive)and Andy Mientus (The Flash, Dolly Parton's Heartstrings). Read more about their characters below.

Grendel, which sees Dabb also serve as showrunner, follows Hunter Rose (Ali), a gifted fencer, writer and assassin, seeking to avenge the death of a lost love. He goes to war with New York's criminal underworld, only to realize…why beat them, when you can join them?

Wagner executive produces the series alongside Dark Horse Entertainment's Mike Richardson, Keith Goldberg and Chris Tongue. Dark Horse Entertainment and Netflix previously collaborated on The Umbrella Academy, Jonas Åkerlund's Polar and are currently in production on the animated series Samurai Rabbit: The Usagi Chronicles.

Wagner shared the following statement about the upcoming adaptation: "I couldn't be more thrilled about the Grendel saga, one of the longest-running independent comics series, finally being translated into live-action for the screen. Under the sharp guidance of showrunner Andrew Dabb, our incredible creative team, sure-to-be stellar cast and Dark Horse Entertainment have teamed with Netflix to produce this provocative adaptation that will bring my characters and concepts to an all new audience and yet still provide excitement and surprises for die-hard fans. I'm especially excited to see Abubakr Ali bring the character of Grendel/Hunter Rose to life — he has the charisma, style and vital edginess that I've been envisioning in the role for years." Newman appears as Jocasta Rose.

Black Antelope will take on Argent.

Zima will play Liz Sparks.

Corrigan joins Grendel as Barry Palumbo.

Ho will play Stacy Palumbo.

Palladino takes on Teddy Ciccone.

Allen will play Annabelle Wright.

Mientus will play Larry Stohler.

Ali's reps are APA, Authentic Talent & Literary Management and Gang, Tyre, Ramer, Brown & Passman. Newman is represented by Greene Talent and The Burstein Company. Black Antelope is repped by The Characters Talent Agency. Zima is represented by Affirmative Entertainment and Buchwald. Corrigan is repped by A3 Artists Agency. Ho is represented by Noble Caplan Abrams. Palladino's reps are Green & Associates Talent Agency and The Coronel Group. Allen is repped by GGA and Luber Roklin. Mientus' reps are A3 Artists Agency, Soffer/Namoff Entertainment, HCKR Agency, and attorney Peikoff Mahan.
Emily VanCamp Leaving 'The Resident' After 4 Seasons
(8/30/21) Emily VanCamp has departed Fox's popular medical drama The Resident after four seasons as a series regular and the female lead.

I hear the actress asked to be released from the show at the end of last season. There was an effort at the time to bring her back in Season 5 — something she was reportedly open to — but it did not work out. I hear there is still hope she may return as a guest star in the future. But the Revenge alumna has stepped down as a series regular, and the storyline of her character, Nicolette 'Nic' Nevin, is expected to be wrapped up early into Season 5.

Fans already are bracing for the worst as Fox is hinting heavily about Nic's fate in an ominous first promo for the Season 5 premiere (you can watch it below).

VanCamp revealed last week that she and her husband, former Revenge co-star Josh Bowman, had welcomed their first child, Iris. The pregnancy, which VanCamp chose to keep private, mirrored the story of her Resident character.

In the Season 4 finale, Nic gave birth to her and Conrad's (Matt Czuchry) first child, a girl, Georgiana Grace Hawkins, named after both of their late mothers. The successful delivery followed a stressful pregnancy during which Nic, a nurse practitioner, had been stabbed by a man the hospital had turned away because it was closed. The finale concluded with a montage of touching moments and milestones over the course of the couple's relationship.

In addition to her starring roles in ABC's Revenge and Fox's The Resident, VanCamp is best known for playing Sharon Carter/Agent 13 in the Marvel Cinematic Universe. (Video)
Emily VanCamp secretly welcomes baby girl with husband Josh Bowman
(8/26/21) Surprise!

"Revenge" couple Emily VanCamp and Josh Bowman secretly welcomed their first child together, a baby girl named Iris, they announced on Thursday,

"Welcome to the world our sweet little Iris Our hearts are full," VanCamp wrote in a post to Instagram along with a photo of their newborn's little hand.

"The Resident" actress, 35, also shared a throwback photo showing off her pregnancy as well as a pic of herself smooching her husband, 33, as he held her growing baby bump.

Friends and fans flooded the comments section of the post to congratulate Bowan and VanCamp on their new family addition.

"Congrats you guuuyyyssss!! Can't wait to meet her!," one person commented on the post.

"Love you 2!!!! Mazal Tov!!," someone else wrote.

"Oh my goodness!!! Emily! What exciting news this is! big hugs and congrats to you both! ," another added.

"Huge Congratulations Emily and Josh I'm so happy for you both," someone chimed in.

VanCamp and Bowman initially met on set of their show "Revenge" in 2011 where they played each other's on-screen love interests. The ABC drama wrapped in 2015 after four seasons.

The couple then tied the knot in the Bahamas in December 2018. They got engaged in May 2017.

"He did good," the "Everwood" actress had told Entertainment Tonight of the proposal at the time. "We were in nature on a hike kind of doing what we do, it was very, sort of, us. So yeah, it was great, beautiful."

The couple has notoriously kept their relationship quite private from the media.
Amazon's Superhero Series 'The Boys' Adds 3 Recurring Cast Members For Season 3
(6/23/21) Amazon's hit superhero series The Boys has added three recurring characters for Season 3.

Boondock Saints star Sean Patrick Flanery is portraying a superhero named Gunpowder. Miles Gaston Villanueva who portrayed Lyle Menedez in Law & Order True Crime: The Menendez Murders will play Supersonic. Rosewell actor Nick Wechsler is portraying Blue Hawk. Each actor will join the show's new season which is currently in production in Toronto.

The Boys subverts the superhero genre, imagining a present day where awesome avengers, controlled by the unscrupulous Vought corporation, purport to stand for "truth and justice" while secretly committing heinous acts. Season 2 saw The Boys – Hughie (Jack Quaid), Mother's Milk (Laz Alonso), Frenchie (Tomer Capon) and Kimiko (Karen Fukuhara) – on the run from the law, hunted by the Supes, and desperately trying to regroup and fight back against Vought. Erin Moriarty, Antony Starr and Aya Cash also star. The Supes of The Seven also include Queen Maeve (Dominique McElligott), A-Train (Jessie T. Usher), The Deep (Chace Crawford) and Black Noir (Nathan Mitchell), while Karl Urban plays Butcher.

Eric Kripke — who previously created the series Supernatural, Revolution and co-created Timeless – is again at the helm.

Based on The New York Times best-selling comic by Garth Ennis and Darick Robertson, The Boys was developed by Kripke, who also serves as writer and executive producer. Joining Kripke as executive producers are Point Grey Pictures' Seth Rogen, Evan Goldberg and James Weaver, Original Film's Neal H. Moritz and Pavun Shetty as well as Phil Sgriccia, Craig Rosenberg, Rebecca Sonnenshine, Ken Levin and Jason Netter. Ennis and Robertson also co-executive produce along with Michael Saltzman.
'The Resident' Renewed By Fox For Season 5
(5/17/21) The doors at Chastain Memorial Hospital will remain open after Fox renewed The Resident for a fifth season. The renewal, which was unveiled as part of Fox's 2021-22 schedule, was not a surprise given that the medical drama is the network's biggest scripted series after its 9-1-1 franchise.

It joins the procedurals, which were both also renewed, on the schedule, remaining in its Tuesday at 8pm slot. It will precede new drama series Our Kind of People.

Created by Amy Holden Jones, Hayley Schore and Roshan Sethi, The Resident follows a group of doctors at Chastain Memorial Hospital, as they face personal and professional challenges on a daily basis. Matt Czuchry, VanCamp, Bruce Greenwood, Manish Dayal, Malcolm-Jamal Warner, Jane Leeves and Morris Chestnut star. The latter will recur in season five after being tapped as the male lead in Our Kind of People.

Season 4 saw black-hearted Red Rock Mountain Medical figurehead Logan Kim ousted and the rudderless hospital found its new CEO in star orthopedic surgeon Dr. Kit Voss (Jane Leeves), who she spearheads Chastain's transition from private to public hospital.

The fourth season of the drama, which was originally based on Marty Makary's book Unaccountable, premiered in January due to the pandemic

The Resident is produced by 20th Television. The series' executive producers include Todd Harthan, Andrew Chapman, Peter Elkoff, Amy Holden Jones, Rob Corn, Antoine Fuqua, Oly Obst and Marc Halsey.
Anne Heche & Nick Wechsler recur on For Life 5/10/21
(4/26/21) "Hear My Voice" – Lola finds herself in the judicial hotseat when she presides over the case of former Sherriff Wayne McCarthy (Louis Herthum), and struggles because she and Mark can't talk to each other outside the courtroom. Also, Detective Rashel (Nick Wechsler) and other cops come forward to speak against McCarthy, but Corinne (Anne Heche) continues to turn their testimonies against them, and Luke demands that Mark allow him to take the stand, on ALL RISE, Monday, May 10 (9:00- 10:00 PM, ET/PT), on the CBS Television Network.

RECURRING CAST includes: Ian Anthony Dale (DA Louis Bravo), Anne Heche (Corrine Cuthbert), Nick Wechsler (Deputy Pete Rashel).
'Falcon And The Winter Soldier': Emily VanCamp On Why Agent Carter's Punishment By U.S. Government Doesn't Fit The Crime
(4/6/21) Warning: This interview contains spoilers from The Falcon and the Winter Soldier Episode 3, "The Power Broker."

Agent Sharon Carter, we hardly knew thee, is essentially what it boils down to after seeing Captain America's former flame show up in Episode 3 of Disney+/Marvel's The Falcon and the Winter Soldier.

While still showing an ability to get a guy out of tricky situation — similar to how she saved Captain America in his second movie, she saves Sam Wilson and Bucky Barnes from a bunch of bounty hunters several times over in Episode 3– Carter is a little jaded; on the run from the U.S., hiding out in the Pan Pacific island city of Madripoor. "So much has changed. Everything that used to motivate Sharon Carter is no longer. That's pretty evident in Episode 3 off the bat, when we see her. Clearly Sharon's been through it, and isn't too happy about that. So whatever was driving her before, that loyalty to the government and to Cap, that sort of wide-eyed agent feeling that she gave off, it's pretty stripped away at this point," actress Emily VanCamp told Deadline today.

Sharon Carter is the niece of Agent Peggy Carter, Captain America's first love interest around WWII. That doesn't stop him from stealing a kiss with Sharon later on during his millennial life.

"She has not had the easiest of times. Even though she's thriving in this environment, it's not what she would have wanted. She's very much seeking that pardon, that's where we find her," says VanCamp about the new Sharon we see.

Which brings up the question: Just how bad was Sharon Carter regarding her dealings with the U.S. government that provoked her to go on the run? What did she do that was so bad? Or was it just bad from a political shenanigans point of view?

VanCamp exclaims, "Based on what some of these other characters have done, and have successfully been pardoned [for], I think it's shocking she's still on the run, that she's still this fugitive, living in Madripoor, dealing in stolen art. It seems shocking to me, and equally shocking to her."

Theories flew promptly after Episode 3 on fanboy sites that VanCamp's Carter could be "The Power Broker," the enigmatic new villain who is orchestrating the spread of super serum and dealing with the Flag smasher renegade group led by Karli Morgenthau. Many were led to believe Carter could be the Power Broker given her remark to her cohort after saying goodbye to Bucky and Sam that they "have a couple of big problems." However, when you do the math, it doesn't make sense that Sharon would be the Power Broker. The Power Broker would never lead Sam, Bucky and Zemo to Nagle (the architect of the super serum). Nor would the Power Broker let Zemo shoot Nagle and get away with it.

VanCamp totally hears us. "I can't talk about anything," she says, "but I do love the theories swirling around."

Lastly we asked VanCamp about the future of The Resident and another reboot of Revenge.

In regards to a Resident Season 5, there is no word yet.

The actress who played Emily Thorne/Amanda Clarke for 89 episodes on ABC's thriller series Revenge also tells us that she feels the protag from that series has closed the book.

"I feel Amanda got the ending that she wanted, and we explored so many different versions of her story," says VanCamp, who wasn't involved in the latest developments of a Latinx version of Revenge.

If Emily Thorne was to rise again, one would think it would be with a firm where she mentors others in getting their revenge.

Says VanCamp, "That was sort of a concept but with a different character, and that was touched on in the series finale."
LA Riots Romance-Drama 'California Love', Watch First Trailer
(3/18/21) (Video) Dean Devlin's (Independence Day) Electric Entertainment has acquired world sales rights to completed drama California Love, based the true story of Joanne Lee-Beck's life with gang member Jay Hunter, as they both fought racial injustice in the 1990's against the backdrop of the Rodney King verdict and the Los Angeles riots.

Starring are Allen Payne (New Jack City), Christa B. Allen (13 Going On 30), Robert Ri'chard (Coach Carter) and Draya Michele (Basketball Wives).

We can also reveal the film's first trailer.

The film recounts the story of Beck, a Jewish woman from Wisconsin, who begins her activism as a volunteer in South Central Los Angeles. Soon after, she falls in love with gang member Hunter and the two of them work together to help the community fight against racial discrimination and injustice.

The story was written by Joanne and Jay's daughter, Danielle Beck-Hunter. Screenplay was written by Preston A. Whitmore (This Christmas), who also directs the film.

Dean Devlin commented: "This biopic is a moving love story about two people trying to right wrongs in their community and beyond. Even though it takes place in the 1990's, the film's theme, unfortunately, still holds true today."

Joanne Lee-Beck added: "This story has been 28 years in the making. I am so proud that this film can authentically portray my life's purpose, and how I wasn't afraid to live it. Hopefully my story can shine a light on what this country is facing today, and encourage others to never stay silent when injustice is seen."

California Love is also the name of the popular 2Pac song featuring Dr Dre and Roger Troutman.
BAFTA Nominations 2021
(3/9/21) The awards themselves will be held virtually on Sunday, April 11. Two shows will be broadcast virtually from London's Royal Albert Hall across that weekend. The first show, celebrating the craft of film, will be broadcast on Saturday, April 10 on BBC Two and BBC Two HD. The show on Sunday, April 11 will be broadcast on BBC One and BBC One HD. Both programs will also be broadcast in major territories around the world.

SUPPORTING ACTRESS
NIAMH ALGAR Calm With Horses
KOSAR ALI Rocks
MARIA BAKALOVA Borat Subsequent Moviefilm
DOMINIQUE FISHBACK Judas and the Black Messiah
ASHLEY MADEKWE County Lines
YUH-JUNG YOUN Minari.
'The Falcon & The Winter Soldier' Unveils Four Character Posters
(3/8/21) Marvel Studios has unveiled four new character posters for The Falcon and the Winter Soldier, its upcoming six-episode series at Disney+

The posters (see below) feature Anthony Mackie as Sam Wilson aka The Falcon, Sebastian Stan as Bucky Barnes aka The Winter Soldier, Daniel Brühl as Zemo, and Emily VanCamp as Sharon Carter. The series, which revolves around Captain America super friends, will stream exclusively on Disney+ beginning March 19.

In The Falcon and The Winter Soldier, Sam Wilson/Falcon and Bucky Barnes/Winter Soldier, who came together in the final moments of Avengers: Endgame, team up on a global adventure that tests their abilities—and their patience. The series is directed by Kari Skogland; Malcolm Spellman is head writer. Disney+ also is airing Legends, a docuseries that looks at the journeys of favorite Marvel characters. Falcon and Winter Soldier were profiled in the series premiere on Friday, March 5. Zemo and Sharon Carter episodes debut this Friday, March 12. You can watch a trailer below. (Poster1) (Poster2) (Poster3 Emily VanCamp) (Poster4) (Video)
New Falcon and Winter Soldier Promo Teases Emily VanCamp's Sharon Carter
(2/7/21) That other Agent Carter is on the scene in the new trailer for Disney+'s The Falcon and the Winter Soldier series.

Marking Disney+'s second live-action Marvel series to be released — on Friday, March 19, two months after WandaVision's debut — Falcon and the Winter Soldier stars MCU vets Anthony Mackie and Sebastian Stan as Sam Wilson and Bucky Barnes. In a story set after Avengers: Endgame, the six-episode "cinematic experience" finds the two Friends of Cap teaming up for "a global adventure that tests their abilities — and their patience."

Watch the full, new trailer — an extended version of what aired during the Super Bowl — here: Video.

In addition to Mackie, Stan and VanCamp (reprising her role as Sharon Carter aka Peggy's niece), the Falcon and Winter Soldier cast also includes MCU vet Daniel Brühl as Baron Zemo, Wyatt Russell (Lodge 49) as John Walker (who in comic book lore adopts the alter egos of U.S. Agent or Super-Patriot), Noah Mills (The Enemy Within, The Brave) and Carl Lumbly (Supergirl, Alias).

Malcolm Spellman (Empire) serves as head writer.
BAFTA Unveils Longlists For 2021 Film Awards
(2/4/21) Nominations will be unveiled on March 9. The ceremony is scheduled for April 11, with its exact form still being decided as the pandemic situation rolls on.

Supporting Actress
Niamh Algar Calm With Horses
Kosar Ali Rocks
Maria Bakalova Borat Subsequent Moviefilm
Ellen Burstyn Pieces of a Woman
Priyanka Chopra Jonas The White Tiger
Glenn Close Hillbilly Elegy
Olivia Colman The Father
Jennifer Ehle Saint Maud
Dominique Fishback Judas and the Black Messiah
Jodie Foster The Mauritanian
Ashley Madekwe County Lines
Amanda Seyfried Mank
Saoirse Ronan Ammonite
Yuh-Jung Youn Minari
Helena Zengel News of the World
Tell Me Your Secrets': Amazon Drops Premiere Date & Trailer For Thriller Drama Series
(1/27/21) (Video) Amazon Prime Video has announced the premiere date for its Lily Rabe-Amy Brenneman series Tell Me Your Secrets.

Set to premiere on February 19, the Harriet Warner's 10-episode drama series revolves around a trio of characters, each with a mysterious and troubling past: Emma (Rabe) is a young woman who once looked into the eyes of a dangerous killer, John (Hamish Linklater) is a former serial predator desperate to find redemption, and Mary (Amy Brenneman) is a grieving mother obsessed with finding her missing daughter. As each of them is pushed to the edge, the truth about their pasts and motives grows ever murkier, blurring the lines between victim and perpetrator.

The streamer also dropped a trailer and key art on Wednesday, giving viewers a look at what's to come in the psychological thriller series. The teaser features glimpses of Emma's violent and horrifying nightmares, which may be key in solving the new show's main mysteries. Mary, with the help of Linklater, wages a war against Emma as she seeks to find and avenger her missing daughter. Suspense, romance and betrayal await the Tell Me Your Secrets audience.

The show also features Enrique Murciano as Peter Guillory, Stella Baker (Candace) as Theresa, Elliot Fletcher (Shameless) as Jake, Xavier Samuel (The Twilight Saga: Eclipse) as Kit Parker, Chiara Aurelia (The Brave) as Rose, Ashley Madekwe (The Umbrella Academy) as Lisa Guillory, and Bryant Tardy (Logan) as Jay. Marque Richardson (Dear White People) as Tom Johnston, Katherine Willis (Queen of The South) as Diana Lord, Richard Thomas (The Waltons) as Bodie Lord, Emryi Crutchfield (Fargo) as Jess Cairns, and Charles Esten (Outer Banks) as Saul Barlow will appear in recurring roles.

Tell Me Your Secrets is co-produced by Bruna Papandrea's Made Up Stories and Turner's Studio T. Warner executive produces along with Papandrea (The Undoing, Big Little Lies) and Casey Haver (Queen America) for Made Up Stories, and John Polson (Elementary) who also directed the series.

Watch the trailer above
Anne Heche & Nick Wechsler recur on All Rise 1/25/21
(1/8/21) "Almost The Meteor"– While Lola is on maternity leave after going into labor while on the bench, she attempts to participate remotely in Judge Brenner's special training about brain science and the law. Also, when Luke finds himself opposite Emily on an armed robbery case, he sees an ally in his experiment with restorative justice, and Mark hits another roadblock in his high profile case against a sheriff's deputy, on ALL RISE, Monday, Jan. 25 (9:00-10:00 PM, ET/PT), on the CBS Television Network.

RECURRING CAST includes: Todd Williams (Robin Taylor), Anne Heche (Corrine Cuthbert), Nick Wechsler (Deputy Pete Rashel).
The Resident: COVID-19 Hits Chastain Park Hard in Season 4 Trailer — Watch
(12/16/20) (Video) Mirroring many a real-life scenario, Chastain Park Memorial Hospital is overwhelmed by the coronavirus pandemic in a new trailer for The Resident's upcoming fourth season.

"It's rough in there," Mina admits in the promo below, while her mentor (and potential love interest) AJ agrees, "We've been getting hit pretty hard." And as they speak, we glimpse footage of Chastain Park's docs decked out in full personal protective equipment as they try to care for COVID-19 patients — including, it seems, beloved ER nurse Ellen Hundley.

Elsewhere in the video, Devon has an emotional video chat with his father, who also doesn't appear to be in the best health, while Dr. Bell tells a stunned-looking Kit that "the pandemic has forced me to re-evaluate things." (The two haven't been romantically entangled yet, after Kit tried to make it work with her ex-husband, but EP Todd Harthan previously told us the show's writers "talk about it all the time. It could be such a great story if they did end up in a relationship.")

The trailer isn't all gloomy, though: There's also new teasers of Conrad and Nic's upcoming wedding, which will take place in the Jan. 12 season premiere. "Tough times come," Nic tells Conrad during their outdoor ceremony. "And when they do, I want you by my side."
JR Bourne On Netflix's 'On the Verge'
(10/8/20) Derek Webster has been cast in a season-long recurring role on Fox's 911: Lone Star. He will play Charles Vega, the husband of Paramedic Captain Tommy Vega, portrayed by new series regular Gina Torres. The very 2020-relatable Charles Vega character is a restauranteur whose business is affected by the pandemic, so he becomes a stay-at-home dad while his essential worker wife goes to work.

Most recently, Webster was a series regular on the CW series In the Dark, playing Murphy's (Perry Mattfeld) adoptive father. Webster is known for his recurring role of District Attorney Jackson Holt in the Showtime series Ray Donovan. Other major TV roles — series regular and recurring — include stints on CBS' NCIS: New Orleans, Amazon's Salvation, FX's Damages, and HBO's The Newsroom. Webster's film credits include blockbusters Independence Day and Godzilla. He is repped by AKA and Main Title Entertainment.

The 100 alum JR Bourne has joined On Verge, Julie Lelpy's L.A.-set ensemble half-hour series co-produced by Netflix and Canal Plus.

On the Verge follows four female friends in their late 40s, two of them played by Elisabeth Shue and Delpy, who chose to use midlife not as a time of mourning their youth but as an opportunity for personal reinvention, with the hope of finally living lives that embody their beliefs and values. Bourne will play Adam, described as a free-spirit Venice hipster who shares an instant attraction to Elisabeth Shue's Anne.

Bourne is coming off his co-starring role as Sheidheda on the CW's The 100. Before that, he co-starred opposite Paula Patton in the ABC series Somewhere Between. He has recurred on USA's Falling Water, Suits and Satisfaction, MTV's Teen Wolf and Lifetime's UnReal. His feature credits include indies Hospitality and Little Birds. He is repped by Authentic Talent & Literary Management and Red Management.
Revenge Reboot Dead: ABC Passes on Sequel Series Starring Fan Favorite
(6/29/20) Revenge is apparently a dish best served only once.

ABC is passing on its in-the-works follow-up to the 2011-15 Emily VanCamp drama. The potential "sequel" series was set to follow a young Latina immigrant who arrives in Malibu to exact revenge on a pharmaceutical dynasty that caused "the murder of her biochemist mother, the destruction of her family and a global epidemic."

Interestingly, the protagonist was going to be guided by one of the original show's "favorite characters," rumored to be Gabriel Mann's Nolan.

Original series creator Mike Kelley was to serve as executive producer on the sequel. Joe Fazzio, who wrote and produced multiple episodes during the show's initial run, was also on board as a EP.

Revenge, which ran for four seasons on ABC, starred VanCamp as Amanda Clarke, a young woman who came to the Hamptons to exact revenge on the Graysons, a wealthy family that betrayed her and her father. Madeleine Stowe, Nick Wechsler and the aforementioned Mann rounded out the main cast.
'Last Man Standing' & 'The Resident' Renewed For 2020-2021 Season By Fox
(5/20/20) Fox has officially renewed two more series for next season, flagship comedy Last Man Standing, headlined by Tim Allen, and medical drama The Resident, starring Matt Czuchry and Emily VanCamp. Both come from 20th Century Fox TV and both had been a lock to come back.

The pickups leave freshmen Prodigal Son and Outmatched as the only remaining Fox scripted series yet to hear their fate. As we reported, drama Prodigal Son's renewal is being finalized while comedy Outmatched is not expected to continue.

Last Man Standing and The Resident will join the rest of Fox's returning live-action series on the bench of midseason. Because of the uncertainty surrounding the timing of Hollywood's production reopening amid the coronavirus pandemic, Fox's fall schedule only features scripted series that are either already in the can or are animated, as animation has not been significantly impacted by the pandemic.

This will be Last Man Standing's third season on Fox, which resurrected the sitcom a year after its cancelation by ABC, and ninth overall. The Resident will be heading into its fourth season. Both shows' most recent seasons were cut short by the health crisis.

Last Man Standing' averages more than 8 million multi-platform viewers, and is Fox's most-watched comedy. The series ranks among the season's Top 10 comedies among all key demos, including Adults 18-49, Adults 18-34, Adults 25-54 and Teens.

The Resident averages nearly 10 million multi-platform viewers, and ranks among the season's Top 10 broadcast dramas among Adults 18-34.

"The Resident and Last Man Standing are such important parts of Fox, and we're so pleased they will be returning next season," said Fox Entertainment President Michael Thorn. "We want to thank all of the writers, actors, directors, producers and talented crews for both of these shows, and, of course, our friends and producing partners at 20th Century Fox Television."

Last Man Standing stars Allen as Mike Baxter, a happily married father of three daughters, who finds himself the odd man out as he tries to maintain his manliness in a home dominated by women. In addition to Allen, the series stars Nancy Travis, Amanda Fuller, Molly McCook, Christoph Sanders, Jordan Masterson, Jonathan Adams, Krista Marie Yu and Hector Elizondo.

Created by Jack Burditt, Last Man Standing is executive produced by Kevin Abbott, who serves as showrunner, Matt Berry, Kevin Hench, Ed Yeager, Allen, Marty Adelstein, Shawn Levy, Becky Clements, Richard Baker and Rick Messina are executive producers.

The Resident follows a group of doctors at Chastain Memorial Hospital, as they face personal and professional challenges on a daily basis. The series stars Czuchry, VanCamp, Bruce Greenwood, Manish Dayal, Shaunette Renée Wilson, Malcolm-Jamal Warner, Jane Leeves and Morris Chestnut.

The Resident's executive producers include showrunner Todd Harthan, co-creator Amy Holden Jones, Rob Corn, Antoine Fuqua, David Boorstein, Oly Obst and Elizabeth Klaviter.
The Resident Hosts Revenge Reunion During Timely Outbreak-Themed Episode — Watch a Sneak Peek
(3/24/20) (Video) Who knew Chastain Park Memorial was really located in the Hamptons?

Tonight's episode of The Resident (Fox, 8/7c) will stage a mini-Revenge reunion, as guest star Connor Paolo — who played Declan Porter on the ABC drama — shares the screen with Emily VanCamp once again.

In our exclusive sneak peek at the hour, titled "Support System," Paolo portrays Isaac, a volunteer with a local homeless outreach program who starts showing signs of illness (namely a cough, which is even worrying for fictional characters in these coronavirus times). Nic wants Isaac to get checked out at Chastain, but given his insurance deductible, Isaac is reluctant to get treated.

Elsewhere in the episode, The Resident will continue its oddly relevant superbug storyline, as Dr. Cain recruits Ezra to help him keep the potential outbreak under wraps. Meanwhile, Kit's son-in-law's condition continues to worsen.

As the real-life coronavirus crisis continues, shutting down production on more than 100 series (including The Resident), the Fox drama was one of several shows to donate medical supplies and personal protective equipment to local hospitals. The Resident's cast also filmed a call to action (which you can watch below), asking viewers to take social distancing seriously during the pandemic and donate protective masks to hospitals if possible.

The Resident was filming Episode 21 (out of 23) when production was halted earlier this month. There's currently no word on how the show plans to navigate a potentially unfinished season.
Soundtrack Cancelled at Netflix
(2/1/20) Netflix will not be putting Soundtrack on repeat: The musical drama has been cancelled after one season, TVLine has confirmed.

Soundtrack, which dropped on the streamer in December 2019, followed a disparate group of interconnected people in contemporary Los Angeles, all of whom were involved with the city's music industry somehow. Callie Hernandez (Graves), Paul James (Greek), Marianne Jean-Baptiste (Without a Trace), Jenna Dewan (The Resident), Madeleine Stowe (Revenge) and Campbell Scott (Royal Pains) were among the show's stars.

The show was first ordered to pilot at Fox in January 2018, then later earned a series order at Netflix in July of that year (under the original title Mixtape) when Fox decided not to move forward with the project..
'In From The Cold' Spy Drama Series Starring Margarita Levieva Greenlighted By Netflix
(1/29/20) Margarita Levieva is set to headline In From the Cold, an international spy thriller drama with a supernatural bent, which has received an eight-episode series order by Netflix.

In the series, written/executive produced by Adam Glass (The Chi), during a European vacation with her daughter, an American single mom's (Levieva) life is turned upside down when the CIA forces her to confront her long-buried past as a Russian spy who was also the product of a highly classified KGB experiment granting her special abilities. After a mysterious string of manic and murderous incidents suggests someone with her exact abilities is targeting innocent people, Jenny is forced out of hiding to stop this villain or risk losing the family and new life she has built.

Filming on In From the Cold is slated to begin in March in Madrid, Spain.

Russia-born Levieva, who is fluent in Russian, previously played a Russian spy in the NBC sleeper cell drama series Allegiance. Levieva is coming off her co-starring role as Abby on David Simon's HBO series The Deuce. Her TV series credits also include major arcs on NBC's The Blacklist and ABC's Revenge. She is repped by Silver Lining Entertainment and attorney David Weber.

Glass' writing-producing credits also include Supernatural, Criminal Minds: Beyond Borders and Cold Case.
ABC Eyes 'Revenge' Anthology As It Develops Latinx Reboot Of Emily VanCamp-Fronted Drama
(1/10/20) ABC is looking to anthologise Revenge as it develops a Latinx reboot of the hit drama series.

The Disney-owned network has bene developing a follow-up to the 2011 series, which starred Emily VanCamp and Madeleine Stowe. The reboot hails from the original series' creator/executive producer Mike Kelley, writer-producer Joe Fazzio, Temple Hill and ABC Studios, now part of Disney TV Studios.

ABC Entertainment president Karey Burke told Deadline that it is considering a different revenge story each season if the project makes it past the development stage.

"The idea would be in that series would be to do a different revenge story each cycle. Revenge becomes the narrative like an anthology," she said.

The new version, which is written by Kelley and Fazzio, chronicles the story of a young Latinx immigrant. Guided by one of the original series' favorite characters, she arrives in Malibu to exact revenge on a pharmaceutical dynasty, whose insatiable greed lead to the murder of her biochemist mother, the destruction of her family, and a global epidemic.

Kelley and Fazzio executive produce alongside Melissa Loy and Temple Hill's Marty Bowen, both of whom also were executive producers on the original series.

Inspired by the Alexandre Dumas novel The Count of Monte Cristo, the original Revenge starred VanCamp as a young woman who comes to the Hamptons to exact revenge on a wealthy family who had framed her father.

The series was a breakout hit when it debuted in fall 2011 and ended its run after four seasons after linear ratings dropped off. However, it was a fan favorite and was a major international seller for ABC Studios.
SAG Awards Nominations
(12/12/19) The Screen Actors Guild Award Winners will be revealed in a ceremony January 19 live on TNT and TBS.

TELEVISION

Outstanding Performance by an Ensemble in a Drama Series

BIG LITTLE LIES
IAIN ARMITAGE / Ziggy Chapman
DARBY CAMP / Chloe Mackenzie
CAMERON CROVETTI / Josh Wright
NICHOLAS CROVETTI / Max Wright
LAURA DERN / Renata Klein
MARTIN DONOVAN / Martin Howard
MERRIN DUNGEY / Det. Adrienne Quinlan
CRYSTAL FOX / Elizabeth Howard
IVY GEORGE / Amabella Klein
NICOLE KIDMAN / Celeste Wright
ZOË KRAVITZ / Bonnie Carlson
KATHRYN NEWTON / Abigail Carlson
JEFFREY NORDLING / Gordon Klein
DENIS O'HARE / Ira Farber
ADAM SCOTT / Ed Mackenzie
ALEXANDER SKARSGÅRD / Perry Wright
DOUGLAS SMITH / Corey Brockfield
MERYL STREEP / Mary Louise Wright
JAMES TUPPER / Nathan Carlson
ROBIN WEIGERT / Dr. Amanda Reisman
REESE WITHERSPOON / Madeline Mackenzie
SHAILENE WOODLEY / Jane Chapman

THE CROWN
MARION BAILEY / Queen Elizabeth the Queen Mother
HELENA BONHAM CARTER / Princess Margaret
OLIVIA COLMAN / Queen Elizabeth II
CHARLES DANCE / Lord Mountbatten
BEN DANIELS / Lord Snowdon
ERIN DOHERTY / Princess Anne
CHARLES EDWARDS / Martin Charteris
TOBIAS MENZIES / Prince Philip, Duke of Edinburgh
JOSH O'CONNOR / Prince Charles
SAM PHILLIPS / Equerry
DAVID RINTOUL / Michael Adeane
JASON WATKINS / Harold Wilson

GAME OF THRONES
ALFIE ALLEN / Theon Greyjoy
PILOU ASBÆK / Euron Greyjoy
JACOB ANDERSON / Grey Worm
JOHN BRADLEY / Samwell Tarly
GWENDOLINE CHRISTIE / Brienne of Tarth
EMILIA CLARKE / Daenerys Targaryen
NIKOLAJ COSTER-WALDAU / Jaime Lannister
BEN CROMPTON / Dolorous Edd
LIAM CUNNINGHAM / Davos Seaworth
JOE DEMPSIE / Gendry
PETER DINKLAGE / Tyrion Lannister
RICHARD DORMER / Beric Dondarrion
NATHALIE EMMANUEL / Missandei
JEROME FLYNN / Bronn
IAIN GLEN / Jorah Mormont
KIT HARINGTON / Jon Snow
LENA HEADEY / Cersei Lannister
ISAAC HEMPSTEAD WRIGHT / Bran Stark
CONLETH HILL / Varys
KRISTOFER HIVJU / Tormund Giantsbane
RORY McCANN / The Hound
HANNAH MURRAY / Gilly
STAZ NAIR / Qhono
DANIEL PORTMAN / Podrick Payne
BELLA RAMSEY / Lyanna Mormont
RICHARD RYCROFT / Maester Wolkan
SOPHIE TURNER / Sansa Stark
RUPERT VANSITTART / Yohn Royce
MAISIE WILLIAMS / Arya Stark

THE HANDMAID'S TALE
ALEXIS BLEDEL / Emily
MADELINE BREWER / Janine
AMANDA BRUGEL / Rita
ANN DOWD / Aunt Lydia
O-T FAGBENLE / Luke
JOSEPH FIENNES / Commander Waterford
KRISTEN GUTOSKIE / Martha Beth
NINA KIRI / Alam/Ofrobert
ASHLEIGH LaTHROP / Ofmatthew
ELISABETH MOSS / Offred/June
YVONNE STRAHOVSKI / Serena Joy
BAHIA WATSON / Oferic
BRADLEY WHITFORD / Commander Lawrence
SAMIRA WILEY / Moira

STRANGER THINGS
MILLIE BOBBY BROWN / Eleven
CARA BUONO / Karen Wheeler
JAKE BUSEY / Bruce
NATALIA DYER / Nancy Wheeler
CARY ELWES / Mayor Larry Kline
PRIAH FERGUSON / Erica Sinclair
BRETT GELMAN / Murray
DAVID HARBOUR / Jim Hopper
MAYA HAWKE / Robin Buckley
CHARLIE HEATON / Jonathan Byers
ANDREY IVCHENKO / Grigori
JOE KEERY / Steve Harrington
GATEN MATARAZZO / Dustin Henderson
CALEB McLAUGHLIN / Lucas Sinclair
DACRE MONTGOMERY / Billy Hargrove
MICHAEL PARK / Tom Holloway
FRANCESCA REALE / Heather Holloway
WINONA RYDER / Joyce Byers
NOAH SCHNAPP / Will Byers
SADIE SINK / Max Mayfield
FINN WOLFHARD / Mike Wheeler
'Revenge' Reboot With Latinx Lead In Works At ABC
(11/6/19) One of ABC's most popular drama series of this decade is eyeing a comeback with a new chapter. The network is developing Revenge, a follow-up to the 2011 series, which starred Emily VanCamp and Madeleine Stowe. The reboot hails from the original series' creator/executive producer Mike Kelley, writer-producer Joe Fazzio, Temple Hill and ABC Studios, now part of Disney TV Studios.

Written by Kelley and Fazzio, Revenge chronicles the story of a young Latinx immigrant. Guided by one of the original series' favorite characters, she arrives in Malibu to exact revenge on a Sackler-esque pharmaceutical dynasty, whose insatiable greed lead to the murder of her biochemist mother, the destruction of her family, and a global epidemic.

The project is still in early stages, and according to sources, the character from the original series who would bridge that show and the sequel has not been identified, and there are no actors attached to the new project at this time. There are a number of possible choices of fan-favorite Revenge characters who could be brought back, including tech wiz Nolan Ross and his friend, Louise Virginia Ellis.

Kelley and Fazzio executive produce alongside Melissa Loy and Temple Hill's Marty Bowen, both of whom also were executive producers on the original series.

Inspired by the Alexandre Dumas novel The Count of Monte Cristo, the original Revenge starred VanCamp as a young woman who comes to the Hamptons to exact revenge on a wealthy family who had framed her father.

The series was a breakout hit when it debuted in fall 2011. Its linear ratings eventually tapered off as the heavily serialized drama probably would've been better suited for streaming, and it ended its run after four seasons on the broadcast network. But Revenge enjoyed a devoted fan following and was a major international seller for ABC Studios.

It also put The Twilight Saga producer Temple Hill, known for its feature business, on the TV series map. The company currently has several series including Mr. Mercedes on Audience, Looking For Alaska on Hulu and the upcoming Love, Simon for Disney+ and Lil Dicky for FX. The company is repped by UTA.

Kelley went on to create and executive produce the Netflix thriller drama limited series What/In starring Renee Zellweger. He is repped by HertzbergMedia and Sloane Offer. Fazzio's series credits also include ABC/ABC Studios' How to Get Away with Murder. He is repped by attorney Paul Hastings.

ABC successfully revived the 1988 comedy series Roseanne, whose spinoff, The Conners, is in its second season on the network. Last season, ABC developed a reboot of NYPD Blue, which went to pilot. This season, the network had been eyeing a thirtysomething sequel series from the original's creators Marshall Herskovitz and Ed Zwick.
Karine Vanasse on God Friended Me 11/17/19
(11/1/19) "The Last Grenelle" – Miles is shocked when the clues he began following in Paris lead him to Gideon (T.R. Knight), who had been helping friend suggestions years ago before making a fateful decision to leave the God Account behind, on GOD FRIENDED ME, Sunday, Nov. 17 (8:30-9:30 PM, ET/8:00-9:00 PM, PT) on the CBS Television Network.

RECURRING CAST: Karine Vanasse (Audrey Grenelle), Shazi Raja (Jaya)
Karine Vanasse on God Friended Me 11/10/19
(11/1/19) "Instant Karma" – Miles is confused when Sameer (Vinny Chhibber), a lawyer with financial problems, wants nothing to do with a winning lottery ticket that the God Account helps Miles return to him. Also, Ali opens up to the congregation at the LGBTQ-friendly church she joined, and Audrey (Karine Vanasse), the artist behind the mysterious painting Miles saw in Paris, reveals surprising information behind the work, on GOD FRIENDED ME, Sunday, Nov. 10 (8:00-9:00 PM, ET/PT) on the CBS Television Network.
Karine Vanasse on God Friended Me 11/3/19
(10/18/19) "The Fighter" – The God Account sends Miles the name of Elena (Cynthia Sosa), a social worker who began training in mixed martial arts to help heal the emotional wounds of a traumatic experience. Also, Arthur is torn between a professional opportunity and promises he made to his fiancé, Trish, and Rakesh attempts to track down the artist behind the mysterious painting that Miles and Cara found in Paris, on GOD FRIENDED ME, Sunday, Nov. 3 (8:30-9:30 PM, ET/8:00-9:00 PM, PT) on the CBS Television Network.

GUEST CAST inlcudes: Cynthia Sosa (Elena), Josh Segarra (Austin), Karine Vanasse (Audrey Grenelle).
James Tupper on A Million Little Things 10/31/19
(10/14/19) "unleashed" – Gary's growing tension with Maggie comes to a head as she accidentally lets Colin out while she's on the phone with Eric. Meanwhile, Delilah does a podcast about suicide, which helps her open up to Andrew, on a new episode of "A Million Little Things," airing THURSDAY, OCT. 31 (9:01-10:01 p.m. EDT), on ABC. (TV-14, D) Episodes can also be viewed the next day on ABC.com, the ABC app and Hulu.

"A Million Little Things" stars David Giuntoli as Eddie Saville, Romany Malco as Rome Howard, Allison Miller as Maggie Bloom, Christina Moses as Regina Howard, Grace Park as Katherine Saville, James Roday as Gary Mendez, Stephanie Szostak as Delilah Dixon, Tristan Byon as Theo Saville, Lizzy Greene as Sophie Dixon and Chance Hurstfield as Danny Dixon.

Guest stars include Jason Ritter as Eric, James Tupper as Andrew and Dr. Jennifer Ashton as herself.

The episode "unleashed" was written by Lauren Bachelis and Christopher Luccy, and directed by Tessa Blake.
Batwoman Baddies First Looks: Revenge Fave Gabriel Mann Is Hush, Rachel Matthews Cast as Magpie
(10/2/19) (Pic1, Pic2) Batwoman's crimefighting dance card is looking pretty full ahead of the new Arrowverse entry's Sunday, Oct. 6 premiere.

In addition to Alice, the season-long Big Bad played by Birds of Prey alum Rachel Skarsten (watch video Q&A below), TVLine has confirmed two other villainous castings for the superhero series that stars Ruby Rose ("Elseworlds") as Kate Kane aka Gotham vigilante Batwoman.

Seen above, Revenge alum Gabriel Mann will guest-star in Episode 3 as Thomas "Tommy" Elliot, a childhood friend of Kate's AWOL cousin, Bruce Wayne, who grew up to become a real estate mogul boasting easy charm and a friendly smile. And yet Tommy — who in DC Comics lore adopts the mantle Hush — harbors a deadly chip on his shoulder, one which will put Kate's secret identity at risk.

Additionally, Rachel Matthews (Happy Death Day, Hulu's upcoming Looking for Alaska adaptation) will guest-star in Episode 4 as Magpie (photo below), an extremely intelligent and deft thief who, as her code name suggests, is drawn to shiny things and thus has a penchant for pickpocketing the rich. Oh, but Magpie has bigger plans for those who take their wealth for granted.

In teasing the sorts of villains on tap for Batwoman — and whether they'd be over-the-top in typical Batman style — showrunner Caroline Dries said at the summer TCA press tour, "When you sign on for a show that takes place in Gotham, that's part of the fun. And in our Big Bad this year, [Alice] sort of represents all that Joker mentality in her craziness."

Of note: On Fox's Gotham, Magpie was played during the final season by Sarah Schenkkan, while Tommy popped up midway through Season 1 (played by Cole Vallis) and twice during Season 4 (played by Gordon Winarick).
James Tupper on A Million Little Things 10/10/19
(9/24/19) "mixed signals" – On the verge of becoming a filmmaker, Rome takes a meeting with an old producer friend which causes him to feel torn about the creative changes he suggests for his script. Meanwhile, Gary steps in to help Danny prepare to audition for his school play; while Delilah, craving some adult time, agrees to go to dinner with Andrew, on a new episode of "A Million Little Things," airing THURSDAY, OCT. 10 (9:01-10:01 p.m. EDT), on ABC. (TV-14, L) Episodes can also be viewed on ABC.com, the ABC app and Hulu.

"A Million Little Things" stars David Giuntoli as Eddie Saville, Romany Malco as Rome Howard, Allison Miller as Maggie Bloom, Christina Moses as Regina Howard, Grace Park as Katherine Kim Saville, James Roday as Gary Mendez, Stephanie Szostak as Delilah Dixon, Tristan Byon as Theo Saville, Lizzy Greene as Sophie Dixon and Chance Hurstfield as Danny Dixon.

Guest stars include Drea de Matteo as Barbara, Melora Hardin as Patricia, James Tupper as Andrew, Jason Ritter as Eric and Jerry Ferrara as Todd.

The episode "mixed signals" was written by David Marshall Grant and directed by Steve Robin.
James Tupper on A Million Little Things 10/3/19
(9/16/19) "grand canyon" – Eddie manages to keep Theo distracted in the midst of trying to track down Katherine, while Maggie realizes her mother's surprise move to Boston might not be just for her. Meanwhile, Regina struggles with accepting Andrew's ideas about the restaurant, and PJ makes a shocking confession to Rome, on a new episode "A Million Little Things," airing THURSDAY, OCT. 3 (9:01-10:01 p.m. EDT), on ABC. (TV-14, L) Episodes can also be viewed on ABC.com, the ABC app and Hulu.

"A Million Little Things" stars David Giuntoli as Eddie Saville, Romany Malco as Rome Howard, Allison Miller as Maggie Bloom, Christina Moses as Regina Howard, Grace Park as Katherine Kim Saville, James Roday as Gary Mendez, Stephanie Szostak as Delilah Dixon, Tristan Byon as Theo Saville, Lizzy Greene as Sophie Dixon and Chance Hurstfield as Danny Dixon.

Guest stars include Drea de Matteo as Barbara, Melora Hardin as Patricia, Rhys Cairo as Mitch, James Tupper as Andrew and Jason Ritter as Eric.

The episode "grand canyon" was written by DJ Nash and Geoffrey Nauffts, and directed by Chris Koch.
'God Friended Me' Casts Karine Vanasse
(9/12/19) Karine Vanasse (Cardinal, Revenge) has booked a recurring role on the upcoming second season of God Friended Me, the CBS drama series from Greg Berlanti's Berlanti Productions and Warner Bros. TV. Created by Steven Lilien and Bryan Wynbrandt and starring Brandon Micheal Hall, God Friended Me is a humor-tinged uplifting drama about Miles Finer (Hall), an outspoken atheist whose life is turned upside down when he receives a friend request on social media from "God" and unwittingly becomes an agent of change in the lives and destinies of others around him. Vanasse plays Audrey Grenelle, a French socialite with a mysterious connection to the God Account. Her involvement will lead Miles (Hall) to a discovery that will change everything he thought he knew about the God Account. Vanasse plays Lise Delorme in Canadian drama series Cardinal and also is known for her role as Margaux LeMarchal on Revenge. She's repped by Amanda Rosenthal Talent Agency and Brillstein Entertainment Partners.
This Is Us Twist! The Season 4 Trailer Introduces a New Cast of Characters
(9/1/19) (Trailer) Ready for a new This Is Us twist? The Emmy-winning NBC drama returns for a fourth season with an extended premiere event on Tuesday, Sept. 24, but you don't have to wait to get a hint at what's to come. In celebration of the Big Three's birthday, NBC unveiled a brand-new trailer featuring…a lot of people who aren't the Pearsons?!

"It's so strange, isn't it? How just like that a complete stranger can become such a big part of your story," Mandy Moore 's Rebecca says to Milo Ventimiglia's Jack. "It's actually kind of terrifying, you know? How a single cross with one person you've never met can change everything."

So, who are these complete strangers? Details are being kept under wraps, but we do know who they're played by: Asante Blackk, Marsha Stephanie Blake, Omar Epps, Bahara Golestani, Jennifer Morrison, Timothy Omundson, M. Night Shyamalan (yes, the Oscar nominated director!), Julian Silva, Auden Thornton and Nick Wechsler.

So, Ventimiglia wasn't kidding when he teased, "The world expands," during a recent visit to Watch What Happens Live with Andy Cohen.

In addition to main cast members Moore, Ventimiglia, Sterling K. Brown, Justin Hartley, Chrissy Metz, Susan Kelechi Watson and Chris Sullivan, returning faces in season four include Griffin Dunne, Tim Jo, Ron Cephas Jones, Elizabeth Perkins, Phylicia Rashad and Caitlin Thompson.

The season four premiere kicks off at 9 p.m. on NBC and will end shortly after 10 p.m. on NBC.

Season two of New Amsterdam will run in its entirety with limited commercial interruption and end as per usual at 11 p.m. on NBC.

This Is Us returns Tuesday, Sept. 24 on NBC.
Falcon and the Winter Soldier Disney+ Series Confirms Emily VanCamp as Sharon Carter, Casts U.S. Agent
(8/24/19) Disney+'s The Falcon and the Winter Soldier Marvel series has added a good guy (well, gal) and… someone we are not quite sure about.

As part of the news-ariffic D23 Expo on Friday, it was confirmed that Revenge alum/The Resident costar Emily VanCamp will reprise her MCU role as Sharon Carter (aka Peggy's niece) in the Falcon and Winter Soldier, which stars fellow MCU vets Anthony Mackie and Sebastian Stan in the title roles and is poised to be the first Marvel series released (in fall 2020) on the new streaming service.

VanCamp's possible involvement in the Disney+ series was first reported in May.

Additionally, Lodge 49's Wyatt Russell has boarded the series as John Walker, who in comic book lore adopts the alter egos of U.S. Agent or Super-Patriot — whatever the case, he is often positioned as an adversary to Captain America, the mantle that Falcon aka Sam Wilson was invited to inherit at the end of Avengers: Endgame.

Meanwhile, Disney+'s WandaVision series starring Elizabeth Olsen and Paul Bettany has added Kat Dennings and Randall Park as their MCU characters from the Thor and Ant-Man movies, as well as Kathryn Hahn (Transparent).

Disney+ launches on Tuesday, Nov. 12.
'Cowboy Bebop': Elena Satine Joins Netflix Live-Action Series
(8/23/19) (variety.com) The "Cowboy Bebop" live-action series at Netflix is adding another player to its cast.

Elena Satine, whose previous TV credits include ABC's "Revenge" and Starz' "Magic City," has joined previously announced cast members John Cho, Mustafa Shakir, Daniella Pineda, and Alex Hassell.

Satine's will play Julia who is described as "a sultry beauty with a voice to die for, the dream-like object of Spike Spiegel's (Cho) desire" who struggles to survive in a violent world.

Netflix picked up "Cowboy Bebop" for 10 episodes back in November. The series is described as the jazz-inspired, genre-bending story of Spike Spiegel, Jet Black, Faye Valentine and Radical Ed, a rag-tag crew of bounty hunters on the run from their pasts as they hunt down the solar system's most dangerous criminals. They'll even save the world for the right price.

Shinichiro Watanabe, director of the original anime, will serve as a consultant on the project. Christopher Yost, who previously penned "Thor: The Dark World" and "Thor: Ragnarok", will write the first episode and executive produce. Andre Nemec, Josh Appelbaum, Jeff Pinkner, and Scott Rosenberg of Midnight Radio will serve as executive producers. Yasuo Miyakawa, Masayuki Ozaki, and Shin Sasaki of Sunrise Inc.– the studio behind the original series–will also executive produce along with Marty Adelstein and Becky Clements of Tomorrow Studios, Tetsu Fujimura, and Matthew Weinberg.

The series is a co-production between Netflix and Tomorrow Studios, with Netflix handling physical production.

Satine is repped by Mosaic, ICM and Bloom Hergott.
Tell Me a Story Season 2: Matt Lauria Among 3 Joining CBS All Access Thriller
(6/27/19) Tell Me a Story is mixing in some new blood with the old: Matt Lauria (Kingdom, Friday Night Lights) is set to join franchise vet Paul Wesley as a series regular in the CBS All Access anthology thriller's upcoming second season, TVLine has learned exclusively. Additionally, Eka Darville (Jessica Jones) and Ashley Madekwe (Revenge) have boarded Story Season 2 as regulars.

The Kevin Williamson-created Story puts creepy spins on the world's most beloved fairy tales. The series' inaugural season darkly reimagined Little Red Riding Hood, The Three Little Pigsand Hansel and Gretel. Season 2 will put fresh twists on the princess-themed tales Beauty and the Beast, Sleeping Beauty and Cinderella.

Lauria — who will next be seen in Apple's forthcoming comedy series Dickinson — will play Jackson, the black sheep of a family who is torn between his demons and the desire to be a better man. He meets his match in a mysterious woman who pulls him into a sinister web of deceit and murder.

Darville will take on the role of the stoic and honorable Beau, whose adherence to a moral code has recently blown up both his personal and professional life. As he struggles to navigate his new reality, he'll discover that the line between what's right and what's necessary, between duty and desire, is never easy to navigate.

Madekwe, meanwhile, will play the Cinderella-esque Simone who, upon returning home after her father's untimely death, is forced to come face-to-face with the life she purposefully left behind. Driven by regret and anger, Simone will put her own life in danger to uncover her family's dark secrets.

The cast also includes Odette Annable (Supergirl) as Maddie, the piece-keeping, overachieving middle child in a broken family; and Natalie Alyn Lind (The Gifted) as Ashley, a rising country music star who survives a brutal attack, then confines herself to her home.

Tell Me a Story Season 2 is slated to bow later this year on CBS All Access.
Falcon & Winter Soldier: Emily VanCamp May Play MCU Role on Disney+ Series
(5/20/19) Emily VanCamp is in talks to reprise her MCU role as Sharon "Grand-Niece of Peggy" Carter in Disney+'s upcoming series teaming Sam Wilson and Bucky Barnes.

Falcon & Winter Soldier, starring fellow MCU vets Anthony Mackie and Sebastian Stan, is one of several Marvel series announced last month along with other Disney+ streaming service details.

Since Disney+'s big info drop, Avengers: Endgame has hit theaters, and the ending of that big-screen blockbuster put Mackie's Sam aka Falcon on an exciting new trajectory. Our sister site Deadline reports that both VanCamp as well as Daniel Bruhl, who played baddie Helmut Zemo in Captain America: Civil War, are in talks to join the small-screen offshoot. Deadline also is hearing that the six-part Falcon & Winter Soldier will in fact pick up where Endgame left off, with Sam facing a new destiny.

VanCamp, whose Sharon fka Kate/Agent 13 has appeared in both Winter Soldier and Captain America: Civil War, currently stars on Fox's The Resident. Disney now owns 20th Century TV, which produces the med drama, so you have to imagine accommodations will gladly be made if her services are wanted on both shows.

Disney+ launches Nov. 12; Falcon & Winter Soldier is being eyed for a summer 2020 premiere.
The Resident Renewed for Season 3
(3/26/19) The Resident's prognosis is good: Fox announced Monday that it has renewed the medical drama for a third season.

Season 2 of the series, led by Matt Czuchry and Emily VanCamp, currently airs Mondays at 8/7c. (Check out our renewal scorecard to get the status on your other favorite shows.)

"Amy Holden Jones, Todd Harthan and the team behind The Resident continue to showcase their brilliant storytelling, revealing both the triumphs and tragedy within the medical world," Michael Thorn, Fox Entertainment entertainment president, said via statement. "Matt Czuchry, Emily VanCamp and Bruce Greenwood, along with the stellar cast, have developed rich and compelling characters through their heartfelt performances."

Fox also renewed The Resident's Monday-night partner 9-1-1. Thorn added, "Both 9-1-1 and The Resident have many, many more stories to tell, and we can't wait to deliver them to fans next season."

Ratings-wise, The Resident has had a very steady pulse, fluctuating between a 1.1 demo rating (as recently as Jan. 14) and a 0.9. Season-to-date, it ranks No. 4 among all Fox dramas in the demo (trailing Empire, 9-1-1 and Star) and a healthy No. 2 in total audience.
'Bluff City Law': Barry Sloane & Michael Luwoye To Co-Star In NBC Pilot
(2/28/19) Barry Sloane (Six) and Michael Luwoye (Hamilton) are set to co-star opposite Jimmy Smits and Caitlin McGee in NBC's legal drama pilot Bluff City Law (working title) from The Brave creator Dean Georgaris, David Janollari, Michael Aguilar and Universal TV.

Co-created by Georgaris and Aguilar and written by Georgaris, Bluff City Law is a character-driven legal drama that follows the lawyers of an elite Memphis firm that specializes in the most controversial landmark civil rights cases. Led by legendary lawyer Elijah Strait (Smits) and his brilliant daughter, Sydney Keller (McGee), they take on the toughest David-and-Goliath cases while navigating their complicated relationship.

Sloane will play Jake Reilly, a smart and confident lawyer who works for Elijah. Luwoye plays Anthony Little, a fantastic lawyer who is also the warm-hearted father of three daughters.

Georgaris executive produces with Janollari and Aguilar. Universal TV produces with studio-based David Janollari Entertainment.

Sloane starred as Joe "Bear" Graves on History's military drama Six. Before that he starred on ABC's Revenge and The Whisperers and recurred on Netflix's Longmire. Sloane, who is recurring on the first season of the upcoming Bad Boys offshoot L.A.'s Finest, is repped by ICM Partners and Silver Lining Entertainment.

Luwoye just wrapped a run in the starring role of Alexander Hamilton in hit Hamilton on Broadway. He is the only person to have played the roles of both Hamilton and Burr on the same day. In TV, Luwoye has recurred on Fox's The Gifted and Netflix's She's Gotta Have It. Luwoye is repped by Lillian LaSalle at Sweet 180, Clear Talent Group and Jackoway Tyerman.
James Tupper on A Million Little Things 2/21/19
(2/5/18) "the rosary" – As her friends anxiously await the outcome of Maggie's surgery, an unexpected arrival from her mother leads to a tense first meeting with Gary, on an all-new episode of "A Million Little Things," airing THURSDAY, FEB. 21 (9:01-10:00 p.m. EST), on The ABC Television Network, streaming and on demand.

"A Million Little Things" stars David Giuntoli as Eddie Saville, Ron Livingston as Jon Dixon, Romany Malco as Rome Howard, Allison Miller as Maggie Bloom, Christina Moses as Regina Howard, Christina Ochoa as Ashley Morales, Grace Park as Katherine Kim, James Roday as Gary Mendez, Stephanie Szostak as Delilah Dixon, Lizzy Greene as Sophie Dixon and Tristan Byon as Theo Saville.

Guest stars include Melora Hardin as Patricia, Chandler Riggs as PJ, James Tupper as Andrew, and Marissa Jaret Winokur as Linda.

DJ Nash is creator and executive producer; Aaron Kaplan, Dana Honor and James Griffiths are executive producers. "A Million Little Things" is produced by ABC Studios and Kapital Entertainment.

The episode "the rosary" was written by Tawnya Bhattacharya and Ali Laventhol, and directed by Richard J. Lewis.
James Tupper on A Million Little Things 2/7/19
(1/21/18) "someday" – On the eve of the new restaurant opening, Delilah tracks down a handsome expert to help with the last-minute details. Meanwhile, Regina struggles with her overbearing mother who causes friction by bringing up disturbing details of her past, on a new episode of "A Million Little Things," airing THURSDAY, FEB. 7 (9:01-10:00 p.m. EST), on The ABC Television Network, streaming and on demand.

"A Million Little Things" stars David Giuntoli as Eddie Saville, Ron Livingston as Jon Dixon, Romany Malco as Rome Howard, Allison Miller as Maggie Bloom, Christina Moses as Regina Howard, Christina Ochoa as Ashley Morales, Grace Park as Katherine Kim, James Roday as Gary Mendez, Stephanie Szostak as Delilah Dixon, Lizzy Greene as Sophie Dixon and Tristan Byon as Theo Saville.

Guest stars include Romy Rosemont as Shelly and James Tupper as Andrew.
Emily VanCamp marries 'Revenge' co-star Josh Bowman
(12/16/18) Emily VanCamp is a married woman.

On Saturday, the 32-year-old actress wed former "Revenge" co-star Josh Bowman in the Bahamas, according to Us Weekly.

VanCamp and Bowman, 30, tied the knot in front of family and friends, including fellow "Revenge" alum Ashley Madekwe, who shared snaps of her tropical travels online.

The couple met on the set of the ABC drama in 2011, playing love interests Emily Thorne and Daniel Grayson. "Revenge" wrapped after four seasons in 2015.

VanCamp revealed she and Bowman were engaged in May 2017.

"He did good," she told Entertainment Tonight of the outdoor proposal. "We were in nature on a hike kind of doing what we do, it was very, sort of, us. So yeah, it was great, beautiful."

Reps for VanCamp and Bowman did not immediately return our request for comment.
Hulu's Four Weddings and a Funeral Adds Tom Mison, Tommy Dewey and Ashley Madekwe
(12/8/18) Add a few more place settings to the seating chart: Tom Mison (Sleepy Hollow), Tommy Dewey (Casual) and Ashley Madekwe (Revenge) are joining Four Weddings and a Funeral, TVLine has learned.

Mison will play Quentin and Madekwe will play Julia. In addition, TVLine has confirmed that Dewey — who showed up in Four Weddings executive producer Mindy Kaling's Instagram Story from the set earlier this week — will play Ted on the Hulu series. All are guest-starring roles.

Nathalie Emmanuel stars in the series adaptation of the 1994 rom-com as Maya, an American who joins her friends in London for a wedding that goes awry after a bombshell revelation at the altar. According to the show's official logline, "relationships are forged and broken, political scandals exposed, London social life lampooned, love affairs ignited and doused, and of course, there are four weddings… and a funeral."

Other, previously announced guest stars include: Andie MacDowell, who co-starred in the movie on which the series is based and who'll play Mrs. Howard, the mother of Maya's friend Ainsley; and Rebecca Rittenhouse (The Mindy Project), who'll play Ainsley. Brandon Mychal Smith (You're the Worst) will play Maya's friend Craig.

Mison also has a role in HBO's upcoming adaptation of Watchmen. Dewey, who starred opposite Kaling in The Mindy Project, recently wrapped four seasons of Hulu's Casual. Madekwe's credits include Salem and the forthcoming The Umbrella Academy at Netflix.
Gabriel Mann on Hawaii Five-0 11/2/18
(10/20/18) "Aia i Hi'ikua; i Hi'ialo" – McGarrett crosses the line and is arrested while investigating the death of his former SEAL buddy, who died while making an emergency landing on an aircraft carrier, and the only survivor is a baby. Also, Adam returns to Oahu with some devastating news about his marriage, on HAWAII FIVE-0, Friday, Nov. 2 (9:00-10:00 PM, ET/PT) on the CBS Television Network.

("Aia i Hi'ikua; i Hi'ialo" is Hawaiian for "Is Borne on the Back; Is Borne in the Arms")

GUEST CAST includes: Nazneen Contractor (Emma Warren), Eddie Cahill (Carson Rodes), Sarah Dumont (Julia Berg), Gabriel Mann (Lee Berg).
The Resident Gets Full Season 2 Pickup
(10/11/18) More Season 2 episodes, stat! Fox has handed a full-season pickup to The Resident, just three episodes into the medical drama's sophomore season.

The news brings The Resident's Season 2 episode count to a full 22. The Matt Czuchry-led drama returned for its second season last month, albeit with a full slate of casting changes: Season 1 cast members Moran Atias (PR chief Renata Morali), Merrin Dungey (ex-CEO Claire Thorpe) and Melina Kanakaredes (incarcerated oncologist Lane Hunter) did not return for Season 2, and Jenna Dewan joined the series in Episode 2 as medical device sales rep Julian Booth.

The Resident debuted in January as a midseason replacement, wrapping up its 14-episode freshman season in May. Fox renewed it that same month for Season 2, which currently airs Mondays at 8/7c.

"Amy Holden Jones, Todd Harthan and the amazing team behind The Resident have brilliantly offered viewers the ability to see the medical industry through a different lens," said Michael Thorn, president of entertainment at Fox. "We can't wait to watch the exceptional cast as they continue to roam the halls of Chastain Memorial Hospital."

Czuchry stars as arrogant doc Conrad Hawkins, a senior resident internist at Chastain Memorial Hospital. The supporting cast includes Emily VanCamp (as nurse Nic), Manish Dayal (as first-year resident Devon), Shaunette Renée Wilson (as surgical resident Mina) and Bruce Greenwood (as chief of surgery Randolph Bell).
'Doctor Sleep' Finds Its Snakebite Andi In 'Revenge' Actress Emily Alyn Lind
(9/21/18) Code Black and Revenge actress Emily Alyn Lind has boarded Warner Bros.'The Shining sequel Doctor Sleep as Snakebite Andi who is a member of the nomadic psychic groups the True Knot who feed off the 'steam' of those children gifted with 'the Shining'. Rose the Hat, the True Knot's leader, has her main target in sight which is Abra Stone.

In the Stephen King novel Doctor Sleep, Andi was the first member of the True Knot to be introduced. She was sexually abused by her father, leading her to develop a hatred of all men and subsequently become a lesbian without realizing it. She's nicknamed Snakebite because of her snake tattoo. Andi has the ability to make people fall asleep through suggestion. She's in a relationship with fellow True Knot member Silent Sarey.

Mike Flanagan directs Doctor Sleep and adapted King's novel. Trevor Macy and Jon Berg are producing. Lind joins already announced Ewan McGregor (grown up Danny Torrance), Rebecca Ferguson (Rose the Hat, leader of the True Knots), Bruce Greenwood, Kyliegh Curran (Abra Stone who has the gift of 'the Shining'), Carl Lumbly, Alex Essoe and Zahn McClarnon.

Lind just concluded her work as a regular on Code Black playing Marcia Gay Harden's daughter and will next be seen in Replicas with Keanu Reeves. For Revenge fans, Lind played the young Amanda Clarke. Lind's talent reps are Coast to Coast, Dan Spilo at Industry Entertainment, and attorney Dave Feldman.

Doctor Sleep hits theaters on Jan. 24, 2020.
The 100 Adds Teen Wolf Vet
(9/21/18) Teen Wolf alum JR Bourne is bringing the peace to The 100: The actor will recur during Season 6 of the CW drama as Russell, the charismatic and visionary leader of a peaceful society, EW.com reports.

The character will face "difficult moral choices" and develop a "complicated relationship" with Clarke, per the site. Bourne's other TV credits include Falling Water, Somewhere Between, Revenge and The Secret Circle.

The 100 is slated for a midseason return.
'L.A.'s Finest': Barry Sloane Joins 'Bad Boys' Offshoot Series As Recurring
(9/15/18) Six and Revenge alum Barry Sloane has been tapped for a recurring role on L.A.'s Finest, Spectrum's 13-episode series starring Gabrielle Union and Jessica Alba. The spinoff from the Bad Boys movie franchise hails from writers Brandon Margolis and Brandon Sonnier, Sony Pictures TV, Jerry Bruckheimer Television and 2.0 Entertainment.

It follows Burnett (Union), who last was seen in Miami taking down a drug cartel. She now has left her complicated past behind to become an LAPD detective. Paired with a new partner, Nancy McKenna (Alba), a working mom with an equally complex past, Burnett is pushed to examine whether her unapologetic lifestyle might be masking a greater personal secret. These two women don't agree on much, but they find common ground when it comes to taking on the most dangerous criminals in Los Angeles.

Sloane will play Dante, the younger brother of bad guy Ray Sherman (Zach McGowan), with whom he shares a criminal past. Although he is an ex-con trying to turn things around, his big brother keeps getting the two of them mixed up with some dangerous criminals, pulling Dante back into his old, illicit life.

The regular cast also includes Ernie Hudson, Zack Gilford, Duane Martin and Ryan McPartlin.

Union and Alba executive produce alongside co-showrunners Margolis, Sonnier, and Pam Veasey, 2.0's Doug Belgrad, JBTV's Bruckheimer, Jonathan Littman and KristieAnne Reed, Primary Wave's Jeff Gaspin as well as Jeff Morrone. Anton Cropper directed the pilot and is executive producer.

Sloane is coming off a starring turn as Joe "Bear" Graves on History's military drama Six. Before that he starred on ABC's Revenge and recurred on Netflix's Longmire. He is repped by ICM Partners and Silver Lining Entertainment.
Elena Satine, Matt Levett To Lead 'Caviar'
(9/1/18) Elena Satine (The Gifted, Revenge) and Australian actor Matt Levett (A Place to Call Home, Devil's Playground) will star in the indie revenge thriller, Caviar, along with Anna Baryshnikov (Manchester by the Sea), Toby Leonard Moore (John Wick), Bill Sage (Hap and Leonard), and Rade Serbedzija (Proud Mary). Directed by Joseph Mensch, pic is based on the memoir Career Criminal. Set in a Russian mafia of 90s era Brooklyn, the plot revolves around Misha "Mike" Markovich (Levett), a gifted young stockbroker who gets betrayed by his people and sentenced to six years in prison. When he gets out, his need for vengeance puts him in the crosshairs of Alexander Pushka, Mike's former mentor and the head of New York's Russian mob. Satine will play Katiuska, the only woman in the Russian mob who has ambitions of her own. Mensch and Metin Aksoy cowrote the screenplay, which is being produced by Adam Folk of Bullet Pictures. The film is currently in production in New York City. Satine is repped by Mosaic, ICM, and Bloom Hergott.
Renée Zellweger to Star in Netflix 'Social Thriller' From Revenge Creator
(8/18/18) In what represents her first major TV gig, Oscar winner Renée Zellweger has signed on to headline a new Netflix anthology series from Revenge creator Mike Kelley, TVLine has learned. Titled What/If, the 10-episode "social thriller" explores the ripple effects of what happens when acceptable people start doing bad, bad things.

According to Netflix, each season will "tackle a different morality tale inspired by culturally consequential source material, and the power of a single fateful decision to change the trajectory of an entire life." The streamer declined to divulge details about Season 1's premise/storyline. We can, however, confirm that Zellweger will be playing — spoiler alert! avert your eyes! — a character named Anne.

The project marks Kelley's first TV gig since parting ways with Revenge at the conclusion of the ABC drama's polarizing second season. The former Swingtown EP will handle writing duties on What/If and serve as an EP alongside Melissa Loy, Alex Gartner, Charles Roven, Robert Zemeckis and Jack Rapke. Sources confirm to TVLine that production is slated to begin in early September in Los Angeles.

Zellweger's film credits include Jerry Maguire, Chicago, Nurse Betty, White Oleander, the Bridget Jones trilogy and Cold Mountain, for which she earned an Oscar for Supporting Actress.
'The Oath': Dilshad Vadsaria, Erik King Among Seven Recurring Cast In Season 2
(7/20/18) Dilshad Vadsaria (Revenge, Second Chance), Sebastian Zurita (Todo Mal, Si Yo Fuera Tu), Erik King (Dexter, Oz), J. Anthony Pena (Unsolved: The Murders of Tupac and the Notorious B.I.G, Lucifer), Richard Burgi (Desperate Housewives, General Hospital) Rich Paul (Cut Throat City, The Long Shadow) and Carlos Sanz (Stronger) are set for recurring roles on the second season of The Oath, Sony Crackle's gritty drama from executive producer Curtis "50 Cent" Jackson.

They join the previously announced cast for season two, which includes new series regular Christina Milian, and Leona Lewis and Zulay Henao who will recur, along with returning cast Ryan Kwanten – who's also a producer – Cory Hardrict, Katrina Law and J.J. Soria.

Created by Joe Halpin, The Oath explores a world of gangs made up of those sworn to protect and defend and sheds light on corrupt and secret societies that are nearly impossible to join. Only a select few make the cut — but once inside, members will do what they must to protect each other from enemies on the outside and from within their own ranks. Season 2 finds the Ravens trying to free themselves from their debt to the cartel. The season will examine themes of family and redemption, giving the characters a chance to reclaim their lives as their own, pushing them to find a new path and attempting to conquer their inner demons – all while trying to protect their own lives in the process.

Vadsaria plays Anaya Gil, who runs the U.S. faction of the Indo-Canadian Organized Crime. With her lieutenant Rajiv, her crime ring specializes in the theft and sale of luxury cars. Anaya runs her business professionally, is loyal to her friends, and expects the same from her partners. She cares about her business and her people, willing to do whatever it takes to keep them safe. She's repped by Luber Roklin Entertainment and Innovative Artists.

Zurita is Ricardo Velasquez, the only son of Ignacio, who was raised in the shadow of his father. Ruthless to an extreme, and quick to anger. Ricardo has a contentious relationship with the rest of his family, in part because of the favoritism his father shows to Carmen, his sister. Envious, and eager to prove his worth, his thirst for power will lead him to decisions that he may come to regret. Zurita is repped by CAA and John Carrabino Management.

King is Pastor Greg, Amber's father, and a self-reformed man who plans on helping those in the neighborhood still in the life. Growing up in a family of gangbangers, he followed the tradition. But after losing his brother to gang violence, he decided to use his street knowledge to help the community instead. As a Pastor, Cole approaches him to organize events for the Ravens. Good PR to keep the public opinion on the gang's side, and keep them out of another RICO case. As the violence escalates he'll try his hardest to maintain the peace, and mentor Cole on the importance of helping the community. King is repped by Gersh and The Burstein Company.

Pena plays Carl Ortiz, a current cop gang member and owner of the bar the Ravens frequent. Pena returns this season and becomes a major player in the gangs' effort to break free from the Cartels grip and go legitimate. Pena is repped by Mogan Entertainment.

Burgi plays Nathan Andrews, a stone cold DEA agent. Calculating, Andrews is well aware of the corruption that a job like his can breed, and to a degree, he's sympathetic to those who fall to it. He's made it his mission in life to take down all the cartels no matter the consequences. Burgi is repped by Leslie Allan-Rice Management and Innovative Artists.

Paul is Eli Briggs, the leader of a ruthless cop gang named the Horsemen. Eli's character plays an integral part in creating havoc for the Ravens as they struggle to survive in the cop gang world.

Paul is repped by Nick Terry at Zero Gravity Management.

Carlos Sanz is Ignacio Velasquez, a leader of the Costa Oeste Cartel. Father of Jorge and Carmen, and a ruthless leader, he built his empire from the ground up. He has an old school mentality when it comes to loyalty and rules with an iron fist. A legend in Colombia for helping his people and is considered a benefactor to his community. Equally feared and loved, he is about to learn the true meeting of loyalty. Sanz is represented by Lighthouse Entertainment and Amsel, Eisenstadt , Frazier & Hinojosa Talent Agency (AEFH).

The Oath is executive produced by Curtis "50 Cent" Jackson and his G-Unit Film & Television Inc., Dennis Kim, Todd Hoffman, Anne Clements, and Joe Halpin who is also creator, writer and showrunner. Kwanten and Frances Lausell return as producers along with co-executive producer Jeff T. Thomas.
Fox Pilot Mixtape Lands at Netflix With 10-Episode Series Order
(7/3/18) Fox's pilot Mixtape is going to series — at Netflix. The Internet network has given a 10-episode order to the musical drama starring Jenna Dewan, Callie Hernandez and Madeline Stowe. The project hails from Quantico creator Josh Safran; Annapurna Pictures; 20th Century Fox TV, which produced the original pilot; and its cable/streaming division Fox 21 TV Studios.

The majority of the cast of the Fox pilot, which was directed by Jesse Peretz, are set to continue. That includes Hernandez, Jahmil French, Dewan, Campbell Scott, Stowe, Marianne Jean-Baptiste, Megan Ferguson and Evan Whitten.

The male lead, played in the Fox pilot by Raul Castillo, will be recast, and possibly the child role of his young son. As a result, there will be some reshoots on the pilot, which would be helmed by Peretz subject to availability.

Written by former Smash showrunner Safran, Mixtape is a romantic musical drama that looks at the love stories connecting a diverse, disparate group of people in contemporary Los Angeles through the music that lives inside their hearts and minds.

Safran executive produces with Annapurna's Megan Ellison and Sue Naegle as well as Ali Krug.

While Mixtape did not make the cut to series at Fox, the pilot was an internal favorite and had support among network executives. As we previously reported, it was taken out by the studio to streamers immediately after Fox Broadcasting Co. had made its pickup decisions last month. The talks progressed at Netflix and, with a deal in its final stages, the actors were picked up this past weekend just hours before their options were set to expire.

This is the third broadcast pilot to get a series order by Netflix after missing the cut at its original network. Last year, the streaming platform picked up drama Insatiable (originally at the CW) and comedy All About the Washingtons starring Rev Run (originally at ABC).

It's been a busy month or so at Netflix, which also picked up canceled Fox drama series Lucifer and continues negotiations for Designated Survivor.

Mixtape was the first broadcast pilot for Annapurna and the second series at Netflix for the company, which also has the Coen brothers anthology The Ballad of Buster Scruggs.

At Netflix, Fox 21 TV studios recently produced the Veena Sud series Seven Seconds. This marks the first 20th TV broadcast project — pilot or series — to find a second life on a SVOD platform.

Safran is repped by UTA and Ziffren Brittenham.
'Good Trouble': Molly McCook & Josh Pence Set To Recur In 'Fosters' Spinoff
(6/20/18) Molly McCook (The Ranch) and Josh Pence (La La Land) have joined the recurring cast of Good Trouble, Freeform's The Fosters spinoff. Production has begun in Los Angeles for premiere in 2019.

The series follows Callie (Maia Mitchell) and Mariana (Cierra Ramirez) as they embark on the next phase of their young-adult lives in Los Angeles.

McCook will play Rebecca, a fellow law clerk with Callie, whose grandfather is a Republican U.S. Senator and comes from a political dynasty of sorts. She is friendly enough, but hyper driven to be perfect in order to live up to her family's expectations.

Pence will portray Dennis, the oldest tenant at The Coterie, with a mild case of arrested development, and an aspiring musician.

In addition to Mitchell and Ramirez, they join series regulars Tommy Martinez, Zuri Adele, Sherry Cola and Roger Bart, and Emma Hunton and Ken Kirby who recur.

Good Trouble hails from The Fosters' three writing executive producers — Joanna Johnson, Peter Paige and Bradley Bredeweg — who exec produce alongside Gregory Gugliotta, Christine Sacani, Mitchell, Ramirez, Jennifer Lopez, Elaine Goldsmith-Thomas and Benny Medina. The series is produced by Lopez's Nuyorican Productions in association with Freeform. Jon M. Chu will direct and executive produce the first episode.

McCook was most recently seen as Darlene in a recurring role in The Ranch. Her other credits include Guidance, Murder in the First and Modern Family, among others. She's repped by APA and Shelter Entertainment Group.

Pence recently recurred on Revenge and appeared in guest spots on The Man in the High Castle and American Horror Story. On the big screen, he played Josh in La La Land, along with his other credits. Pence is repped by ICM Partners.
Christa B. Allen on Code Black
(6/1/18) "Only Human" – Rox accompanies Willis and Martin to the funeral of an army buddy of Willis' brother, and Willis decides to get to the bottom of what happened to his brother's unit. Also, Max is brought to Angels Memorial with breathing difficulty, and Ariel tells him she loves him, on CODE BLACK, Wednesday, June 20 (10:00-11:00 PM, ET/PT) on the CBS Television Network.

GUEST CAST includes: David Clennon (Colonel Martin Willis), Christa B. Allen (Amber).
Everwood Revival: 'There's a Real Shot It Could Come Back,' Says Greg Berlanti
(5/15/18) The prospect of an Everwood revival has progressed from "pipe dream" to "realistic possibility." In a new interview with Variety, Greg Berlanti — who created the beloved WB drama — suggested that a reunion project is becoming more a question of when than if.

"I think it's about schedules and finances and budget and, if we can get a budget to a [workable] place, I think that there's a real shot that that could come back," he said. "I think we just have to figure out what would be the best way to do it. But there's nothing firm in place yet."

During an Everwood 15th anniversary panel held last August at the Television Critics Association's summer press tour, Berlanti was more tentative about the possibility of a revival. "No one's asked, but I think we all would love to work together again," he told reporters. Star Treat Williams quickly interjected that he'd sign on to an Everwood continuation "in a New York minute."

Leading Lady Emily VanCamp, meanwhile, recently confirmed to the TVLine Podcast that she's "heard whispers" about a possible revival, adding, "If it were to happen there's a big possibility I would do it. We'll see."
Barry Sloane, Star Of History's Military Series 'Six', Inks With ICM Partners
(5/8/18) Barry Sloane has signed ICM Partners for agency representation. The actor is set to return for a 10-episode second season of History's military action drama series Six, which will debut Memorial Day, May 28.

Sloane's previous TV credits include main roles in ABC's Revenge and its short-lived series, The Whispers, as well as a recurring stint in the Netflix series, Longmire. On the film side, Sloane starred opposite Michael Keaton and Michelle Monaghan in Dimension Films' Penthouse North and appeared in Darren Aronofsky's Noah.

He'll continue to be managed by Silver Lining Entertainment.
Suzanne Patmore Gibbs Dies: Head Of Sony's TriStar Television Was 50
(3/30/18) This is very sad news for the TV community — Suzanne Patmore Gibbs, the head of Sony Pictures TV's TriStar Television, died suddenly this morning. She was 50. The respected veteran TV executive, who also held top executive posts at Sony TV, ABC and Touchstone TV, passed away unexpectedly at Cedars-Sinai Medical Center of complications from minor surgery.

"Today we lost an amazing and wonderful member of the SPT family. This is a shock to all of us, and we are heartbroken," SPT president Jeff Frost and co-presidents Chris Parnell and Jason Clodfelter wrote in a note to the company staff announcing Patmore Gibbs' passing. "All of us at Sony Pictures Television were touched by Suzanne's passion and friendship. She was a wonderful colleague and friend to all who worked with her. She will be greatly missed and our thoughts and prayers are with her family and friends during this difficult time."

Patmore Gibbs most recently relaunched TriStar Television as a division of SPT. She led the unit for the past three years, gradually building it into a label focused on female-driven projects, in front and behind the camera, as exemplified by the Amazon series Good Girls Revolt. Patmore Gibbs was passionate about providing more opportunities for female showrunners and directors, about championing projects with strong female roles and about encouraging new voices and diversity. The exec, who also shepherded TriStar TV's series Shut Eye and The Last Tycoon, is leaving behind a slate of a slew of high-profile projects set up at cable and streaming networks.

Before taking over TriStar TV, Patmore Gibbs served as EVP drama development for SPT, where her team developed NBC's The Blacklist, The Night Shift and The Player; Outlander on Starz; Bloodline and The Get Down on Netflix; Houdini and Doyle on Fox; and Powers on PlayStation.

Before joining Sony TV, Patmore Gibbs served as EVP scripted programming for ABC Entertainment Group, where she was instrumental in the development of hits Desperate Housewives and Grey's Anatomy, which she championed, and also shepherded such series as Lost, Revenge, Once Upon a Time, Scandal, Suburgatory and Ugly Betty. She also worked as SVP drama development at Touchstone Television, as SVP development at Ed Zwick and Marshall Herskovitz's Bedford Falls and acted as an adjunct professor of screenwriting at the USC film school from 1999-2002.

Patmore Gibbs is survived by her husband, Stuart; children Dashiell and Violet; her brother, Alan; and her parents, Barry and Carole.

"She was a mentor, a guiding light, and a tastemaker for multiple studios including ABC, Sony and most recently TriStar Television," the family said. "She was kind, thoughtful and supportive to everyone she worked with — and in return, she was respected and admired throughout Hollywood. While she was justifiably proud of her many career accomplishments, she felt that her greatest success was her loving family and friends. She will be greatly missed."

Details regarding arrangements and services will be be announced at a later date. In lieu of flowers, her family has asked to make a donation to the Children's Institute or Girls, Inc.
'Strange Angel': Elena Satine Set To Recur In CBS All Access Series
(3/28/18) Revenge alum Elena Satine is set for a key recurring role opposite Rupert Friend, Jack Reynor and Bella Heathcote in Strange Angel, CBS All Access' upcoming original drama series from Ridley Scott's Scott Free Productions and CBS TV Studios.

Created by Mark Heyman based on George Pendle's book of the same name, 1930s-set Strange Angel is inspired by the real-life story of Jack Parsons (Reynor) and explores the dramatic intersection between genius and madness, science and science fiction.

Satine will play Maggie, Ernest's (Friend's) wife. Beautiful and fashion-forward, she is an ex-Vaudeville song and dance girl who now makes her living designing costumes for RKO Pictures in the late 1930s. She gives off the appearance of being warm and carefree, though some of her husband's activities cause her more grief than she'd like to admit.

Satine played Louise Ellis on the fourth season of ABC's Revenge. She's also known for her roles on Magic City and most recently, The Gifted. Satine is repped by Mosaic, ICM and Bloom Hergott.
Big Little Lies' James Tupper to Co-Star With Katie Holmes in Fox FBI Pilot
(3/16/18) James Tupper (Big Little Lies) has been tapped as a male lead opposite Katie Holmes in Fox's FBI drama pilot from former Empire showrunner Ilene Chaiken and Melissa Scrivner Love. Paul Walter Hauser (I, Tonya) also has been cast in a series regular role in the project, produced by 20th Century Fox TV.

Written by Chaiken and Love and directed by Sanaa Hamri, the untitled drama (fka Mrs. Otis Regrets) centers on FBI Special Agent Hazel Otis (Holmes), who's in the midst of investigating a domestic terrorism threat when a personal indiscretion – an affair with a prominent general (Tupper) – shatters her life and threatens her career at the FBI. Now labeled "the mistress," Hazel Otis – wife, mother, patriot – begins to rebuild her personal life and professional reputation.

Tupper will play Moses Fallon, a four star general, military hero and National Security Advisor. Christian Camargo had been cast as the other male lead in the project, Hazel's husband. Paul will play Daniel Cohen, a scrappy, scruffy blogger.

Chaiken, Scrivner Love and Hamri executive produce with Judy Smith, Holmes and 3 Arts' Oly Obst.

Tupper played Nathan Carlson in breakout Big Little Lies and is currently shooting Season 2 of the HBO series. The Revenge and Grey's Anatomy alum also recurs on the upcoming Paramount Network series American Woman and recently did an arc on BBC's The Brave. Tupper is repped by UTA and Untitled.

Hauser played Shawn Eckhardt in Neon's I, Tonya opposite Margot Robbie, Sebastian Stan and Allison Janney. He most recently wrapped a leading role in Spike Lee's Black Klansman for Focus Features & QC Entertainment, and will next be seen in Super Troopers 2. Hauser is repped by CAA, Principato-Young Entertainment and attorney Isaac Dunham.
'Revenge' actress to release partially nude music video
(3/9/18) Producer Johnny What and actress Christa B. Allen — the masterminds behind the band Pour Vous — just dropped their new single, and it's hot — but not as hot as their upcoming partially nude music video will be!

Inspiration for the creation of the band and the song, The Flood, came shortly after the duo began dating and What heard Allen singing in the shower.

"I was like, 'Oh man, she has a really powerful voice,'" he told Billboard. "I saw immediately an opportunity to create a really cool project."

"We were both waiting for the right moment to pop the question…We both wanted to do it, and then one of us finally one night [asked], 'Should we do it? Should we write a song together?'"

The song is largely based off their relationship. "We've ended up with songs about sex and love and also the arguments you have and the struggles and tensions you have with it as a couple," Allen said.

Allen told the outlet it was written after the couple had their first fight. "When you first start dating someone, everything's perfect. You're in that honeymoon phase," she explains. "The first fight is like, 'This is my person,' you know? This is it, he's my one, and the first fight feels like, 'Oh my God, how can this be? How can we be having a fight? This is supposed to be perfect.'"

Next up for Pour Vous is a sultry music video featuring partial nudity, the couple told Radar exclusively. "Make no mistake about it, this video is NSFW," Allen says. "The implied nudity will make some people uncomfortable, and we are prepared for that. loosen your tie and shift in your seat. But our message is loud and clear: female sexuality is not to be shamed but to be celebrated."

The couple, who met at an industry party in Hollywood in 2015 and started dating one year later, reveals they named their band Pour Vous because they "fell in love" at a speakeasy with the same name.

Allen played socialite Charlotte Grayson on the ABC drama series Revenge, alongside A-lister Emily VanCamp up until the show's cancellation in 2015.

Along with the romantic love life, Allen is now working hard to incline her career. Aside from the creation of her new band and NSFW music video, her next film release is the lead in The Queen of Sin, set to premiere on Lifetime this spring.
Brittany Allen Joins Nicholas McCarthy's Untitled Horror Film
(3/7/18) Actress Brittany Allen has secured a supporting role in Orion Pictures horror film, formally titled Descendant, from director Nicholas McCarthy. Starring Taylor Schilling and Jackson Robert Scott, the pic follows a mother who, concerned about her young son's disturbing behavior, thinks something supernatural may be affecting him. Jeff Buhler penned the screenplay for the film, which is expected to go before cameras this month in Toronto. Tripp Vinson is producing with Daniel Bekerman, Lisa Zambri, Nick Spicer and Buhler serving as executive producers. Allen, who is a Daytime Emmy-winner for her role in All My Children, stars in the indie film, What Keeps You Alive, which premieres at the forthcoming SXSW, and appeared in Lionsgate's Saw franchise sequel, Jigsaw. She's repped by Patterson Talent Management, Joseph Le Talent Agency, and Luber Roklin Entertainment.
'Chiefs': Michael Trucco To Co-Star In CBS Cop Drama Pilot
(3/1/18) Battlestar Galactica alum Michael Trucco is set as a series regular opposite Aunjanue Ellis and Alana De La Garza in CBS drama pilot Chiefs, from David Hudgins and Carol Mendelsohn.

Written by Hudgins and directed by Zetna Fuentes, Chiefs explores the professional and personal lives of three driven, successful but very different women, who are each Chiefs of Police of their own precincts in L.A. County. They band together to create a task force to catch a dangerous serial killer.

Trucco will play Detective Keele, who works closely with Chief of Police Kendra Downes (Ellis) – and they go way back. A seasoned professional, he's sharp as a tack and devoted to the job. He has his opinions and he's not afraid to share them.

Trucco most recently recurred as Tae Kwon Doug in Netflix's Disjointed. Known for his role as Ensign Samuel Anders on Battlestar Galactica, Trucco's other TV credits include Fairly Legal, How I Met Your Mother and Grandfathered. On the film side, he was recently cast in indie pic Through the Glass Darkly. Trucco is repped by UTA and McKeon/Myones Entertainment.
Big Little Lies Season 2: James Tupper, Iain 'Young Sheldon' Armitage Return
(3/1/18) Iain Armitage's copious Young Sheldon duties will not prevent him from making a return trip to Monterey. HBO confirms that the young actor has signed on to reprise his role as Ziggy, the son of Shailene Woodley's Jane, in Big Little Lies' upcoming second season.

The cabler also announced that fellow Lies vets James Tupper (aka Nathan, hubby of Zoe Kravitz's Bonnie ) and Jeffrey Nordling (aka Gordon, hubby of Laura Dern's Renata) will also be back for Season 2. All three will be series regulars.

HBO released the following teasers for the three characters:

* Tupper's Nathan "copes with a complicated turn of events in his marriage and with his eldest daughter Abby."
* Nordling's Gordon "faces the consequences of a big mistake and risks losing everything along the way."
* Armitage's Ziggy "starts second grade and continues to be the light of Jane's life."

The trio's return brings to nine the number of Big Little Lies alums signed on for the quasi-sequel. They join fellow returning vets Reese Witherspoon, Nicole Kidman, Shailene Woodley, Laura Dern, Zoë Kravitz and Adam Scott. The number grows to 10 if you include the unofficial comeback of Alexander Skarsgard's late Perry. And, as previously reported, Meryl Streep is joining the cast as Perry's mom.

Production on the seven-episode Season 2 begins in early March with a premiere eyed for early 2019.
'The Umbrella Academy': Cameron Britton, Colm Feore, Adam Godley & Ashley Madekwe Join Netflix Series
(2/16/18) Cameron Britton (Mindhunter), Colm Feore (House of Cards), Adam Godley (Breaking Bad), are set as series regulars and Ashley Madekwe (Revenge) will recur in The Umbrella Academy, Netflix's upcoming live-action series from Universal Cable Prods.

Written by Jeremy Slater based on the popular graphic novels penned by Gerard Way and illustrated by Gabriel Bá, the story follows the estranged members of a dysfunctional family of superheroes known as the Umbrella Academy — Luther (Tom Hopper), Diego (David Castañeda), Allison (Emmy Raver-Lampman), Vanya (Ellen Page), Klaus (Robert Sheehan) and Number Five (Aidan Gallagher) — as they work together to solve their father's mysterious death while coming apart at the seams due to their divergent personalities and abilities.

Britton will play Hazel, an infamously ruthless and efficient hit-man, currently under contract. His job is to time travel and assassinate targets in different decades. Though a loyal company man who has enjoyed what he does for decades, the job starts to wear on him — which puts him at odds with his equally lethal partner, Cha-Cha (Mary J. Blige).

Feore will portray Sir Reginald Hargreeves, a world-renowned billionaire industrialist and eccentric inventor—Howard Hughes meets Elon Musk. He is also the adoptive father of seven children who were born under mysterious circumstances and have supernatural abilities. Hargreeves deprived them of any normal childhood, instead relentlessly training and manipulating them into a dysfunctional team of young superheroes.

In a voiceover/motion capture role, Godley will play Pogo, a genetically engineered, tweed jacket-wearing, talking chimpanzee. He is the trusted, wise aide and companion to eccentric billionaire Reginald Hargreeves. Much beloved by the Hargreeves' adopted children, Pogo tries to carry on his deceased master's legacy by keeping the siblings together.

Madekwe is Detective Patch, a driven, fast riser within the police department focused on solving a string of crimes in the city. Some might call her arrogant, but she gets the job done, and with charm. She plays by the book, but that doesn't make her soft. She isn't sympathetic to vigilantism–which puts her at odds with a certain sibling of the Umbrella Academy.

The Umbrella Academy is executive produced by Steve Blackman, who will serve as showrunner, as well as Bluegrass Television and Mike Richardson and Keith Goldberg from Dark Horse Entertainment. Gerard Way will serve as co-executive producer.

Britton played Tim on Freeform's Stitchers and recurred on Mindhunter and S.W.A.T. Feore is known for his role as Ted Brockhart on House of Cards and recently appeared on Lore. Godley recurred as Elliot on Breaking Bad, played Emile Cross on Powers and guest-starred on The Blacklist. Madekwe played witch Tituba on Salem and Ashley Davenport on Revenge, and is a series regular on Deadlier Than The Male, which was just picked up to series by TNT. She is repped by Gersh and Silver Lining Entertainment.
Madeleine Stowe to Star in Fox's Musical Drama Pilot Mixtape
(2/16/18) Victoria Grayson is singing a different tune.

Former Revenge vixen Madeleine Stowe is set to star in Fox's musically-tinged drama pilot Mixtape, TVLine has learned. Penned by ex-Smash EP Josh Safran, the potential series centers on a disparate group of interconnected people in contemporary Los Angeles through the lens of the music that defines who they are.

Stowe will play the series-regular role of Margot, an actress who carefully controls how she presents herself to the world (but is secretly exhausted by having to do it).

Save for a 2016 guest appearance in Syfy's 12 Monkeys, Stowe has maintained a relatively low TV profile since Revenge's demise in 2015.
Cathy Moriarty & Michael Trucco Cast In 'Through the Glass Darkly'
(1/9/18) Cathy Moriarty, recently seen in Sundance standout Patti Cake$, and Battlestar Galactica alum Michael Trucco have joined Robyn Lively and Shanola Hampton in the indie pic Through the Glass Darkly. The psychological thriller is being directed by Lauren Fash from a script she co-wrote with Susan Graham.

The film follows Charlie (Lively), a 43-year-old woman recently diagnosed with Alzheimer's disease who lives in small-town Georgia. When Elodie Carmichael, granddaughter of town matriarch Sherry Carmichael (Moriarty), goes missing, paranoia shakes the core of this sleepy community, reviving old ghosts and long-buried secrets.

Trucco plays her Sherry Carmichael's son, Trip Carmichael.

Graham also is producing the project via However Productions, along with Autumn Bailey-Ford of Autumn Bailey Entertainment, and Carmella Casinelli from Bon Aire Productions. Exec producers are Stacey Davis and Jim Rine.

Moriarty, an Oscar nominee for her role in the Robert De Niro-Martin Scorsese film Raging Bull, is repped by Justice & Ponder and Felker Toczek. Trucco is repped by UTA and McKeon/Myones Management.
The TVLine Podcast: Matt Czuchry and Emily VanCamp
(1/20/18) (Listen) Prior to checking into Fox's new medical drama The Resident, Matt Czuchry and Emily VanCamp had not only never worked together, they never even crossed paths. It's a fact neither one of them can quite wrap their collective heads around.

"I can't believe that in these 15 years we had never met," VanCamp marvels to me at the start of the joint TVLine Podcast Q&A. Adds Czuchry: "There felt like some connection between Everwood and Gilmore Girls, [so] we both had that feeling like, 'Did we meet?'"

Well, the onetime WB/CW ingenues quickly had to act like they've known each other for years once the cameras started rolling on The Resident, which premieres Sunday immediately following Fox's coverage of the NFC Championship game. On the show, they play on-again/off-again lovers who share a strong connection, a dynamic that came naturally to both actors. "You have to work really hard for chemistry sometimes," VanCamp notes. "But Matt and I have a lot of mutual respect and a very similar work ethic. We both take the work very seriously — sometimes too seriously."

The pair go on to candidly explain why the decision to sign on to a medical procedural was an "agonizing" one, before they both humor me by answering burning questions about the aforementioned shows that made them TV stars.
Anne Heche and James Tupper have ended their relationship of over 10 years.
(1/12/18) "James and I have shared a great life together and have many wonderful memories," the couple said in a joint statement to People on Thursday. "We've enjoyed working together, most recently on 'The Brave,' where he joins us for our two mind-bending finale episodes."

The statement continues, "Relationships change and grow; we're taking time for that. We care very much for each other and plan to continue raising our two beautiful boys in love and harmony. Thank you for allowing us privacy as our family evolves."

Heche. 48, and Tupper, 52, began dating in 2007. They share 8-year-old son Atlas and Heche has a 15-year-son named Homer from a previous relationship.

A rep did not immediately return our request for comment.
Is Emily VanCamp Marrying Her Former Co-Star Josh Bowman This Year?
(1/7/18) They're in no rush!

While attending the FOX All-Star Party during the 2018 Winter TCA Tour on Friday, Emily VanCamp revealed that she and her fiancé, Revenge co-star Josh Bowman, whom she got engaged to May 2017 and has been dating since 2011, have yet to plan their impending nuptials.

"We haven't had any time," The Resident star admitted. "We've been working in different countries. We're just taking our time with it."

When asked whether or not she and Josh had any plans on getting hitched in 2018, the actress coyly said, "Maybe."

After seven years together, these two are certainly not rushing to the altar anytime soon.

In May, Emily posed for a picture with her hands covering her face. Followers, however, quickly spotted a brand-new ring on that finger.

"(heart)," she wrote on Instagram.

While the couple has maintained a relatively private relationship, Emily has gushed about her main man on a few occasions.

In an interview with InStyle Australia, the Revenge star spoke about her hunky British beau by stating, "I have a wonderful love in my life."

"Trust is the most important thing in any relationship, because everything falls into place after that," she added.

While the couple may have worked together on the the former ABC drama, Emily explained in an interview at the time that she tries to keep her professional life apart from her personal life.

"Josh and I keep it all very separate. I barely talk about him in interviews, to be honest," she explained to Elle Canada. "It's just really funny in the moments when we're playing these absolutely absurd things. I call him 'wife-beater Daniel.' It's hard for my family to watch—it's also hard for them to see me in that light. But we're actors. None of that lives in any of us. Thank God!"
Emily VanCamp Medical Drama 'The Resident' Has Sexual Harassment-Themed Episode In The Works – TCA
(1/4/18) Fox's The Resident is earnestly going where no other medical drama has ever gone before: Beyond the blood and guts of operation, and holding a mirror up to the dirty politics that goes down in the hospital.

Matt Czuchry plays an idealistic young doctor, Dr. Conrad Hawkins, who comes to learn of all the smut that's going on. Emily VanCamp returns to TV close to three years after ABC's cult thriller soap Revenge ended playing a whistle-blowing nurse, Nicolette Nevin.

"We're trying to show the general audience what they don't know that goes on in hospitals so you can protect yourself," says co-creator/EP Amy Holden Jones adding that most medical dramas on TV are "pretty rosy".

"Doctors and cops are who you go to when your life is on the line," says Jones who believed that subgenre was turned on its head awhile on the small screen with series showing "the ambiguous encounters (that people have) when they have encounters with a cop."

Jones mentioned that there will be an upcoming episode for the Fox series which debuts on January 21 in which VanCamp's Nic is a victim of sexual harassment. Jones penned the 1993 $100M+-grossing sexual thriller Indecent Proposal.

"It's a female empowerment show. I'm a woman. Our staff is half female in the writers room as we're trying to get as many female directors as we can. My take on the (topic of) sexual harassment was how my career was impacted. While I was never a victim, after four features they wouldn't allow me to direct," said Jones.

The pilot script came to VanCamp from her Revenge EP and pilot director Phillip Noyce. She immediately took to the story as it resonated with the complex Trump times where the healthcare system has further ratcheted down.

"I took some time off," said the actress following Revenge, "I read a couple of pilots and I wasn't happy with what I was reading. I loved the pilot and thought it was relevant to what's happening today. I get to be a champion for all nurses who are so undervalued, underpaid and who do most of the work," said VanCamp. Her character is inspired by a real nurse who blew the whistle on an oncologist who was grossly misdiagnosing cancer patients. "He's now in jail, but the real woman lost everything in exposing him," adds the actress.

Despite riveting twists and turns on Revenge, VanCamp found The Resident easy to identity with. "On Revenge, I had to figure out the things she was doing and root for them, with this series it's easy to root for her because she cares so much about her patients and fighting the ultimate fight."

In regards to VanCamp reprising Sharon Carter in future Avengers movies or Captain Marvel, that's still TBD for the actress. "Marvel can call at any minute," says VanCamp.
Olivier Martinez To Star In Action-Adventure TV Series 'Soldiers Of Fortune'
(12/13/17) Olivier Martinez (Unfaithful) is set to star in action-adventure series Soldiers of Fortune, produced by New Zealand's Mercenary TV Limited and Ireland's Subotica, and executive produced by Roadside Attractions TV (Dear White People).

Set in the shadowy world of high-risk corporate warfare, Soldiers of Fortune stars Martinez as Vincent Corbo, a battle-scarred black-ops Specialist hired by visionary high-tech mogul Peter Swann to fight the ruthless business rivals, corrupt governments and violent crime syndicates laying siege to Swann's global empire. Michael Colleary (Lara Croft: Tom Raider, Face/Off) will serve as showrunner and oversee an international team of writers, primarily from Europe.

Nadine de Barros and Robert Ogden Barnum's Fortitude International acquired the rights to the Blue Skies series and will begin shopping it immediately. Production is set to begin in late February, with additional cast to be confirmed.

Richard Fletcher and Trevor Haysom produce for Mercenary TV Limited, along with Tristan Lynch and Aoife O'Sullivan of Subotica. Executive producers are Howard Cohen, Eric d'Arbeloff and Jennifer Berman of Roadside Attractions Television, Jeff Most (The Crow, The Specialist) and BiFrost's Daniel Wagner (Miles Ahead, Broken City).

"A television series set against the backdrop of high-tech private military units deployed by billionaires to achieve their political and business goals couldn't be more timely or exciting," said Cohen and d'Arbeloff.

Martinez's recent TV credits include Mars, Texas Rising and Revenge. He's repped by Framework Entertainment.
The Resident Trailer: Matt Czuchry and Emily VanCamp Are TV's Next Hot Hospital Couple
(12/12/17) (Video) There's a new medical drama in town and things are already getting hot and heavy on The Resident!

TV Guide has obtained an exclusive look at the show's extended trailer, which features a deeper look into the life of Conrad Hawkins (Matt Czuchry), a renegade medical resident trying to reshape the way his hospital treats patients by pushing boundaries and bending rules.

The new footage also gives us a better understanding of Conrad's relationship with Nic (Emily VanCamp), the nurse who backs him up professionally but who he's obviously entangled in a complicated personal relationship with. There are make-out sessions in the on-call room, fights on the main floor and then tearful looks before meaningful hand grabs.

Romantic sparks aren't the only thing flying. Conrad is going toe-to-toe with Chief of Surgery Dr. Randolph Bell (Bruce Greenwood) in the show's inaugural season. Bell is continuing to do surgeries even with a mysterious hand tremor and it seems that Conrad is the only person willing to stand up to him about it. Can a resident take down the head cheese though?

The Resident begins delivering the drama on Sunday, Jan. 21 at 10/9c on Fox.
Fox's The Resident Gets NFL-Boosted Launch Before Monday Time Slot Debut
(11/22/17) Fox aims to give The Resident strong vitals out of the gate, slotting the medical drama's debut for Sunday, Jan. 21 at 10/9c, where it will lead out of the network's coverage of the NFC Championship game.

The Resident will makes its regular time slot premiere the following night, Monday, Jan. 22 at 9 pm, where it will succeed The Gifted.

The Gifted, which was always capped at a 13-episode freshman run, airs its two-hour season finale on Jan. 15.

Following the final years of a young doctor's training, The Resident promises to "rip back the curtain to reveal the truth of what really happens, both good and bad, in hospitals across the country."

The freshman series stars Matt Czuchry (The Good Wife), Emily VanCamp (Revenge), Manish Dayal (Halt and Catch Fire), Moran Atias (Tyrant), Melina Kanakaredes (CSI: NY), Bruce Greenwood (The People v. O.J. Simpson), Merrin Dungey (Alias) and Shaunette Renée Wilson (Billions). Watch the trailer here.
The Brave: James Tupper Set for Arc Opposite Wife Anne Heche
(11/9/17) It's the (sorta) Men in Trees revival we always wanted but were afraid to ask for: James Tupper is reteaming with his sometime leading lady (and real-life wife) Anne Heche via an arc on her freshman NBC drama The Brave, TVLine has learned exclusively.

Tupper will play Alex Hoffman, a brilliant CIA field officer who in the past formed a partnership of opportunity with Heche's Patricia as they rose through the ranks together. The two reconnect after years apart when Hoffman finds himself at the center of a crisis that threatens global security.

In addition to their work on ABC's late, underrated Men in Trees, Tupper and Heche more recently played a married couple in Syfy's post-apocalyptic summer series Aftermath. Tupper's TV credits also include Revenge, Grey's Anatomy and Big Little Lies.

The Brave airs Mondays at 10/9c on NBC.
The CW Buys Southern Soap 'Prohibited' From Ian Somerhalder & Nikki Reed
(11/9/17) The CW has put in development Prohibited, an hourlong soapy drama from Ian Somerhalder and Nikki Reed's Rare Birds Productions and Warner Bros. TV.

Written by Jesse Lasky (Revenge), Prohibited is described as an upstairs/downstairs Southern soap where high-spirited former thief Amelia Jones attempts a fresh start in male-dominated Bourbon Country. Her new life, however, is upended when her two sisters show up demanding Amelia's help in orchestrating the most dangerous heist of their lives: robbing the Money Room of the Kentucky Derby. Amelia now finds herself torn between the thrill of her dangerous past and her newfound ambition of becoming a Bourbon Queen.

New parents Somerhalder and Reed executive produce via their Rare Birds as part of the company's pod deal with Warner Bros.. Lasky is co-executive producer, while Rare Birds' Tracy Ryan produces.

Lasky was a writer-associate producer on the last three seasons of ABC's Revenge and most recently has been a writer on CBS' Code Black.

Reed is repped by Paradigm, Thruline Entertainment and Morris Yorn. Former The Vampire Diaries star Somerhalder is repped by ICM Partners, Untitled Entertainment and Morris Yorn. Lasky is repped at Paradigm and Echo Lake.
Tommy Flanagan, Bill Sage Join Indie Feature 'The Wave'
(10/25/17) Sons Of Anarchy alum Tommy Flanagan and Bill Sage (Hap and Leonard) will join Justin Long and Donald Faison in the indie film, The Wave, which follows an image obsessed attorney (Long) who changes course on a high-stakes insurance case when a life-changing, drug-induced night on the town ends up changing his outlook on life. Gille Klabin is directing from a script by Carl W. Lucas, who also is producing the pic with Joshua Bunting through their EchoWolf Productions label. Flanagan, known for his role as Filip "Chibs" Telford on SOA, will reunite with fellow SOA alum Charlie Hunnam in the upcoming Papillon remake. He's repped by Gersh, Untitled Entertainment and attorney David Krintzman. Sage, whose credits include Power and Orange Is The New Black, is repped by INSURGE-Ent and Ellipsis Entertainment Group.
'Code Black': Emily Alyn Lind Upped To Series Regular For Season 3
(10/4/17) Revenge alum Emily Alyn Lind, who has appeared in four episodes of CBS' Code Black since the pilot, has been promoted to series regular for Season 3 of the medical drama.

Lind plays Ariel Braeden. Having lost both her parents in the pilot, 14-year-old Ariel is in the process of being adopted by Dr. Leanne Rorish (Marcia Gay Harden). She's a typically angst-ridden teen growing up amidst the chaos of Angels Memorial, where the entire staff becomes her surrogate family. She's also a reluctant candy striper who'd rather be doing anything else – that is until she meets Max, a cute boy who also happens to be a cancer patient at the hospital.

Created by Michael Seitzman, Code Black is a co-production between ABC Studios and CBS TV Studios.

Lind played Amanda Clarke on ABC's Revenge and recently wrapped New Line horror comedy Babysitter. She's repped by Dan Spilo at Industry Entertainment and Coast to Coast.
Greg Berlanti, Jane Fonda, Kevin Reilly Among Brandon Tartikoff Legacy Award Honorees
(9/7/17) Greg Berlanti, Cesar Conde, Jane Fonda, Kevin Reilly and Tom Selleck are recipients of NATPE's 15th annual Brandon Tartikoff Legacy Award. The five will be honored at a special reception on Wednesday, January 17 at the Fontainebleau Miami Beach.

The 2018 Tartikoff Legacy Award recipients are recognized for exhibiting their extraordinary passion, leadership, independence and vision through their diverse work in being a part of the creation and distribution of content for the world's traditional and digital marketplaces. Named in honor of esteemed television programmer Brandon Tartikoff, the Award was created to acknowledge a select group of television professionals who have demonstrated the highest degree of excellence in their field.

"Each of the Tartikoff honorees is a leader in their field and a legend in the industry. We are thrilled to celebrate the substantial achievements of Greg Berlanti, Cesar Conde, Jane Fonda, Kevin Reilly and Tom Selleck at this year's event in Miami," said Andy Kaplan, President of Sony Pictures Television Networks and Chairman of the Board of NATPE.

Here's a look at the 2018 honorees:

Greg Berlanti is a WGA, DGA and Golden Globe-nominated writer, director and producer credited with being the force behind some of the most inventive and acclaimed works on television. He currently serves as executive producer and writer of Riverdale, based on the beloved Archie comics, and executive producer and co-creator of The CW's Supergirl, Arrow, The Flash and DC's Legends of Tomorrow, collectively known as The CW's Arrowverse. He also serves as an executive producer on Blindspot starring Jaimie Alexander. Upcoming television projects via his Berlanti Productions banner include Lifetime's straight-to-series thriller You, The CW's Black Lightning, the live-action version of DC Entertainment's Titans, and ABC's new series Deception. Previous to these roles, he served as the writer, director and producer behind several of the most creative and lauded television series, including Brothers & Sisters, Eli Stone (for which he was nominated for a WGA award), Dirty, Sexy, Money, the mini-­series Political Animals (for which he was nominated for a WGA, DGA and Golden Globe award), The Tomorrow People and The Mysteries of Laura. Berlanti started in television as a writer and executive producer on Dawson's Creek before creating and executive producing two of the WB's most critically acclaimed dramas: Everwood and Jack & Bobby. Outside of TV, Berlanti made his film directorial debut in 2000 with The Broken Hearts Club. Berlanti also co­-wrote and produced the Warner Bros. action film Green Lantern starring Ryan Reynolds, Blake Lively and Peter Sarsgaard, and directed Life As We Know It starring Katherine Heigl and Josh Duhamel, which grossed over $100m worldwide. Most recently, Berlanti wrapped production on Fox 2000's adaptation of acclaimed YA novel Simon Vs. The Homo Sapiens Agenda which is set to release in March of 2018.

Cesar Conde is Chairman of NBCUniversal International Group and NBCUniversal Telemundo Enterprises and serves on the Executive Committee of NBCUniversal. As Chairman, Conde is responsible for the operations and international expansion of NBCUniversal businesses outside of North America. Conde also oversees NBCUniversal Telemundo Enterprises, a premier and fast-growing portfolio of media properties serving Hispanics in the U.S. Under Conde's leadership, Telemundo hit a historic milestone in 2016, by ranking as the #1 Spanish-language network. Conde was also the driving force behind the launch of "El Poder En Ti," NBCU Telemundo Enterprises' award-winning community platform. He currently sits on the board of the Foundation for Excellence in Education and the White House Initiative on Educational Excellence for Hispanics. Conde joined NBCUniversal in October 2013 as Executive Vice President of NBCUniversal where he oversaw NBCU International and NBCU Digital Enterprises. Prior to NBCUniversal, Conde was the President of Univision Networks, where he is credited for transforming it into a leading global, multi-platform media brand. Under his leadership, Univision's main broadcast network became the number one network in America regardless of language for the first time in the company's 50-year history.

Jane Fonda is a two-time Academy Award winner (Best Actress in 1971 for Klute and in 1978 for Coming Home), a seven-time Golden Globe winner, the 2014 recipient of the AFI Life Achievement Award and, at the time in 2007, the third person to ever receive an Honorary Palme d'Or from the Cannes Film Festival. She revolutionized the fitness industry with the release of Jane Fonda's Workout (1982) – still the top grossing home video of all time – and went on to create 23 home exercise videos, 13 audio recordings, and seven bestselling books, which have sold 17 million copies all together. She secured starring roles in dozens of highly acclaimed productions, in addition to taking on responsibilities as a film and television producer, with credits include Coming Home, The China Syndrome, Nine to Five, Rollover, On Golden Pond, The Morning After and The Dollmaker. For three seasons Fonda appeared as media mogul Leona Lansing in an Emmy-nominated performance in Aaron Sorkin's The Newsroom on HBO. Most recently, she appeared in Youth, written and directed by Paolo Sorrentino (director and co-writer of Italy's Academy Award® winning Best Foreign Language Film The Great Beauty). She received a Golden Globe nomination for her performance. Fonda currently stars in Netflix's hit series, Grace and Frankie, which premiered its third season in March 2017 and for which she received a 2017 Emmy nomination for Outstanding Lead Actress in a Comedy Series. Her new film, Our Souls at Night, co-starring Robert Redford, will premiere on Netflix in September 2017. She received the Golden Lion for Lifetime Achievement at the 74th Venice Film Festival alongside Redford in September.

Kevin Reilly is the President of TNT and TBS and the Chief Creative Officer for Turner Entertainment, overseeing industry-leading properties including TBS, TNT and Super Deluxe. Before joining Turner, he served as head of entertainment for FOX (2007-2014), president of entertainment at NBC (2004-2007) and president of entertainment at FX (2000-2003). Widely cited as an industry innovator, Reilly was among the first television executives to make meaningful investments in digital and social media content and push for multiplatform ratings measurement, and has championed some of the most culturally-influential programs in television history, including Empire, The Office, 30 Rock, Friday Night Lights, The Sopranos, The Shield, Nip/Tuck, ER, Law & Order and Glee. Since joining Turner in November 2014, Reilly has aggressively led major brand evolutions for TBS and TNT by creating distinctive, original comedies and late-night shows – such as Full Frontal with Samantha Bee, The Guest Book and Search Party – with TNT rolling out premium, buzz-worthy dramas such as Animal Kingdom, Claws and Good Behavior. He also spearheads new businesses for Turner's growing portfolio, which includes fast-growing start up Super Deluxe, a digital and television studio and distribution company, and ELEAGUE, the first major foray into professional eSports by a traditional media company. Additionally, Reilly serves on the Board of Trustees for the American Film Institute and the Television Academy, and the advisory board for the Peabody Awards.

Tom Selleck has been a prolific figure in Hollywood for almost 50 years, including his breakout role as the eponymous star of eighties television hit Magnum P.I., which garnered him both an Emmy Award and a Golden Globe Award for 'Best Actor in a Drama Series,' as well as four People's Choice Awards, four Emmy nominations and six Golden Globe nominations. He currently stars in the CBS hit series Blue Bloods, which will debut its eighth season this fall. Other notable television credits include a nine-episode run on Friends (2001) – which earned him an Emmy nomination for 'Outstanding Guest Actor in a Comedy Series – in addition to 'CBS's Twelve Mile Road (2003), The Closer (1998) and Shadow Riders (1982); ABC's Divorce Wars (1982); Showtime's Ruby Jean and Joe (1996); TNT's Broken Trust (1995) and Last Stand at Saber River (1997); NBC's Returning Home (1975); and Turner Film's Running Mates (2000). Selleck has seen success on the big screen as well, including romantic comedies Three Men and a Baby, the People's Choice winner for 'Favorite Comedy Motion Picture' in 1988, and In & Out. Aside from his acting successes, Selleck has also become prolific behind-the-scenes. In addition to co-writing several installments of the Emmy Award-nominated Jesse Stone movie-of-the-week franchise – which earned him an Emmy nomination for 'Outstanding Lead Actor in A Miniseries Or A Movie' – his notable producing credits include: The Closer (2001), Louis L'Amour's Crossfire Trail (2001), Last Stand at Saber River (1997), Ruby Jean and Joe (1996), Revealing Evidence (1990) and the last two seasons of Magnum P.I.
Revenge Alum Turns Mutant
(8/8/17) Revenge alum Elena Satine will appear in Episode 2 of Fox's The Gifted (premiering Monday, Oct. 2) as Dreamer, a mutant with the ability to add or subtract memories.
Gabriel Mann Joins USA Drama
(8/4/17) Revenge's brilliant side-kick won't be needing his Nolcorp gadgets when he enters Damnation.

Gabriel Mann has booked a recurring role in the upcoming USA Network drama about "the mythic conflict and bloody struggle between big money and the downtrodden, God and greed" in America's heartland circa the 1930s, THR.com reports. Mann will play Martin Eggers Hyde, a witty, well-spoken intellectual and visionary.

The previously announced cast includes Killian Scott, Logan Marshall-Green, Sarah Jones, Chasten Harmon, Christopher Heyerdahl and Melinda Page.

Damnation is slated to premiere in October.
Emily VanCamp On New Fox Drama 'The Resident', Marvel Universe & Equal Pay – TCA
(8/3/17) It's been awhile since we last saw Revenge's Emily VanCamp at TCA. But the actress attended the bi-annual TV critics confab today for the CW's 15th anniversary Everwood panel, and we caught up with her to chat about her new Fox series The Resident and whether Sharon Carter was returning anytime soon to the Marvel Cinematic Universe.

It was announced in May that Fox picked up The Resident, the new-hour long medical drama that reteams VanCamp with her Revenge EP and episodic director Philip Noyce. The Salt director also helmed the first episode of The Resident, which was written by Amy Holden Jones, Hayley Schore and Roshan Sethi, and executive produced by Antoine Fuqua.

No premiere date has been set yet for The Resident, but January is a conceivable air time. While VanCamp has played both the girl and the assassin next door in Everwood and Revenge, respectively, she says about Resident: "I've never played a nurse before and while I can't speak about my arc, she's easily based off a real-life nurse who was a whistle-blower to a corrupt situation in a hospital."

"That's what drew me to her, when you're working in the medical field, there's so much at stake and to go up against these hospital CEOs and surgeons, everything is at risk if you expose it. I was always drawn to strong female characters," VanCamp says.

Given the fierce debate over health care in America, VanCamp adds, "It's really nice in this political climate to be part of something. At its core, it's a discussion of how corrupt the medical system is in America and that spoke to me because in this time it's nice to have a voice and speak up about things that are happening."

Which brings us to Marvel. Moments before Revenge ended its series run on ABC in May 2015, news hit that VanCamp was reprising her role as Agent 13, aka Sharon Carter (and in the MCU, arguably she's Peggy Carter's grand-niece), in Captain America: Civil War following her debut in 2014's Captain America: The Winter Soldier. But in regards to whether VanCamp will reprise again in Infinity War or a future TV series, VanCamp said, "No idea." How about the Brie Larson feature Captain Marvel? "You guys put it out there," she said, beaming.

"With Marvel, they can give you a call the day before you shoot. You don't know what's going on with their movies because they're very secretive," said VanCamp. Asked whether Sharon was ever going to join ABC's Agents Of S.H.I.E.L.D., VanCamp says, "I think it was discussed, but I was working on Revenge at the time."

VanCamp was also asked about equal pay for actresses, and whether she was ever in a situation where a male co-star with an equal part was paid more than her.

"I think since I was a kid, I always fought for equal pay, so I'm glad it's at the forefront of discussion and I think slowly we're starting to see a change," says the actress.

"I've always been a feminist and I've always been for gender equality, and it's always been at the forefront of my mind as a teenager. It only makes sense if things are fair."
Ashley Madekwe Cast In TNT Pilot 'Deadlier Than The Male'
(8/3/17) Salem alumna Ashley Madekwe is set for a key series-regular role opposite Enrique Murciano in Deadlier Than the Male (working title), TNT's drama pilot produced by Bruna Papandrea's Made Up Stories and Turner's Studio T.

Written by Harriet Warner, Deadlier Than the Male follows a trio of characters, each with a mysterious and troubling past: a young woman who once looked into the eyes of a dangerous killer, a former serial predator desperate to find redemption and Mary (Amy Brenneman), a grieving mother obsessed with finding her missing daughter. As each of them is pushed to the edge, the truth about their pasts and motives grows ever murkier, blurring the lines between victim and perpetrator.

Madekwe will play Lisa, Pete's (Murciano) younger wife. Pete was her therapist at one point, but Lisa found the shift from patient to partner marginalizing. When she starts to suspect Pete of having an affair, her own demons of distrust and paranoia begin to resurface. Lily Rabe and Amy Brenneman also star.

Madekwe is coming off a starring turn on WGN America series Salem and played Ashley Davenport on ABC's Revenge. She's repped by Gersh, Silver Lining Entertainment and Gordon & French.
Everwood Reunion: 10 Highlights From the Emotional Anniversary Panel
(8/3/17) With all four seasons of Everwood now available on its digital channel CW Seed, The CW took another trip down memory lane with a 15th anniversary panel for the WB family drama at the Television Critics Association summer press tour on Wednesday.

Here are 10 takeaways from the reunion, featuring creator Greg Berlanti, executive producer Rina Mimoun and the late WB series' cast (minus Chris Pratt, Sarah Drew, Scott Wolf and Merrilyn Gann):

* "This is an emotional day for me," a visibly choked-up Berlanti said, kicking off a panel that would find several of the stars getting teary-eyed. Tom Amandes, who played Dr. Harold Abbott, also got verklempt while praising the show's writing. The emotion intensified as Vivien Cardone (Delia Brown) recalled how she couldn't see her father much when she moved to Utah to film the series, so Treat Williams (Dr. Andy Brown) — who was also away from his family — made her a deal: He would be her temporary dad if she would be his temporary daughter. The two actors then embraced after dabbing away tears. "Of all the things I've done in the 44 years I've been doing this, [Everwood is] right at the top," Williams said.

* Where would the Everwood characters be now? Debra Mooney imagines Edna Harper is "in an RV going around the world and having a great time. She could stop anywhere and be a nurse." Amandes noted that Rose and Herald were set to adopt, prompting Mimoun to point out that their child would now be the same age as Ephram was when the show started. "The reboot is right there, you guys!" she exclaimed.

* So will the series ever get the revival treatment, especially in light of its recent success on CW Seed? "No one's asked, but I think we all would love to work together again," Berlanti responded, to which Williams added: "In a New York minute." Berlanti admitted that he hasn't even thought about how the storylines could pick back up in a potential continuation. "Most of our plan has been asking people to have a digital space for people to watch the show," he explained. "That's been most of our campaign for how to keep the show alive."

* An alternate ending for the Season 4 finale featured Ephram getting a call from his ex Madison as Amy waited for him. Mimoun wasn't sure how they would have gotten out of that romantic pickle, but "that would have been fun to figure out."

* The cast and producers could definitely see a certain co-star's future success coming. "I told Chris Pratt he was going to be a star," John Beasley (Irv Harper) recalled. "He had a lot of the qualities that would make him a star. He was a good-looking white boy. [Laughs] He's such a nice guy. And he could eat!" The cast then proceeded to recount stories of just how much Pratt would consume. "We would call 'Cut,' and he would still be eating," Amandes shared.

* Berlanti singled out Season 1's "Episode 20," in which Kate Mara guest-starred as a teen seeking an abortion. "In the original pitch of Everwood, Dr. Brown was supposed to be an abortionist," Berlani said. Needless to say, that didn't go over so well, "but the network promised us we could deal with that subject matter [at a later point]." After "intense conversations," "Episode 20" came to be, although there was "still some question" as to whether or not they would air it.

* "The biggest fight [over story] was [when] we were ending Season 2 with a cliffhanger [involving] Ephram's baby," Mimoun revealed. "I remember Greg said the whole thing, and I said, 'You must be out of your mind. You're leaving me to do this. They're going to hate it, they're going to hate him, and they're going to hate me.'"

* Jane the Virgin's Justin Baldoni, who joined Everwood late in its run as Reid Bardem, said the series "set the tone for me to see what a family was like on set. I came in on the fourth season, and they embraced me like I was on the show the whole time. Sarah Drew gave me her car for a month. At one point, I literally lived with Greg [Smith], and we were roommates in life and on the show."

* "I do think the success of something like This Is Us will encourage more of this kind of [multi-generational family] storytelling," Berlanti said. And he has no hard feelings about the NBC drama's plethora of Emmy nominations: "As a viewer and someone that gets to make TV, I'm really happy for This Is Us. If I have any issue, it's that the [Television] Academy should recognize shows on The CW. I'd like to see the hard work that people do there get recognized more."

* If Berlanti had to pitch Everwood today, he would still take it to The CW.
Tigers Are Critically Endangered — and Revenge Star Emily VanCamp Is Doing Something About It
(7/28/17) (worldwildlife.org) Emily VanCamp is lending her voice to some creatures that can't speak for themselves.

The Revenge alum – and star of upcoming drama The Resident – tells PEOPLE exclusively that she's partnered up with the World Wildlife Fund and Tiger Beer to help create awareness of the diminishing tiger population in the wild.

"The fact that these tigers could potentially disappear is heartbreaking," VanCamp, 31, says.

On Saturday, VanCamp will join a number of other celebrities – like Megan Fox – in celebrating Global Tiger Day and participating in the #3890Tigers social media campaign, which highlights the world's last 3,890 wild tigers. VanCamp has deleted her profile picture on all her social media profiles to mirror the disappearance of tigers in the wild.

"I've worked with the World Wildlife Fund before," says VanCamp, who launched the organization's Hands Off My Parts campaign in 2013 with now-fiancé Josh Bowman. "The illegal wildlife trade is awful and we need to start really protecting these animals and also supporting the rangers who are out on the front lines endangering themselves to protect the animals."

She adds, "I'm definitely passionate about it. The statistics specifically for tigers are really frightening. I think there's been a 96 percent decline in the wild tiger population in the last 100 years. Basically, my children might not live in a world where wild tigers exist and that's really frightening."

Additionally, Tiger Beer has kicked off a multi-year partnership with the WWF aimed at doubling the tiger population by 2022, the next zodiac year of the tiger. The company has already donated $1 million to WWF's conservation efforts, and will match up to $25,000 of donations made to WWF's Back a Ranger program through Aug. 31 of this year.

VanCamp – who grew up in the country around farms, and whose sister is a veterinarian – praises the inclusiveness of the campaign, explaining, "The beautiful thing about social media nowadays is that everyone has a voice and everyone can continue to bring up these issues if they're passionate about it."
'Shades Of Blue': 'Revenge' Alum Nick Wechsler To Recur On NBC Cop Drama
(7/18/17) Former Revenge regular Nick Wechsler has copped a recurring role on Season 3 of NBC's police drama Shades of Blue, starring Jennifer Lopez and Ray Liotta. He'll play Detective Cole, but character details are under wraps.

Lopez stars on Shades of Blue as a charismatic single mother and resourceful Brooklyn detective whose lieutenant (Liotta) who often leads the team to step outside the limitations of the law. The summer series was renewed in March and wrapped its sophomore season in May with a two-hour finale.

Wechsler played Jack Porter, the boyfriend and later husband of Amanda Clarke (Emily VanCamp), for the entire four-season run of ABC's Revenge. Since that show ended in 2015, he has appeared in series such as Chicago P.D. and The Player and was set as a series regular in last year's Fox pilot Recon, which was not picked up. Wechsler is repped by Innovative Artists and Gilbertson Entertainment.

Shades of Blue hails from Universal Television, Nuyorican Productions, EGTV, Ryan Seacrest Productions and Jack Orman Productions. The exec producers are Jack Orman, Lopez, Elaine Goldsmith-Thomas, Benny Medina, Ryan Seacrest and Nina Wass.
Everwood Hits CW Seed
(5/18/17) You can finally go back to Everwood.

The classic WB drama will be available to stream on The CW's digital offshoot CW Seed, beginning Thursday, June 1. (The series was briefly online at the now defunct thewb.com before disappearing from the Internet.)

Additionally, CW Seed will add the original Dynasty to its library on Tuesday, Aug. 1, ahead of the network's reboot of the iconic primetime soap this fall.
'Revenge' co-stars Emily VanCamp and Josh Bowman are engaged
(5/12/17) Congratulations are in order for Emily VanCamp and Josh Bowman.

The "Revenge" co-stars appear to be engaged after roughly five years together.

The actress, 30, posted a photo of her engagement ring-clad hand covering up her face on Thursday. She captioned it with a simple heart emoji. VanCamp also shared the celebratory photo on her Twitter.

The couple's off-screen romance has been kept pretty private.

Reps did not immediately get back to us.
Matt Czuchry-Emily VanCamp Drama The Resident Ordered to Series at Fox
(5/11/17) The Good Wife's Matt Czuchry and Revenge's Emily VanCamp are officially scrubbing back into TV: The duo's medical drama, The Resident, has been formally ordered to series at Fox, TVLine has learned.

The Resident — written and EP'd by Amy Holden Jones (ABC's Black Box), and Code Black duo Hayley Schore and Roshan Sethi — centers on Devon Pravesh (played by Halt and Catch Fire's Manish Dayal), an idealistic young doctor who begins his first day under the supervision of a tough, brilliant senior resident, Conrad Hawkins (played by Czuchry), who pulls the curtain back on all of the good and evil in modern day medicine. Lives may be saved or lost, but expectations will always be shattered. VanCamp plays Nic, an attractive nurse who also happens to the on-again-off-again romantic fling of Czuchry's Conrad.

The cast also includes Bruce Greenwood (American Crime Story) and Shaunette Wilson (Billions).

This marks the fourth series order from Fox ahead of next week's upfront presentation, joining Marvel's mutant drama The Gifted and comedies Ghosted and LA to Vegas.
Henry Czerny on Quantico - May 8
(4/25/17) "RAINBOW" – After an impossible choice is made, a flood of new proposals shine a light on the final stages of the Collaborators' plan. Fractured but not defeated, the task force, with the help of some old friends, work to put the pieces together before the Collaborators can enact an unthinkable terrorist attack, on "Quantico," MONDAY, MAY 8 (10:01–11:00 p.m. EDT), on The ABC Television Network.

"Quantico" stars Priyanka Chopra as Alex Parrish, Blair Underwood as Owen Hall, Aunjanue Ellis as Miranda Shaw, Jake McLaughlin as Ryan Booth, Johanna Braddy as Shelby Wyatt, and Yasmine Al Massri as Nimah and Raina Amin.

Guest starring Hunter Parrish as Clay Haas Jr., Jay Armstrong Johnson as Will Olsen, Dennis Boutsikaris as Henry Roarke, Kristen Scott as Cecilia Clark, Elisabeth Waterston as Alice Winter, and Henry Czerny as Matthew Keyes.

"RAINBOW" was written by Cameron Litvack and directed by Patrick Norris.
Marcia Cross & Henry Czerny on Quantico - May 1
(4/18/17) "GLOBALREACH" – Risking it all, Alex works with Owen to infiltrate the Collaborators. When they begin to test her loyalty, Alex realizes she's become a pawn in their plan to take down both the President and the task force, on "Quantico," MONDAY, MAY 1 (10:01–11:00 p.m. EDT), on The ABC Television Network.

"Quantico" stars Priyanka Chopra as Alex Parrish, Blair Underwood as Owen Hall, Aunjanue Ellis as Miranda Shaw, Jake McLaughlin as Ryan Booth, Johanna Braddy as Shelby Wyatt, and Yasmine Al Massri as Nimah and Raina Amin.

Guest starring Hunter Parrish as Clay Haas Jr., Dennis Boutsikaris as Henry Roarke, Jon Kortajarena as Felix Cordova, Marcia Cross as President Claire Haas, Henry Czerny as Matthew Keyes, Todd Alan Crain as Peter Theo, Elisabeth Waterston as Alice Winter, and Fredric Lehne as Maxwell Fletcher.
Time After Time Cancelled at ABC
(3/29/17) Time After Time is probably wishing for a time machine of its own right about now: ABC has pulled the H.G. Wells/Jack the Ripper drama from its schedule, effectively canceling the series.

Match Game will air this Sunday at 9/8c — at Time After Time's usual time — and for the following two Sundays, the network announced in a press release Wednesday.

Time After Time thus far has been averaging just 2.2 million weekly viewers and a 0.5 demo rating, while the first half of Match Game's sophomore run was pulling nearly 3 million viewers and a 1.0 rating in the Wednesdays-at-10 slot, where it enjoyed a solid lead-in. Its freshman run, airing Sundays at 10 last summer, performed even better.

An ABC rep tells TVLine that at this time, there are no plans to return Time After Time to air.
Time After Time: Suitcases of Memories (4/9)
(3/24/17) "Suitcases of Memories" – H.G., Jane and John search for Vanessa while Brooke moves forward in her plan to avenge her father's legacy, ultimately sending H.G. and Jane to a place where they will have to fight to survive, on ABC's "Time After Time," SUNDAY, APRIL 9 (9:00–10:00 p.m. EDT).

"Time After Time" stars Freddie Stroma as H.G. Wells, Josh Bowman as Dr. John Stevenson (Jack the Ripper), Genesis Rodriguez as Jane Walker, Nicole Ari Parker as Vanessa Anders, Will Chase as Griffin and Jennifer Ferrin as Brooke.

"Suitcases of Memories" was written by Kai Yu Wu and directed by Allison Anders.
'Redliners': 'Sons Of Anarchy' Alum Tommy Flanagan Cast In NBC Drama Pilot
(3/20/17) In his first regular TV role since Sons of Anarchy, Tommy Flanagan has joined the cast of Redliners, NBC's drama pilot based on short stories by Charlaine Harris.

Written by Shaun Cassidy and Kelly Sue DeConnick and directed by Jason Ensler, Redliners mixes humor, romance and espionage in the tone of Mr. and Mrs. Smith. It follows a pair of former operatives, Anne (Hannah Ware) and Holt (Jerod Haynes), who get re-activated and drawn into a larger conspiracy while attempting to maintain their undercover lives. The project hails from Universal TV and studio-based David Janollari Entertainment. Flanagan will play Angus Cochrane, a charismatic, handsome and seductive mobster and Anne's ex-husband.

Known for his role as Filip "Chibs" Telford on SOA, Flanagan next will be seen in Guardians of the Galaxy Volume 2, Papillon with fellow SOA alum Charlie Hunnam, Sand Castle with Henry Cavill and Nicholas Hoult and The Ballad of Lefty Brown with Bill Pullman. He's repped by Gersh, Untitled Entertainment and attorney David Krintzman.
Emily VanCamp to Star in Medical Drama Pilot The Resident at Fox
(3/17/17) Revenge's Emily VanCamp is trading in a red Sharpie for a scalpel, signing on to star in Fox's medical drama pilot The Resident, TVLine has learned.

The potential series — written and EP'd by Amy Holden Jones (ABC's Black Box), and Code Black duo Hayley Schore and Roshan Sethi — centers on Devon Pravesh (Halt and Catch Fire's Manish Dayal), an idealistic young doctor who begins his first day under the supervision of a tough, brilliant senior resident, Conrad Hawkins (The Good Wife's Matt Czuchry), who pulls the curtain back on all of the good and evil in modern day medicine. Lives may be saved or lost, but expectations will always be shattered.

Van Camp will play Nicolette (aka Nic), an attractive nurse who also happens to the on-again-off-again romantic fling of Czuchry's Conrad.

If The Resident snags a series order, this would be VanCamp's most significant TV role since Revenge was laid to rest by ABC in 2015.
Time After Time: Caught up in Circles (4/2)
(3/14/17) "Caught up in Circles" – H.G., Vanessa and Jane decide to investigate "Project Utopia" while Vanessa doesn't realize some of the people in her life are not who they appear to be, on ABC's "Time After Time," SUNDAY, APRIL 2 (9:00–10:00 p.m. EDT).

"Time After Time" stars Freddie Stroma as H.G. Wells, Josh Bowman as Dr. John Stevenson (Jack the Ripper), Genesis Rodriguez as Jane Walker, Nicole Ari Parker as Vanessa Anders, Will Chase as Griffin and Jennifer Ferrin as Brooke.

"Caught up in Circles" was written by Dewayne Jones and directed by Michel Allowitz.
Henry Czerny on Quantico - March 20
(3/11/17) "LNWILT" – In the wake of the G20 hostage crisis, President Claire Haas assembles an illegal and clandestine joint task force, bringing together Alex and her friends from both the FBI and CIA to unmask a global conspiracy, on "Quantico," MONDAY, MARCH 20 (10:01-11:00 p.m. EDT), on The ABC Television Network.

"Quantico" stars Priyanka Chopra as Alex Parrish, Blair Underwood as Owen Hall, Aunjanue Ellis as Miranda Shaw, Jake McLaughlin as Ryan Booth, Johanna Braddy as Shelby Wyatt, Yasmine Al Massri as Nimah and Raina Amin, Russell Tovey as Harry Doyle and Pearl Thusi as Dayana Mampasi.

Guest starring Hunter Parrish, Aaron Diaz as Leon Velez, Jenna Leigh Green as Emily Meyers, Karolina Wydra as Sasha Barinov, with Henry Czerny as Matthew Keyes and Marcia Cross as President Claire Haas.
Picture Fades (3/26)
(3/11/17) "Picture Fades" – After learning John has taken the time machine to Paris, France, 1918, H.G. is determined to stop him before he can alter the fabric of time, on ABC's "Time After Time," SUNDAY, MARCH 26 (9:00—10:00 p.m. EDT).

"Time After Time" stars Freddie Stroma as H.G. Wells, Josh Bowman as Dr. John Stevenson (Jack the Ripper), Genesis Rodriguez as Jane Walker, Nicole Ari Parker as Vanessa Anders, Will Chase as Griffin and Jennifer Ferrin as Brooke.

"Picture Fades" was written by Daniel T. Thomsen and directed by Marcos Siega.

"Time After Time" is from Warner Bros Television. Kevin Williamson and Marcos Siega are executive producers. Marcos Siega also a director.
'Time After Time' became a history lesson for show's stars
(3/3/17) (Pic) Before stepping into the shoes of writer H.G. Wells on ABC's new series "Time After Time," star Freddie Stroma had to hit the books.

"I'm not a massive history buff, I can't say that I knew much about H.G. Wells, but I started reading his books once I got the role," Stroma told Page Six at the Empire State Building on Friday. "I started doing more research … but I got to learn a lot from doing this."

Based on the 1979 novel and film of the same name, the sci-fi show imagines Wells as he travels from 19th-century London to present-day New York City to stop the the murderous Jack the Ripper ("Revenge's" Josh Bowman) from going on a modern-day rampage. Like his co-star, Bowman also had to brush up on the past.

"In school I wasn't really that into history," Bowman said. "It's funny because when you're forced to learn something, you're not really interested in it, but when you step away from it, you are."

While neuroscience is actually more of Stroma's forte, having graduated from the University College of London with a degree in the subject in 2009, time travel sparks his interest. As for the era he'd like to visit, Stroma is fixated on his past.

"I'd like to go back and see my childhood," Stroma shared. "I have really bad nostalgia, I had a great childhood and would love to see that again. I'd also like to see my parents through an adults' eyes and everything they went through."

Bowman, on the other hand, has a much different incentive on flashing back to another decade.

"It would be really cool to maybe see England win the World Cup in 1966 and beat Germany."

"Time After Time" premieres Sunday at 9 p.m. on ABC.
Out of Time (3/12)
(2/24/17) "Out of Time" – H.G. and Jane rush to repair the damaged time machine before Dr. John Stevenson – now better known as "The Key Killer" – strikes again. Meanwhile, Vanessa must decide whether or not to confide in Griffin, on ABC's "Time After Time," SUNDAY, MARCH 12 (9:00–10:00 p.m. EST).

"Time After Time" stars Freddie Stroma as H.G. Wells, Josh Bowman as Dr. John Stevenson (Jack the Ripper), Genesis Rodriguez as Jane Walker, Nicole Ari Parker as Vanessa Anders, Will Chase as Griffin and Jennifer Ferrin as Brooke.

"Out of Time" was written by Gabrielle Stanton and directed by Steve Shill.
'TIME AFTER TIME' DEUBTS WITH A SPECIAL TWO-HOUR PREMIERE, SUNDAY, MARCH 5, ON ABC
(2/24/17) "Pilot" – Using the 1979 novel and movie as a launching point, "Time After Time" chronicles the adventures of a young H.G. Wells, as he travels through centuries, decades and days in the time machine he created. In the pursuit of the charismatic (yet secretly psychopathic) Dr. John Stevenson, better known as "Jack the Ripper," Wells arrives in modern day New York City, searching for Stevenson after the doctor escapes authorities in Wells' London home. But instead of the Utopia he imagined, Wells finds a world more aligned with Stevenson's temperament in a series charged with danger and adventure, and centered in thrills, satire, humor – and most of all, an epic love story, SUNDAY, MARCH 5 (9:00–10:00 p.m. EST), on the ABC Television Network.

"I Will Catch You" – Presented with the real possibility that Vanessa Anders is in fact Wells' great granddaughter, H.G. and Jane continue to search for Dr. John Stevenson, but when their final face-to-face meeting goes anything but planned, the doctor is back on the loose, on "Time After Time," SUNDAY, MARCH 5 (10:00–11:00 p.m. EST), on the ABC Television Network.

"Time After Time" stars Freddie Stroma as H.G. Wells, Josh Bowman as Dr. John Stevenson (Jack the Ripper), Genesis Rodriguez as Jane Walker, Nicole Ari Parker as Vanessa Anders, Will Chase as Griffin and Jennifer Ferrin as Brooke.

"Pilot" teleplay by Nicholas Meyer, story by Karl Alexander & Steve Hayes. "I Will Catch You" was written by Kevin Williamson. Marcos Siega is the director of "Pilot" and "I Will Catch You."
'Somewhere Between' Casts JR Bourne
(2/24/17) JR Bourne (Teen Wolf) has joined the cast of Somewhere Between, ABC's thriller summer drama series with a supernatural twist. Written by Brothers & Sisters writer-co-executive producer Stephen Tolkin and based on a Korean format, Somewhere Between centers on superstar news producer and fiercely loving mom Laura Price (Patton). She isn't crazy: She knows her daughter Serena is going to be murdered. She doesn't know who the murderer is or why she'll be killed, but she knows exactly when it will happen, where and how. Despite this, all of her attempts to keep her daughter safe fail, and Serena's fixed, unmovable, terrifying fate keeps her directly in the path of her killer. Bourne will play Tom Price, Laura's powerful yet sensitive husband who is also the state's district attorney. Bourne can currently be seen in the sixth and final season of MTV's hit series Teen Wolf. His previous TV credits include Lifetime's UnReal, and USA's Satisfaction. He's repped by Authentic and Red Management in Canada.
Marcia Cross & Henry Czerny on Quantico
(2/6/17) "EPICSHELTER" – The recruits learn how to burn everything down if they are ever exposed. Meanwhile, a mysterious death leads to an FBI investigation at the Farm. In the fut3ure, Alex heads back into the crisis zone and exposes the true traitor within the CIA, on "Quantico," MONDAY, FEBRUARY 20 (10:01-11:00 p.m. EST), on the ABC Television Network.

"Quantico" stars Priyanka Chopra as Alex Parrish, Blair Underwood as Owen Hall, Aunjanue Ellis as Miranda Shaw, Jake McLaughlin as Ryan Booth, Johanna Braddy as Shelby Wyatt, Yasmine Al Massri as Nimah and Raina Amin, Russell Tovey as Harry Doyle, and Pearl Thusi as Dayana Mampasi.

Guest starring Marcia Cross as President Claire Haas, Henry Czerny as Matthew Keyes, Aaron Diaz as Leon Velez, David Lim as Sebastian Chen, Tracy Ifeachor as Lydia Bates and Jay Armstrong Johnson as Will Olsen.

"EPICSHELTER" was written by Beth Schacter & Marisha Mukerjee and directed by Constantine "Gus" Makris. Executive producers are Joshua Safran, Mark Gordon, Nicholas Pepper, Robert Sertner and Jorge Zamacona. "Quantico" is produced by ABC Studios.
Chicago P.D. Preview: Can Intelligence Trust Nick Wechsler's Newbie?
(12/29/16) Revenge alum Nick Wechsler is moving up the ranks with a recurring gig on Chicago P.D., where his gang-unit member Kenny Rixton won't get the warmest of receptions.

When Voight brings his former protégé Kenny into Intelligence during next Wednesday's episode (NBC, 10/9c), it doesn't sit well with some of the squad.

"They want to know the story: Who am I working with? Who am I trusting my life to?" executive producer Matt Olmstead previews.

Voight, however, "isn't in a big hurry to over-explain himself to the rest of the people who are under him in the unit," the EP says. "He doesn't really mind them being a little destabilized, and he's not falling over himself to say, 'Hey, guys, accept him.' He's still coming from a point of view of, 'I run the unit. I brought him in. I say he's going to work out, [then] he's going to work out. So do your job.'"

But that non-answer "may not be good enough for some people, like Halstead and Atwater, who want to know more about this guy," Olmstead continues.

Kenny's arrival stirs "different reactions from the characters in the unit, in terms of their willingness to look past certain things," the EP adds.

Having turned his own life around to a degree, Voight "believes in" Kenny's future potential – and that could lead to heartache for the typically stoic Sergeant.

"We're going to explore the circumstances of why [Kenny] wants to leave the gang unit," Olmstead teases. "The question becomes: Can [Kenny] make a transition into legitimate detective work when he came from the murky Wild West of the gang unit? That's this character's journey, which isn't entirely successful, at least at the outset. Do old habits die hard? And does that kind of break Voight's heart, in terms of wanting this kid to move forward like he, himself, did?"
Halle Berry, Olivier Martinez Divorce Final
(12/29/16) Halle Berry and Olivier Martinez are officially single ... and he agreed to let her say, "I left you!"

Halle and Olivier filed for divorce at almost the exact same moment back in October 2015 ... she filed as the petitioner and he also filed as the petitioner seeking a divorce.

Under California law only one person can be the petitioner, and Olivier agreed to give Halle the honor.

Under the settlement, they will share physical and legal custody of 3-year-old Maceo.

For some reason, they decided to only deal with the custody issues and the property settlement is still unresolved. It's weird, because our sources say there's a prenup so there shouldn't be big issues.

Halle and Olivier married in 2013.
'D.O.A. Blood River' Rounds Out Cast
(12/16/16) Christa B. Allen (Revenge) and Scottie Thompson (NCIS) rounds out the cast for Silver Plane Films and Kingfisher Media noir thriller D.O.A. Blood River, along with Christopher Rob Bowen, Tyson Sullivan, Stephen C. Sepher, and Lillo Brancato. The group joins previously announced cast Billy Flynn, Chris Mulkey, and D.B. Sweeney in the pic written and directed by Sepher. It follows Sam, a pharmaceutical sales rep who visits a small town in Louisiana to close the business deal of a lifetime but the outcomes is not what he expected. Desperate for answers, he turns to a local girl Jesse and their path leads to a place that only confirms Sam's doomed fate. Sepher also produces with Rory Fradella, Kim Barnard, and Nazo Bravo.
Tommy Flanagan Joins 'Papillon' Remake
(12/2/16) Sons Of Anarchy actor Tommy Flanagan is reuniting with his co-star Charlie Hunnam in the upcoming Michael Noer-directed remake Papillon, based on the classic 1973 film that starred Dustin Hoffman and Steve McQueen. Written by Aaron Guzikowski, the pic, which also stars Rami Malek, is a modern retelling of the original, which was based on the memoirs of convicted felon and fugitive Henri Charriere. Tommy will play a mysterious figure with a dark past that Papillon encounters on his journey. Red Granite is producing along with Joey McFarland, Riza Aziz, David Koplan, Ram Bergman and Roger Corbi. Repped by Gersh, Untitled Entertainment, and the Curtis Brown Group, Flanagan will next be seen in Marvel's Guardians Of The Galaxy Vol 2 and the war drama Sand Castle.
Chicago P.D. Nabs Nick Wechsler for Arc
(11/14/16) The former Jack Porter's police days aren't over.

Revenge's Nick Wechsler will join Chicago P.D. this season for a multi-episode arc, according to The Hollywood Reporter.

Wechsler will play Kenny Rixton, who viewed Voight as a mentor when they both worked on the gang unit. NBC tells TVLine the actor first will show up in Episode 10, "Don't Read the News," which is slated to air in early 2017.

In addition to portraying Revenge's beleaguered bar-owner-turned-cop Jack, Wechsler's small-screen career includes stints on The Player, It's Always Sunny in Philadelphia, Without a Trace and Roswell.

Chicago P.D.'s two-hour fall finale, which also serves as cast member Jon Seda's final episode before moving to the spinoff Chicago Justice, airs Wednesday at 9/8c on NBC.
Amber Valletta asking $5M for Santa Monica home
(11/7/16) Supermodel and actress Amber Valletta is selling her four-bedroom home in the prestigious North of Montana neighborhood of Santa Monica, Calif. She's asking $5 million for this "rare jewel," which means a sweet return on the $1.65 million she paid for it in 2001.

Built in 1927, the adorable 2,409-square-foot home features a romantic courtyard, wide-plank oak floors, and original wrought iron banister. The master suite features a ceiling covered in Porter Teleo hand-painted wallpaper. For buyers in search of vintage style, Valletta's home is the answer.

While Valletta's Spanish-style home is just above the median list price of $3.6 million in the 90402 ZIP code, it's nowhere near the most expensive listing in the area. For example, a mansion down the street is on the market for $16.5 million.

Valletta has graced 16 Vogue covers and starred in "Drop Back Ten" (2000) and "Hitch" (2005). She's also been seen on the small screen on ABC's "Revenge" and "Blood & Oil."
Revenge's Justin Hartley Recalls Patrick and Victoria's 'Creepy' Vibe
(10/20/16) Forget "Who shot Emily Thorne?" The real question hanging over Revenge's third season was, "Um, what's the deal with Victoria and her hunky son?"

We'd learned in Season 2 that Victoria Grayson, regally played by Madeleine Stowe, had given a child up for adoption years before. And when reappeared in Queen V's life as an adult, he looked a lot like Justin Hartley (This Is Us).

Their relationship, especially in the beginning, repeatedly sounded an odd note: Were Patrick and Victoria flirting with each other?! (Or, as TVLine editor in chief Michael Ausiello put it in Spoiler Alert! at the time, "They're sexy together, the two of them.") The fact that Hartley spent a good amount of time in his first episode wearing nothing but a towel added to the so-wrong-it's-right feel.

When we recently raised the issue with Hartley, the This Is Us star knew exactly what we were talking about — and said he missed the Oedipal feel when it disappeared from the scripts later that season.

"I don't know if it was dropped on purpose or not," Hartley said, laughing. "When I read those and talked to Madeleine about this in depth — she's one of my favorite human beings, I love Madeleine — we were reading it and I thought, 'Am I reading something into this?' Then she said it separately… she goes, 'That's definitely a weird sort of thing.'"

As it turns out, Hartley has given the matter a deal of thought over the years.

"I mean, here's the mother who sent her son away and then found him again. Her children at the time didn't like her, so she's looking for something. She hadn't been with him his entire childhood so she only knows him as a man," he said. "So that's kind of a weird dynamic. I thought it was in there a little bit. Maybe [the writers] didn't realize it was in it, and they were like 'Oh, s–t. We better stop writing this.'"

For the record: "I thought it was fantastic," Hartley says, chuckling. "I was like, 'This is creepy and excellent.' I loved it."
Revenge Alum Gets Shameless
(10/19/16) Will Barry Sloane be the one to break Fiona's "no relationships or men" resolve on Shameless?

The Revenge vet will guest-star during Season 7 of the Showtime series as Ryan, an entrepreneur who meets Fi at a Southside Young Professionals networking event, per The Hollywood Reporter.

There's no word yet on whether Ryan will romance the eldest Gallagher child during his two-episode stint, but we wouldn't bet against Sloane's charms.
NBC Buys 'A Year To Remember' Drama From Telefe USA & Kapital Entertainment
(9/30/16) NBC has given a script plus penalty commitment to A Year to Remember, a drama based on the Telefe telenovela Un Año Para Recordar, from Aaron Kaplan's Kapital Entertainment and Telefe USA. This marks the first network sale for Telefe USA since the LA-based outpost of Argentina's largest broadcaster, Telefe, was launched in March.

The adaptation, written by Michael Folley (How to Get Away with Murder), is a crime procedural that centers on a Boston homicide detective who's confronted by her husband over an affair she's having with her partner. In their ensuing fight, she accidentally kills him – only to wake the next day to find it's a year earlier — her husband still alive, the affair not yet begun. Given a second chance, she somehow must find a way to keep the memory of that tragic night from becoming reality.

Foley executive produces with Kaplan, Dana Honor, Telefe USA head Diego Piasek and Telefe's global content chief Tomás Yankelevich.

Kaplan has experience with Latin American formats. His company developed and produced the well reviewed Freeform drama series Chasing Life, which was based on a Televisa telenovela. Kaplan just set up comedy Next Summer at ABC, based on a Norwegian format, with writer Hilary Winston. Other notable sales for his Kapital Entertainment this broadcast development season include comedies Me, Myself and I, from writer Dan Kopelman, which has a pilot production commitment at CBS; Charlie Foxtrot, from Sam Sklaver, which has a put pilot commitment at ABC; and 9J, 9K, and 9L, from Dana Klein and Mark Feuerstein, with a significant penalty at CBS, as well as drama The Underlings, from Leila Gerstein, at Fox, also with penalty.

Foley, whose series credits also include Revenge and Brothers & Sisters, is repped by UTA.
Tommy Flanagan Sings Along With 'The Ballad Of Lefty Brown'
(9/13/16) Sons Of Anarchy alum Tommy Flanagan has joined the cast of The Ballad of Lefty Brown, a period film set in 1889 after Congress declared the frontier closed. He joins Bill Pullman, Jim Caviezel, Peter Fonda and Kathy Baker in the film, written and directed by Jared Moshé. Flanagan plays Tom Harrah, a U.S. marshal, and once-great gunfighter who is struggling to stay on the wagon. Neda Armian, Edward Parks and Ryan Lewis are producing. Flanagan spent seven seasons playing Chibs Telford on the FX biker-gang series. Up next for him are Marvel's Guardians of the Galaxy: Vol 2 and the Iraq War film Sand Castle. He is repped by Gersh, the Curtis Brown Group in the UK, and Untitled Entertainment.
Why Halle Berry and Olivier Martinez's divorce is on hold
(9/7/16) Almost a year after filing for divorce, Halle Berry and Olivier Martinez seem to have had a change of heart.

In October 2015, Berry and Martinez called it quits after two years of marriage, citing "irreconcilable differences," but haven't moved forward with any proceedings, TMZ reports.

A court clerk filed paperwork letting Berry and Martinez, both 50, know that if no further action is taken, their divorce petition will be dismissed.

Sources tell TMZ that Berry may still want to make it work with Martinez especially if the former boxer seeks help for his alleged anger management issues, which came to a head with two attacks on paparazzi and a brawl with Berry's ex, Gabriel Aubry, on Thanksgiving 2012. Berry is also reportedly reluctant to go through a third divorce after her public splits from David Justice and Eric Benét.

The couple aren't back together, but reportedly remain close friends and cooperative co-parents of son Maceo, 3, and Berry's 9-year-old daughter with Aubry, Nahla.

Reps for Berry and Martinez didn't immediately return requests for comment.
Henry Czerny Returns To 'Quantico' In Major Recurring Role
(7/28/16) Revenge alum Henry Czerny, who appeared in Quantico's season 1 finale as a guest star, is returning to the hit ABC drama series in a major recurring role.

Czerny plays Matthew Keyes, the CIA operative who in last season's final episode, approaches and tries to entice Alex Parrish (Priyanka Chopra) to leave the FBI and join the CIA. In addition to Chopra, he joins series stars Jake McLaughlin, Aunjanue Ellis, Yasmine Al Massri, Johanna Braddy, Blair Underwood, and Russell Tovey.

Simultaneously with Quantico, Czerny, will be starring opposite Danny Glover and Evan Ross in the Matthew Currie Holmes-written and directed complex psychological feature Buckout Road, playing Detective and protective father Roy Harris. Czerny was recently seen in Atom Egoyan's feature film Remember, and appeared opposite Tatiana Maslany, Tom Cullen and Suzanne Clement in Joey Klein's The Other Half. Czerny is repped by Innovative Artists and manager Perry Zimel.
Michael Trucco & Ryan McPartlin Sail With 'Hunter Killer'
(7/13/16) Michael Trucco and Ryan McPartlin have boarded Original Film's submarine thriller Hunter Killer. It stars Gerard Butler as an untested sub captain teamed with an elite military unit to rescue the Russian president (Gary Oldman) from an ongoing military coup. Billy Bob Thornton, Common, and Taylor John Smith also star. Trucco will play weapons specialist Devin Hall, and McPartlin is Matt Johnstone, an ex-SEAL and CIA medic within the OGA (Other Government Agency) division.

Trucco was a regular on Killer Women and Fairly Legal, and other TV credits include Grandfathered, Revenge and How I Met Your Mother. Repped by UTA and McKeon/Myones Entertainment, he next appears in feature Bye Bye Man. McPartlin played Captain Awesome on NBC's Chuck, and his recent credits include Devious Minds, Mystery Girls and Hart of Dixie. He's repped by Gersh and Wave Entertainment.
This 'Revenge' star has never been to the Hamptons
(6/10/16) Despite playing a character who was born and bred in Montauk, former "Revenge" star Nick Wechsler has actually never been to the Hamptons.

"I'd be curious to see it, but I think there's something morally that I have an issue with about the fact that much wealth … I'm not sure it would hold that much for me," he admitted to Page Six at the ATX TV Festival on Thursday.

The show — which centers around the scandals of wealthy Hamptonites — filmed in Los Angeles.
'Sons of Anarchy,' 'TMNT' actors rescue man from truck accident
(6/2/16) Former "Sons of Anarchy" star Tommy Flanagan and "Teenage Mutant Ninja Turtles" actor Alan Ritchson are real life heroes.

With the help of their military veteran driver, Paul, the actors rescued a man from an overturned vehicle on Sunday.

According to TMZ, the actors were en route to the airport from a comic con event when they witnessed a truck blow its tire and overturn.

Flanagan and Ritchson, 50 and 31 respectively, rushed to the scene and used a crowbar to pull an unconscious man from the truck minutes before it caught fire. Paul used his military training to provide medical assistance before authorities could arrive.

Flanagan tweeted a photo with Paul shortly after their heroic actions.

"This #MemorialDay, as I thank all the events for their service, I would like to include a special shout out to PAUL," he captioned the snap.
Madeleine Stowe: Naked & Afraid ... I Was Robbed at Gunpoint in My Home
(5/16/16) Madeleine Stowe says she survived a terrifying ordeal -- a home intruder putting a gun to her neck in the middle of the night, and making off with $75k worth of jewelry.

According to law enforcement docs ... Stowe and her husband, Brian Benben, were asleep at home last September, when she was awakened by someone rummaging through their master bathroom. Madeleine, who was nude at the time, says she went to check it out -- and was confronted by a Latino man, the intruder, who pointed a handgun to her neck.

The former "Revenge" star told police the man spoke in broken English and demanded, "I want all the valuable, I want something." She says she gave him a bag filled with $75k worth of antique jewelry, and then he made a clean getaway.

A few months later cops busted the suspect, Walter Canizalez, as he was allegedly attempting another heist. Police believe he's pulled 3 other armed home robberies, and he's been charged with more than 15 counts ... including robbery and sexual battery.

When Canizalez was caught, cops say he was wearing a Spiderman mask -- just as he was during some of the alleged robberies.
Emily Alyn Lind on Rush Hour
(5/12/16) "Prisoner of Love" – Detectives Carter and Lee hunt an escaped prisoner searching for his estranged wife and daughter who are in witness protection. When the pair goes missing, the Detectives must find how their location was compromised, on RUSH HOUR Thursday, May 26 (10:00-11:00 PM, ET/PT) on the CBS Television Network.

Guest Cast Includes: AJ Buckley (Steven), Sprague Grayden (Pam Sanders), Emily Alyn Lind (Cristin Sanders).
James Tupper & Anne Heche To Topline Post-Apocalyptic Series 'Aftermath'
(5/5/16) Real-life couple James Tupper (Revenge, Men In Trees) and Anne Heche (Hung, Men in Trees) will star as husband and wife in Aftermath, the Canadian post-apocalyptic thriller series from Noreen Halpern's Halfire Entertainment. It's set to premiere on Syfy in the U.S. and Bell Media's Space in Canada later this summer.

Tupper and Heche will play Joshua and Karen Copeland who, along with their three teenagers, must battle for survival after civilization comes to an apocalyptic end, triggered by devastating natural disasters – and the rise of supernatural creatures. The series was created by William Laurin and Glenn Davis, who will executive produce with Julie Hope. Suzanne Berger and Connie Dolphin will produce.

Tupper is repped by United, UTA, and attorney Jamie Mandelbaum. Heche is repped by United, Paradigm, and attorney Ashley Nissenberg.
Tony Award nominations
(5/4/16) Best Performance by an Actress in a Leading Role in a Musical
Laura Benanti, She Loves Me
Carmen Cusack, Bright Star
Cynthia Erivo, The Color Purple
Jessie Mueller, Waitress
Phillipa Soo, Hamilton
'Civil War's' Emily VanCamp: Captain America has no 'game'
(4/28/16) It's safe to say that "Captain America: Civil War" is everything a superhero movie should be. It's witty, it's action-packed, and it's got a star-studded cast that will put most other summer box-office hopefuls to shame.

Part of that cast is Emily VanCamp, who made her Marvel debut in "Captain America: Winter Soldier" as Agent 13. Now, we know her by her real name, Sharon Carter, the niece of Steve's (Chris Evans) former partner and love interest, Peggy Carter (Hayley Atwell).

Zap2it sat down with VanCamp to talk about Sharon's role in "Captain America: Civil War," and how the former S.H.I.E.L.D agent will play a part in the conflict to come.

Zap2it: Would you say Sharon falls kind of in the middle on the #TeamCap and #TeamIronMan spectrum?

Emily VanCamp: Yeah, it's a struggle because she has a job, and she's very committed to it and has worked hard to get there. Now that Steve is rebelling against these accords, it puts her in a very sticky situation, but you do ultimately see where her loyalties lie.

She does play both sides so well.

Yeah, she's crafty. I fell like Sharon's very, very crafty and clever.

Steve finally learns who Sharon is in this film, so how does that affect their relationship?

I think it deepens it, for sure, because of their mutual connection to Peggy. I think just the fact that she's blood related to Peggy, there's this inevitable trust that develops between them. Now that he knows who she is, you can play those moments and develop those things that connect them throughout the story, so it was really fun to do that.

You got to film a pretty awesome fight scene this time around, so how as that?

We were really rushed shooting that scene actually. They had had some delays that day, and I remember getting to set and they were like, "Okay, this is what you're doing, can you just go do it? Do this kick!"

Luckily I have a dance background that allowed me to be like, "Okay, yeah! Let's do it."

And you'd done a lot of fighting on 'Revenge' too?

It prepared me for it. I think it was a little less technical on 'Revenge.' [Emily] is a little more of a street fighter in many ways. She was technical and she was trained, but when there's that rage fueling it, it's a little bit different. Sharon, I really wanted her to look skilled and properly trained.

Sharon has a great balance of femininity and kick-butt power, how important was it to play both sides of that?

In any of these parts that I play, I like to explore the different sides because we all have those sides. I do think there's something very feminine about her, but I also think she's fearless, and I love that about her. We saw it in "Winter Soldier," when she finally makes the commitment to stick with Cap. You see it in this film when she's jeopardizing her career, and when she fearlessly runs at Bucky (Sebastien Stan).

We also see some forward movement on the romance between Captain America and Sharon. Were you excited to see that develop?

I was because that's a relationship in the universe that I really like. I think everyone was ready to see him intimate with whoever – just somebody, you know?

It's been 90 years since Peggy, he can move on.

Come on, you can do it!

But he was, in a funny way, sort of lacking in game. It had been a long time, but he finds his stride a little bit. And I think he's really grateful that she's put herself on the line like this for him. It will be interesting if that does continue to see how they develop it further because it was a really nice but complicated love story within the comic books that I think would be fun to explore.

Do you have any clue what's next for Sharon Carter, and when we'll see her next?

I don't. I hope we see her in something, but we'll see. It really depends on where they want to go. Things are constantly changing and evolving and there's so many of us, so we'll see. Like I said, I'd love to explore more.

Tell me about this Marvel Science Program for girls that you've helped spearhead.

I just think it is so important to encourage young girls to get out there and get involved with science and technology and let it be known that it's not just a boy's world. Girls are incredibly gifted.

It's so important because as girls in this universe, we have an incredible platform to encourage that, and so why not? It's amazing what these kids do, and what better company to launch this than Marvel? They have these audiences and they have this reach, so it was cool to be a part of that.

"Captain America: Civil War" premieres May 6, 2016.
JR Bourne & Toby Hemingway Join Syfy Pilot 'Prototype'
(3/24/16) Teen Wolf's JR Bourne and Toby Hemingway (Black Swan) are set as series regulars opposite Cote de Pablo and Jack Davenport in Prototype, Syfy's sci-fi thriller drama pilot written by Tony Basgallop (24: Live Another Day). It centers on three unlikely cohorts — two of them played by de Pablo and Davenport — who inadvertently stumble upon an invention that challenges the very nature of quantum physics – a discovery which in turn puts their lives in grave danger.

Bourne will play Ethan, Laura's (de Pablo) husband. Frustrated by Laura's long hours and split focus, he doesn't believe in Laura's time-consuming, after-hours project. Hemingway is Forde, a model-actor and Donna's abusive live-in boyfriend.

Bourne is best known for his major recurring role as Chris Argent on MTV's Teen Wolf. He also recurred on USA's Satisfaction and Lifetime's UnReal. Bourne is repped by Authentic and Red Management in Vancouver. Hemingway's other TV credits include Hell on Wheels and The Finder.
Nick Wechsler To Co-Star In Fox Pilot 'Recon'
(3/10/16) Revenge alum Nick Wechsler has been cast as the male lead opposite Tracy Spiridakos in Recon, Fox's drama pilot executive produced by The Vampire Diaries' co-developers/exec producers Kevin Williamson and Julie Plec.

Recon centers on Alexa (Spiridakos), a young, driven FBI analyst tasked with embedding herself in a suspected terrorist family. Wechsler will play Freddie, a skillful and hardworking FBI agent who struggles with moral conflict while at the center of a key mission: He joins previously cast Alexander Siddig and Sarita Choudhury. Warner Bros. TV is the studio.

Wechsler, who played Jack Porter on ABC's Revenge, recently recurred on NBC's The Player. He's repped Innovative Artists and manager Gilbertson Entertainment.
Madeleine Stowe to Visit 12 Monkeys, In a Big Switch From Her Film Role
(2/25/16) Madeleine Stowe is returning to the 12 Monkeys universe.

The Revenge alum, who originated the role of Dr. Railly (now played on TV by Amanda Schull) in the original 1995 film, is set to appear in the Syfy adaptation as an entirely new character, EW.com reports.

Stowe will first arrive on-screen in the Season 2 finale as Lillian, a patient at a 1950s psychiatric ward who becomes integral to Cole's journey — though prior to that, she will be heard delivering the season-opening monologue on April 18, setting up the story of how the world comes to an end.
Josh Bowman To Play Jack the Ripper In Kevin Williamson Pilot 'Time After Time'
(2/17/16) Revenge alum Josh Bowman is taking a villainous turn as H.G. Wells' nemesis Jack the Ripper in Kevin Williamson's ABC drama pilot Time After Time. Bowman has been cast opposite Freddie Stroma in the project, from Warner Bros. TV.

Using the 1979 novel and movie as a starting point, Time After Time will chronicle the epic adventures of young H.G. Wells. Bowman will play John Stevenson, a brilliant and charismatic surgeon who lives a double life as the infamous serial killer Jack the Ripper. In the 1979 movie, the role was played by David Warner.

English actor Bowman became a household name playing Daniel Grayson on ABC's drama Revenge. He is repped by Management 360 and Gersh.
Gabriel Mann Recruited by Ray Donovan for Season 4
(2/10/16) Emily Thorne's (former) right-hand man is going legit.

Gabriel Mann, best known for playing billionaire tech genius Nolan Ross on ABC's Revenge, will recur in the upcoming fourth season of Showtime's Ray Donovan, our sister site Variety reports.

Mann will appear in at least three Season 4 episodes as a high-powered (read: $$$) attorney named Jacob Waller.

Of course, Mann hasn't been totally M.I.A. from our TV screens since Revenge wrapped in May. He guest-starred in an episode of NBC's The Mysteries of Laura, playing the owner of a nano-tech company.
Barry Sloane To Star In History's Military Drama Series 'Six'
(2/3/16) Revenge alum Barry Sloane is set to lead the ensemble cast of History's eight-episode military action drama series Six, from A+E Studios and The Weinstein Company.

Written by William Broyles (Jarhead) and David Broyles, a military Special Operations veteran, and inspired by current events, Six follows a brotherhood of modern American warriors, Navy SEAL Team Six, whose 2014 mission to eliminate a Taliban leader in Afghanistan goes awry when they uncover a U.S. citizen working with the terrorists.

Sloane plays John "Bear" Graves, the recently appointed leader of Seal Team Six, a group of elite soldiers who take on the most high-risk military special ops missions in the world.

In Six, he joins previously cast Dominic Adams and Juan Pablo Raba.

Sloane, repped by Innovative Artists and Silver Lining Entertainment, recently starred in ABC's The Whispers and National Geographic's miniseries Saints & Strangers. He also recurred on Netflix's Longmire.
Why Amber Valletta Feels 'Safer' Working with Female Photographers
(2/2/16) Amber Valletta defined the model BFF squad decades before Kendall Jenner and Cara Delevingne. She was a reigning queen on the 1990s supermodel scene, posing alongside Cindy Crawford, Linda Evangelista and of course her bestie, Shalom Harlow. These days she's switched her focus to acting, but still lands major fashion spreads. Her latest? The cover of Porter's all-women photography issue where she talks about why she prefers working with female photographers and how the industry has changed since she started at 15.

Having worked with just about every fashion photographer throughout her modeling tenure, she explains why she'll always prefer a female photographer over a male. "I always feel safe with a woman photographer. I feel that no matter how they interpret something, they understand all sides of it," Valletta shares in Porter. "Because they are women, and women are complex creatures. Men can appreciate it, but women get it. We internalize everything."

But she does give the industry credit for embracing all types of different body shapes and ethnicities, more so than when she started.

"Women are really coming into their own. When we look back on this time, we are going to see a real shift… in equality, in pay structure, in running companies, in coding," she says, adding. "Maybe even in the presidency. Hopefully."

Valletta left home to model at 15, and she says looking back, she's surprised her mom let her go.

"I think she was really naïve. We were naïve, both of us. We were all naïve," she says. "Everybody's constantly growing. It's just whether or not you're observing it or not, you know? In your 20s you can learn a lot and you can be very smart and clever and savvy. Especially these kids today. They seem like they have it all together. But let's talk to them again when they're 40 years old and see really who they are. Is it who they thought they were at 25?"

Now that her early career days are behind her, Valletta adds that turning 40 marked a major milestone in her life.

"I feel so much more aware of who I am today as a woman since I turned 40," she explains. "I don't know, it's kind of like the light bulb clicks on and you're like, 'Okay, who I used to be is sort of behind me. Who do I want to be and how do I want to live for the next 20 good years?'"

Along with her interview, the star resurrects the '90s slip dress she made so iconic (proof in the photo below) in a sultry spread saying, "What made it [the slip dress] stand out then was that it hadn't been seen in a while. It was so minimalistic — more minimalistic than it is today, even. But fashion always references itself."

To see the full interview with Amber Valletta, pick up the all-women photography issue of Porter which hits stands Friday, Feb. 5.
James Tupper & More Join Nicole Kidman & Reese Witherspoon in HBO's 'Big Little Lies'
(1/5/16) HBO has rounded out its cast for limited series Big Little Lies, starring Nicole Kidman and Reese Witherspoon.

Alexander Skarsgard (True Blood) and James Tupper (Revenge) have been cast as male leads opposite Kidman and Witherspoon, and Shailene Woodley, who was reported to have been in talks, has now closed her deal. They join previously announced Laura Dern, Adam Scott, Zoë Kravitz and Kathryn Newton.

Additional new cast members are Jeffrey Nordling (Desperate Housewives), Santiago Cabrera, P. J. Byrne, Kelen Coleman, Sarah Burns, Darby Camp, Cameron and Nicholas Crovetti, Ivy George, Chloe Coleman, Virginia Kull, Sarah Baker (The Good Lie), Kathreen Khavari, Larry Bates, Hong Chau and Gia Carides.

Big Little Lies will be an adaptation of Liane Moriarty's 2014 darkly comic novel about three mothers of kindergartners –Celeste (Kidman), Madeline (Witherspoon) and Jane (Woodley)— whose apparently perfect lives unravel to the point of murder. Jean-Marc Vallée is directing.

Woodley's Jane is a single mom of modest means and a mysterious past, Jane is new to not only Monterey but to the complicated social hierarchy of Mesa Elementary School, where her son is a student. Skarsgård is Perry Wright: One half of the seemingly perfect Monterey couple, alongside his wife Celeste (Kidman), Perry is a successful businessman, loving father and devoted husband. Tupper will play Nathan Carlson: Ex-husband of Madeline (Witherspoon), he is married to a beautiful and younger yoga instructor, Bonnie (Kravitz) and faces the challenges of co-parenting a teenage daughter along with his ex.

Nordling plays Gordon Klein, a high-powered executive, married to Renata (Dern). Cabrera plays Joseph Bachman: He runs the local Monterey theatre company and has an extramarital affair with Madeline (Witherspoon); P. J. Byrne is Principal Warren Nippal who runs the school in Monterey; Camp is Chloe Mackenzie: 7-year-old daughter of (Witherspoon); Cameron and Nicholas Crovetti are Max & Josh Wright: 7-year-old twin sons of Celeste and Perry (Kidman and Skarsgård); George is Amabella Klein: 7-year old daughter of Renata and Gordon (Dern and Nordling); Chloe Coleman plays Skye Carlson: 7-year-old daughter of Nathan and Bonnie (Tupper and Kravitz); Kull is Ms. Emily Barnes, first grade school teacher; Kelen Coleman, Burns, Baker, Khavari, Bates, Hong Chau, and Carides are Monterey parents.

Tupper is repped by Untitled Entertainment, United Talent Agency and Jackoway Tyerman. Nordling is repped by APA. Baker is with Pakula/King & Associates and 3 Arts.
Billy Campbell & Karine Vanasse Cast As Leads In CTV Drama 'Cardinal'
(12/1/15) Billy Campbell (The Killing) and Revenge alum Karine Vanasse have been cast as leads in CTV's six-part one-hour drama series Cardinal (working title).

The cinematic murder mystery, adapted from Giles Blunt's novel Forty Words For Sorrow, the first of the John Cardinal Mysteries series, stars Campbell as the intelligent, reflective, and dogged detective named John Cardinal, from the northern city of Algonquin Bay, who is burdened by a wrong he committed years ago. Vanasse will play Cardinal's partner Lise Delorme, a shrewd, tough, imaginative, and gifted investigator from the town's French Canadian community. Cardinal will premiere as part of CTV's 2016/17 schedule, with production set to begin in February 2016.

Campbell starred in AMC's The Killing and is also known for his role as Rick Sammler on ABC drama Once And Again. Film credits include cult classic The Rocketeer, Bram Stoker's Dracula and Enough. Vanasse's recent television credits include ABC's Revenge and Pan Am and the upcoming French series Blue Moon. She has had lead roles in films including Polytechnique, which she also co-produced.

Cardinal is produced by Sienna Films and eOne in association with Bell Media's CTV.
'SOA's Tommy Flanagan Lands A Lead In Iraqi Drama 'Sand Castle'
(11/10/15) Sons Of Anarchy star Tommy Flanagan has landed a lead opposite Nicholas Hoult, Henry Cavill and Logan Marshall Green in Sand Castle, the Fernando Coimbra-directed film that Mark Gordon is producing. Flanagan will play Sgt. McGregor, and the film is written by Chris Roessner, based on his experiences as a machine gunner in Iraq's Sunni triangle.

Hoult plays a soldier who's part of a mission to repair broken water systems in a dangerous and unstable Iraqi village. With the local villagers resisting the presence of American soldiers, the unit must convince them that they're here to help, not cause more problems, in order to save the town and get out alive. Gordon is producing through the Mark Gordon Company with Justin Nappi and his Treehouse Pictures and Ben Pugh of 42. Treehouse is financing the film. Brian Kavanaugh-Jones is executive producing.

U.S. rights are held by the film's producers, with international sales handled by Voltage Pictures, who've been selling it at AFM. Filming is just getting underway.

Flanagan also co-starred in Braveheart, Smokin' Aces and Sin City.
Sons Vet Visits Gotham
(11/2/15) A real sharp antagonist is coming to Gotham.

Tommy Flanagan (Revenge, Sons of Anarchy) will guest-star in Episode 10 as The Knife, one of the city's most dangerous denizens, TVLine has confirmed.

The Knife is described as having a charming, stylish shell and good humor, but underneath it, he's a remorseless hitman whose skills are at the service of the highest bidder. He will sit with you, laugh with you — and then cut your throat.
Halle Berry and Olivier Martinez call it quits after 2 years
(10/27/15) Halle Berry and Olivier Martinez are calling it quits after two years, TMZ reports.

Berry has filed the paperwork citing irreconcilable differences and TMZ sources say the couple's personality differences have come to a boiling point.

Martinez will not face criminal charges for assaulting an LAX employee with a car seat earlier this year but is being sued for the offense, which may have been the couple's breaking point.

The couple have a son together, Maceo, who is 2 years old. Berry also has a daughter, Nahla, from a previous relationship. Martinez is her third husband.

TMZ further reports that the couple have a prenup so money should not be an issue. Berry did not file for sole or shared custody of their son with hopes of instead doing what is in "the best interests of the child."

In a joint statement, the couple says they "move forward with love and respect for one another and the shared focus for what is best for our son."
Supergirl Nabs Revenge's Henry Czerny to Play the Villainous Toyman
(10/26/15) (Pic) A former Hamptonite is booking a play date in Metropolis.

Henry Czerny, a three-season life ruiner on ABC's Revenge, will appear in an upcoming episode of CBS' Supergirl as Winslow Schott (aka iconic D.C. villain the Toyman), according to ComicBook.com and Supergirl.TV.

If you're wondering why Czerny's character shares a name with Jeremy Jordan's Winn Schott, the answer is simple: He's Winn's estranged father! (Hey, I said the answer was simple, not the relationship.)

The Toyman has appeared in a number of different forms on television, both animated and live-action; he first showed up on The New Adventures of Superman in 1966, then went on to appear in episodes of Lois and Clark: The New Adventures of Superman (1994), Superman: The Animated Series (1996), Justice League (2003) and Smallville (2004–2011).

Following his run on Revenge, Czerny guest-starred in the Season 1 finale of USA Network's Satisfaction.

Your thoughts on Czerny as Toyman?
Emily VanCamp Indie 'The Girl In The Book' Snapped Up By Myriad Pictures
(10/15/15) Myriad Pictures has taken all U.S. rights to the Emily VanCamp headliner The Girl In the Book and will release the film in the US with Freestyle Releasing and Freestyle Digital Media. This includes a 10 city U.S. theatrical and ultra VOD release starting this December. Directed and written by Marya Cohn, The Girl in the Book premiered at last summer's Los Angeles Film Festival. Michael Nyqvist also stars. Myriad is also handling foreign sales on the film and it's the third joint release between the company and Freestyle following Three Night Stand and After the Ball this year.

Set in the cutthroat world of New York publishing, The Girl in the Book follows Alice Harvey (VanCamp), the daughter of a powerful book agent, who finds herself trapped in a junior book editor job while wrestling with writer's block. When Alice is unexpectedly asked to manage the re-release of a bestselling novel based on incidents in her own life, the book's author (Nyquist) reenters her life and opens a door to painful memories from her past. Helped by her best friend, Alice starts to find her own voice, trust herself again and become the writer she has always aspired to be.

Cohn's previous credits include the short film Developing starring Natalie Portman and Frances Conroy, which screened at the Sundance Film Festival, and won grand prizes at the Belgian Festival Mondial du Cinéma de Court Métrage and the St. Petersburg Message to Man Film Festival.

The Girl in the Book was produced by Varient Pictures in association with Busted Buggy Entertainment, with Gina Resnick and Kyle Heller serving as producers. Daniel Cunningham and Courtney Daniels executive produced the film.

VanCamp finished a four season run on ABC's Revenge last May and reprised her role as Agent 13 in Captain America: Civil War during the summer.
Roger Bart Joins 'Graves' On Epix
(10/5/15) Revenge alum Roger Bart has landed a recurring role opposite Nick Nolte in Epix original series Graves, a single-camera half-hour political satire produced by Lionsgate. In Graves, 20 years after his presidency, former President Richard Graves (Nolte) has the epiphany that his policies have damaged the country for decades. So, along with his young assistant, he goes on a Don Quixote-like journey to right his administration's wrongs just as his wife, the former First Lady, decides to follow her own political ambitions. Bart will play Lawrence Mills, a long-established D.C. speechwriter, who worked as the Graves administration's director of communications where he crafted the President's signature rhetoric even if, at times, it compromised his own lifestyle and ideology.
Margarita Levieva To Star In HBO Drama Pilot 'The Deuce'; Two Others Cast
(10/1/15) Margarita Levieva (Revenge) has landed a co-lead opposite James Franco and Maggie Gyllenhaal in David Simon's HBO drama pilot The Deuce. Also cast in the project, a narrative set in the Times Square demimonde of the 1970s and '80s, are Lawrence Gilliard Jr. (The Walking Dead) and Dominique Fishback (HBO's Show Me a Hero).

The Deuce follows the story of the legalization and subsequent rise of the porn industry in New York, exploring the rough-and-tumble world that existed in midtown Manhattan until the rise of HIV, the violence of the cocaine epidemic and the renewed real estate market ended the bawdy turbulence.

Levieva will play Abigail "Abby" Parker, an adventurous college student who strikes up a relationship with nightclub owner Vincent Martino (Franco) who has ties to the burgeoning sex industry of early '70s Times Square. Gilliard plays Chris Alston, an NYPD patrolman working midtown Manhattan. Fishback plays Darlene, a young, sweet-natured prostitute who's trying to survive on the street while under the thumb of a volatile, violent pimp. Gyllenhaal plays Eileen Merrell, a Times Square hooker whose street name is Candy.

The Deuce is written and executive produced by Simon and George Pelecanos, and directed by Michelle MacLaren (Breaking Bad), who also exec produces with Nina K. Noble and Richard Price. Marc Henry Johnson, who was instrumental in documenting the story, is a producer.

Levieva, repped by UTA and Silver Lining Entertainment, was recently seen in the features The Diary of a Teenage Girl and Sleeping with Other People.
Emily VanCamp and Joshua Bowman Flaunt Impeccable Beach Bods in Sardinia: See Pics of the Hot Couple!
(9/1/15) (Pic) Well, these two are certainly easy on the eyes.

Emily VanCamp and boyfriend Josh Bowman were photographed flaunting their hot beach bods on Monday while enjoying a little fun in the sun in Sardinia.

The couple, who first began dating in 2011, looked ridiculously hot as they swam in the ocean and relaxed on comfy lounge chairs, appearing content as they soaked up the sight of the Mediterranean Sea.

VanCamp, 29, showed off her impeccable bod in a tiny red bikini while her man looked hot in nothing but a pair of black swim trunks. The Revenge stunner, who was photographed reading in the sun, also kept her beauty routine casual, rocking a fresh face on the beach.

Last year, VanCamp gushed to InStyle Australia that she has "a wonderful love in my life." And while she rarely talks about her boyfriend in interviews, she has no qualms over sharing how excited she is to become a mom one day.

"I find myself dreaming about [having children] all the time," VanCamp, who has three sisters, admitted in the same interview. "In your late 20s, you start to realize you can't call yourself a baby anymore."

Certainly not with those hot bods!
Nick Wechsler Joins 'The Player'
(8/19/15) Revenge alum Nick Wechsler has joined the cast of NBC's Las Vegas-set thriller The Player, from the executive producers of The Blacklist. The series co-stars Wesley Snipes as a pit boss and Charity Wakefield as the dealer for a high-stakes game where an organization of wealthy individuals gamble on the ability of former military operative-turned-security expert (Philip Winchester) to stop some of the biggest crimes imaginable from playing out. Wechsler will play Nick, the boyfriend of Cassandra (Wakefield), a good guy with morals caught in the web of century-old conspiracy. Wechsler is repped by Gilbertson Entertainment and Dede Binder at Defining Artists Agency.
The Mysteries of Laura Cops Revenge's Gabriel Mann for Season 2 Guest Spot
(8/14/15) Gabriel Mann has spied his first post-Revenge gig.

The artist formerly known as Nolan Ross will appear in a Season 2 episode of NBC's The Mysteries of Laura, he announced via Twitter on Thursday.

Exact details of Mann's appearance aren't yet available, but the above tweet suggests his character will spend most of his screen time opposite Laura (Debra Messing), Jake (Josh Lucas) and Meredith (Janina Gavankar). TVLine reached out for more info., so stay tuned.

Shortly following the Messing-led comedy's renewal, it was revealed that Season 2 would be more about Laura's life on the force — and less about that three-ring circus she calls a family.

Until we know more, what do you hope Mann will bring to Laura?
ABC's 'Revenge' May Get Spinoff
(8/4/15) ABC Entertainment Group president Paul Lee has spoken repeatedly of Revenge as one of the network's most important series of the last few years, calling it "a critical brand" for ABC. Inspired by The Count of Monte Cristo, Revenge, which ran for four seasons, has been very popular internationally, making a lot of money for ABC Studios.

Last season, ABC and ABC Studios developed The Kingmakers, a drama in the vein of Revenge that was considered an unofficial spinoff. The project, which went to pilot, shared the basic Revenge premise of a young person taking on a new identity to investigate the death of a loved one.

"We didn't pick up the pilot, but Revenge is a wonderful brand around the world and it doesn't preclude us from doing it again," Lee said after ABC's TCA session today.

Nolan Ross spinoff anyone?
'Dawson's Creek' pilot script reading
(7/6/15) 'Dawson's Creek' pilot script reading: Watch Mae Whitman as Dawson, Patrick Adams as Joey and more: video.
Jennifer Love Hewitt Welcomes Baby Boy!
(6/26/15) Jennifer Love Hewitt and her husband Brian Hallisay have a brand new addition to their family.

The couple welcomed a baby boy, Atticus James, on Wednesday, Hewitt's rep confirmed to ET. The arrival was first reported by E! News.

Their new bundle of joy joins big sister Autumn James, who the couple welcomed in November 2013.

The 36-year-old Criminal Minds actress announced in January that she was pregnant.

Hewitt and Hallisay, 36, met on the set of The Client List, and began dating in 2012. The couple announced that they were both expecting and engaged in 2013, and tied the knot shortly before welcoming their first child.

Congrats to the happy couple!
Scream Queens Scoop! Ariana Grande's Dad Will Be Played By This Revenge Star...
(6/26/15) So much yes!

Ryan Murphy's highly anticipated Scream Queens has cast the parents of Ariana Grande's character (Chanel #2), and we are all about it. E! News has learned that Roger Bart (Revenge, Desperate Housewives) will play Chanel #2's father, and Charisma Carpenter (Buffy the Vampire Slayer, Angel) has been cast as her mother.

We screened the pilot episode of Scream Queens last night and can tell you it does not disappoint--and neither does Ariana. In fact, her scene (as well as Nick Jonas') got the biggest laughs of the entire first hour, as her character, #2, texted and social media'd her way through a ridiculous situation.

From the looks of these photos that were taken this week on set, Ariana's character will get a little bloody...

And Lea Michele's Hester won't have her neckbrace and don't-care hair for long...

Scream Queens, a social satire that dishes up equal parts laughs and gasps, will have a two-hour premiere Sept. 24.

Jamie Lee Curtis, Emma Roberts, Skyler Samuels, Keke Palmer, Abigail Breslin Niecy Nash, Nasim Pedrad and more star in it. And if you want to know why you'll be completely obsessed with this show, we have at least five reasons!
Revenge Star Ashley Madekwe Gets Naked for Reebok, Makes Sneakers Much Sexier-Take a Look!
(6/13/15) (Pic1, Pic2) Who needs heels when you can look this hot in sneakers?!

Before you head to the local mall to pick up your latest pair of shoes, perhaps Ashley Madekwe could influence your final purchase.

The Revenge star teamed up with Reebok Classics and FACE Stockholm to create a collection of shoes that fuse fashion and beauty. And based on the sexy ad campaign just released, this is one sexy collaboration.

"Excited to finally reveal my campaign for the #ReebokXFACE collection!" the actress wrote on Instagram before the shoes officially go on sale July 1. "Thanks to the dream team @joeytierney, @lauren_andersen & @jrugg8 for making me look good."

Whether posing seductively for the cameras or flashing a quick smile, the 31-year-old could definitely grab the average consumer's attention. Reebok, however, hopes everyone's eyes will glance to the footwear that aims to empower women.

As for Madekwe, she knows it's more than important to stay in shape. As a result, you can likely find her at the gym breaking a serious sweat.

"If I'm home in Los Angeles, I aim to do Pilates or Bikram yoga three times a week," she revealed to the British edition of Women's Health magazine. "They're always a challenge, but cancellation fees are the incentive I need to make me go to class."

With that mindset and these stylish shoes, we can totally look like Madekwe just in time for summer, right?
Revenge Series Finale: Nick Wechsler Recalls 'Nightmare' Boat Scene, Jack's 'Weird' Wedding Speech and More
(6/6/15) (tvline.com) Sunday will mark four weeks since Jack and Amanda sailed off into the sunset on Revenge's series finale, but that doesn't mean we're done talking about it — and neither is Nick Wechsler.

TVLine caught up with the actor formerly known as Jack Porter at the ATX Television Festival, where he happily broke down his thoughts on the show's farewell hour, including what we didn't see during his final scene with Emily VanCamp. (Hint: the phrase "it was just terror" comes up.)

TVLINE | Barry Sloane told us he approved of the ending because Jack and Emily were always meant to end up together. Do you feel that's the ending we were meant to see?

In a way. I spoke with someone recently who told me they thought it was so good that it was bad, like it was too exactly what you would have expected from the beginning, and I kind of agree with them. I think it was basically what a lot of fans wanted, and I wanted something unexpected. I wanted to make a harsher comment on revenge and it's consequences, so I wish we could have done something a little darker.

TVLINE | Personally, I was glad to see Jack and Emily get a new Sammy — though what a weird wedding gift. So much responsibility.

[Laughs] What a weird wedding speech! I just brought up all these dead people, I don't know why I did that. … But as long as it works for the fans, that's all that matters. Being on the inside, I have different ideas about how I'd like to see it done, but if it feels rewarding to the fans, I'm happy.

TVLINE | Who was watching Sammy 2.0 while Emily and Jack took off on the boat?

Oh man, who knows? He was probably getting knocked around downstairs. … By the way, when we were shooting that scene, it was dire. The waves were choppy as s–t, and the guys who take the boat out for the person who owns it told us it only gets that bad about four times a year. It was really insane. They had to cut around it. In those big shots, and even the one where Emily's sleeping … oh, God, it was a nightmare. I just think it's hysterical that if you could zoom in on our faces in that final moment, it was just terror.

TVLINE | Looking back on the four seasons, do you have a favorite Jack moment?

Most of my favorite moments were with Emily. When Sammy died, it was a brutal, honest, open moment. She was a great scene partner for those kinds of things. We both look back on that scene and think, "F–k, that's one of the proudest moments we had." I also really liked when I went after Amanda in the hotel room to confront her and she wants the tapes … that was another scene I really loved. And when I lost Amanda and was in the hospital and had to try to take down Conrad. Jack spent a lot of time in the hospital.

TVLINE | Sometimes because of Courtney Love! What was it like working with her?

I never thought I'd be doing a scene with her. I actually didn't do the fight sequence with her; I did it with a stunt double. So they had me lay down, then Courtney Love straddles me and threatens me with a knife and then they cut. That was it. Like, "Nice to meet you!"
'Revenge' Producer Sallie Patrick Inks Deal With CBS Studios, Joins 'Limitless'
(6/4/15) On the heels of landing her first pilot order, Revenge writer-producer Sallie Patrick has signed her first overall deal with CBS TV Studios. Under the two-year pact, Patrick is joining the studio's new CBS drama series Limitless as a co-executive producer.

After getting her writer stripes on ABC's Dirty Sexy Money, Patrick got her first staff writer job on the CW's Life Unexpected. She then segued to ABC's Revenge, joining the Hamptons-set soap in the first season. Patrick stayed on the show for its entire four-season run, writing/co-writing 12 episodes and rising to supervising producer. This past development season, Patrick wrote drama The Kingmakers for ABC and ABC Studios, the network and studio behind Revenge. The college-set project, considered to be in the vein of Revenge as it shared a similar setup of a young person taking on a new identity to avenge the death of a family member, went to pilot.

Written by Craig Sweeney based on the 2011 feature starring Bradley Cooper, Limitless centers on Brian Finch (Jake McDorman) who discovers the brain-boosting power of the mysterious drug NZT and is coerced by the FBI into using his extraordinary cognitive abilities to solve complex cases for them. Unbeknownst to the FBI, Brian also has a clandestine relationship with Senator Edward Mora (Cooper, reprising his role from the movie), a presidential hopeful and regular user of NZT who has plans of his own for his new protégé. Sweeny, Marc Webb, Alex Kurtzman, Roberto Orci, Heather Kadin, Cooper, Todd Phillips, Ryan Kavanaugh, Tucker Tooley and Tom Forman executive produce for CBS Studios, K/O Paper Products and Relativity Television.

Patrick is repped by WME and attorney Wendy Kirk.
Revenge Finale Gets Barry Sloane's Seal of Approval: 'Emily and Jack Were Always Supposed to End Up Together'
(5/28/15) Two weeks after the series finale of Revenge, fans remain plagued by several irksome questions, including this particularly divisive issue: When all was said and done, did Amanda really marry the love of her life?

Many fans believe that, had Aiden not been killed in Season 3, he would have been the one standing beside Amanda at the altar. If you count yourself among them, it might interest you to know that the late Mr. Mathis — or at least his portrayer Barry Sloane — believes everything worked out for the best.

"I think Emily and Jack were always supposed to end up together," Sloane tells TVLine, adding that Aiden "really messed up that ride for a little bit. When he came in, it was supposed to establish that Daniel and Jack were Emily's two options — but suddenly, Aiden became a third option."

Ultimately, Sloane gives his blessing to the newlyweds: "I think it's the right thing, considering [Daniel and Aiden] are both dead," he says with a laugh.

Sloane returns to ABC this Monday (10/9c) on the supernatural mystery drama The Whispers, playing a high-ranking official in the U.S. Department of Defense, a role he says couldn't be more different from his Revenge persona.

"There wasn't much scope for emotion with Aiden," Sloane says. "He was so damaged that he almost became a brick wall, which affected all of my choices as an actor. It's nice to play someone who hasn't done all that work on himself, to see how he'd react in a crisis. Wes doesn't always deal with things well; he breaks too soon. There's a vulnerability to this character, which I'm excited for people to see."

Revenge fans, do you agree that Jack was always meant to be Amanda's last love, or do you wish Aiden could have lived to see himself become Mr. Amanda Clarke?
Revenge's Emily VanCamp Speaks Out: Did Emily Really Get Victoria's Heart?
(5/18/15) Despite the many storylines wrapped during last week's Revenge series finale, viewers were left with one intentionally ambiguous question: Did Emily receive Victoria's heart?

"It's a fun question for the audience to toy with: If it did happen, what does that mean?" Revenge showrunner Sunil Nayar told TVLine after the finale aired. "It's a bizarrely theoretical cliffhanger, which I hope inspires conversation. I like the debate of it."

Well, unfortunately for Nayar, it appears the debate has reached an early conclusion. Star Emily VanCamp on Sunday night used Twitter to put all heart-related rumors to rest:

@EmilyVanCamp : Emily did not receive Victorias heart!! The idea was that it was a recurring nightmare that would haunt her forever. #Truth #Revenge

Of course, VanCamp isn't the only Revenge star who's attempted to set the record straight since the finale aired. In fact, Madeleine Stowe gave TVLine the inside scoop on the big twist, including how it changed from script to screen:

"When we did the table read, it absolutely happened," Stowe told us. "But they wanted to go for a little more poetry and have it be in her psyche so that you saw she was troubled by this. They'd never tell a transplant recipient who gave the heart unless both sides agreed to it. In the original draft, it absolutely happened."

How do you feel, Revenge fans? Are you anti-transplant, like VanCamp? Or would you rather it be ambiguous, like Nayar? And what could have possibly triggered this truth bomb, a full week later?
'Revenge' lives on: 'The Kingmakers' might borrow characters
(5/12/15) The series finale of "Revenge" ended with a cliffhanger -- a mysterious man asking Nolan for help in clearing his mother's name -- but a potential Nolan spinoff isn't the only way fans of the ABC series might be able to see their favorite characters again. Enter, "The Kingmakers."

The new ABC pilot centers on a young man who adopts a false identity so he can infiltrate an elite Ivy League university and investigate the death of his sister. According to "Revenge" showrunner Sunil Nayar, he says there's a definite chance that a character or two from "Revenge" could find themselves in the heated drama. (When Zap2it spoke with Nayar, "The Kingmakers" was still in production. ABC is now reportedly not going forward with the drama.)

"I can definitely see a possibility of ['Revenge' characters appearing in 'The Kingmakers']," Nayar tells Zap2it. "Had we not been finishing this story and had ['Kingmakers' creator Sally Patrick] not been starting her story, I think we might have tried to sort of bury it in ['Revenge']. But it's very hard to do the implanted spinoff in the shows that are as highly serialized as this. But I think if and when her show goes, it would be wonderful to have a character or two pop up."

Nayar goes on to the say that the new drama, which has been pegged by some as a spinoff of "Revenge," is more of a "sibling" than anything else.

"There's no truth to the idea that it's a sequel," says Nayar. "Its writer and executive producer and creator [Patrick] was one of the shining stars on ['Revenge'], absolutely. And [she] sort of, at ABC's behest, has almost removed the marrow of what 'Revenge' was and injected it into a completely different local.

"So the DNA of the show is very much the same," continues Nayar, "but the characters and the stories are totally different."
Revenge's Madeleine Stowe Says Goodbye to Victoria Grayson
(5/11/15) (people.com) With fans still reeling from the blood spilled during the Revenge series finale on Sunday, actress Madeleine Stowe, 56, shares with PEOPLE her thoughts on playing the deliciously devious Victoria Grayson for the last time:

To be honest, I don't know that I ever will really be able say goodbye to Victoria. For me, she is a really hard character to shake.

I think the audience believed in Amanda's fight so much that they couldn't see Victoria as anything other than a villain. But this woman went through really terrible things.

She had horrible parenting and was violated repeatedly. Those violations of her youth turned to madness where she would see people and anything that would threaten her children's well-being had to be vanquished.

I loved that she was a tenacious mother. I loved her attachment to her son.

She was just really tough and cool. I kind of admire her. Other people don't, but I do.

I don't speak with the melodrama that Victoria does. I rarely cry. But I identified with her fortitude. She was in it for a marathon, and doing a television series is like running a marathon.

There are going to be these massive highs and then other times that you're just rolling a boulder up a hill. It can be a struggle. Her thing was that she could never really find happiness, and I am hell-bent on never descending into that.

By the end, Victoria was a woman who is completely ready to die. There was a round of press that I did after the mansion exploded a few weeks ago, and I was not lying when I told people that Victoria had a death wish.

The scar tissue from the things she suffered through at an early age was just too great. She'd lost everything. She was completely ready to go. When she asked Emily (Emily VanCamp), "Are you ready now?" in the final episode, I think she was totally ready to say goodbye. I think she was at peace.

And I'm also at peace with saying goodbye. Though, I will always think of those what-could-have-beens and how Victoria may have found happiness.

If she had just gone off with David (James Tupper), maybe she would have been happy. (Although I don't really think they were meant for each other.) Had she just gone of with the artist … Those might-have-beens seem incredibly real for me because we all have them. That's how I relate to her.

I just always wanted her to be happy.
Revenge Finale: Madeleine Stowe Talks Victoria's Paternal Reveal, More Twists
(5/11/15) (tvline.com) Let's start by addressing the elephant in the room: Madeline Stowe knows she was a bit misleading when she told reporters, including TVLine, that Victoria died in the explosion at Grayson Manor.

"I knew that I wasn't coming back to the show [after Season 4]," the Revenge star says. "So I was telling you the truth, it just wasn't in that moment. Sorry!"

Below, the oh-so-apologetic Stowe discusses last night's series finale twists, including the identity of Victoria's father, whether or not Amanda really got her heart and, of course, that incredible construction worker disguise.

TVLINE | This episode wasn't initially planned as the series finale, but did it feel like the end when you were filming it?

I don't think anyone knew. As I said, I knew I was leaving the show since the fall, so that's what it was for me. Victoria's state of mind had really deteriorated; she was ready to go. I tried to find some grace for her, which was acceptance. Victoria's mother's crimes really took such a toll on her, as we saw in that last reveal, and that's why she burned down the house. She was so devalued as a child that she wanted to use her mother in the same way.

TVLINE | The last time we spoke, you told me you pitched Victoria's death once per season. Is this, ultimately, how you think Victoria wanted to go out?

Look, Victoria would have loved to have been happy, and I kept rooting for that. I love her so much, but that's just something that was going to be denied over and over again. In that sense, she's always been a doomed person. She responded to the world from a self-protective instinct because she'd been so violated. Bad choices were made all along, but I'm also not sure she had many choices; when your husband tells you he's in league with terrorists and they're going to take your son from you, how do you respond to that? Certainly what she did to Emily was not good.

TVLINE | That seems to be a running theme on this show: What defines good behavior?

There was a scenario being heavily discussed where David Clarke was, perhaps, a mastermind — that he'd actually brought these people in and was not a good guy. This was potentially going to be a revelation to Emily that would completely rock her. Victoria was not quite the monster you thought she was, but you so believed in this girl's credibility and how much she loved her father. They were going back and forth about that, but I believe ABC felt it would have been a betrayal of their audience to go down that road. It would have been interesting. It's a show you can see from many different angles, and I don't know which one's right and wrong.

TVLINE | Let's talk about Emily possibly getting Victoria's heart. Your thoughts on that twist?

I'd like to think Victoria always had a mighty heart, but nobody knew it. So now she's got her enemy's heart — which might not be so bad. When we did the table read, it absolutely happened. But they wanted to go for a little more poetry and have it be in her psyche so that you saw she was troubled by this. They'd never tell a transplant recipient who gave the heart unless both sides agreed to it. In the original draft, it absolutely happened.

TVLINE | The revelation from Victoria's mother also threw me for a loop. Did Victoria really sleep with her father?

She didn't sleep with her father; she was abused by him. People so believe in Victoria's wickedness that they would actually think she'd be a willing participant when a guy comes into her bedroom and abuses her, which happens to women all over the world. She didn't know [he was her father] and that's the level of psychological damage that Marion inflicted on her. She twisted everything to blame Victoria.

TVLINE | So… Do we know who Victoria's father is, or was?

Victoria never knew, so the revelation is that once Victoria got out of serving the time her mother should have been serving, the mother started a new life, which was touched on in Season 2. Her mother had already started a new life with a new boyfriend; what Victoria didn't know was that this was her father re-entering her life. In Season 2, the mother says, "I should have done what your father said and just aborted you." This is dark, but it does happen in life.

TVLINE | Let's end this on a positive note: I loved Victoria's two disguises last night, especially the construction worker.

Oh my God, I loved that. All I could fixate on last night, with my daughter and my husband, was my lipstick. I forgot to take it off! So there she was in full eye makeup and full lipstick; I thought, "This is hilarious." Why not? It was one of those moments where you cringe as an actor.
Revenge EP Explains Nolan's Spinoff-y Ending, Victoria's Mother of a Twist and Emily's Future With [Spoiler]
(5/11/15) (tvline.com) Revenge's series finale (almost) had it all: multiple deaths, a splashy wedding and a paternity bombshell, to name just a few twists. It did, however, forget to include one small thing: Answers!

Fortunately, TVLine got showrunner Sunil Nayar on the horn to clear up our confusion about the final hour's biggest surprises, including Nolan's potential for a spinoff, Victoria's true parentage and, of course, what the future holds for Amanda and Jack.

TVLINE | Let's start with an easy one: Is Margaux in prison?

Yep. She's in prison, paying for what she did. She's probably faring better than one would imagine. This is a woman with dignity, smarts and class, so she'll be treated like the celebrity criminal that she is. But she's not having an easy time with it, and I think she knew that would be the case when she decided to pay for her sins.

TVLINE | What was the thought process behind that final scene with Nolan and the "innocent" woman's son?

One of the journeys he's taken in the show, which we wanted to emphasize in the finale, is that he can stand on his own two feet. He can handle the mental, they physical and psychological, which we saw when he told Emily he was going to go after Margaux and White Gold. He said he could do it on his own and you see him do it. The fact that he can stand on his own two feet, that he doesn't need Emily to define him anymore, is what we really wanted to say. It was also a nice little cliffhanger that says, "Hey, maybe Nolan's going on a new journey."

TVLINE | Was there ever a discussion about continuing for a fifth season with Nolan as the focus?

There was a thought about continuing it, yes. We knew that Amanda and Jack would be out there somewhere, and whatever we decided to do with the story — whether it focused on Nolan or not — we would try to get some of the gang back. Amanda Clarke is now Amanda Clarke, so there's a totally different dynamic there. If we were to start a new story, we'd have to factor in that she has a different presence in the world now. When she first met Nolan, he was more famous because she was trying to be Emily Thorne. It would have been fun to see that dynamic flipped, re-focusing the show on Nolan in a Better Call Saul kind of way.

TVLINE | Funny you should say that; I immediately thought of Saul. Is a spinoff totally off the table?

I don't think so. I think the network is going to hear what the excited response has been to that, and if I was over there, I'd certainly discuss it. So it's out of my hands, but I think it's a fun idea.

TVLINE | And then some people, myself included, thought there might be some connection to the Kingmakers pilot.

I think the thought was that whatever story we were kicking off at the end of the finale wouldn't have anything to do with Kingmakers. But I'd spoken with Sallie Patrick while she was shooting her pilot to see how it was going, and the idea had been floated that a character or two from Revenge could show up on her show. The idea was to build them in the same universe, but nothing that happened last night had anything to do with Sallie's pilot.

TVLINE | Moving on to Victoria… is Jimmy her father?

No, and it's funny because there seems to be a degree of confusion. Prior to Jimmy Brennan, she had taken the fall for shooting her mother's boyfriend and had to do six months in the juvenile evaluation center. When she went back home, her mother had started dating a man named Maxwell, who was the man who molested her; when her mother caught that happening, she kicked her out on the street, which is when she ended up in the building where Jimmy lived.

TVLINE | Is that something you might have explained more if you'd gotten another season?

The father thing? Not so much, and I'll say that Madeleine was the one who helped us realize we hadn't said who her father was. Ever, oddly. And it was in discussions with her that we all got on board with it. It was the perfect way to fill out the crazy Victoria family tree. She almost never had a chance.

TVLINE | I know it was supposed to be open-ended, but did Amanda really get Victoria's heart?

What I'm hearing from people's reactions is that they don't know whether that's true or not. For me, I think that's great. I think that the show lives in the world of nightmares and memories, so for the psychological nature of it, it's good regardless; you realize this is going to haunt Amanda for the rest of her days. It's a fun question for the audience to toy with: If it did happen, what does that mean? It's a bizarrely theoretical cliffhanger, which I hope inspires conversation. I like the debate of it.

TVLINE | As for Emily and Jack, can they really just take off and have a normal life? I can't imagine that.

That's another great thing to leave people asking: What would that life look like? It's strange to think about, because whether they like it or not, they're a famous couple in this country now. She's skirted around the reality of that existence, and he's never even come close to embracing the reality of it. It would re-frame them in a way. Does she drive Carl to school? Who picks him up?

TVLINE | Lastly, I found it interesting that Emily, the "hero," wore black in that final confrontation, while Victoria, the "villain," wore white. Was there any significance to that?

That was discussed, definitely, with Jill M. Ohanneson, our amazing costume designer. On our show, the hero wears black. Emily had reached the darkest part of herself. There was such an elegance to swapping what you're used to seeing. Madeleine's performance spoke almost to a surrender, which is what the white was representing, and Emily's performance was so dark — like gunpowder. That was the intention of those color contrasts.
'Revenge' Finale: Emily VanCamp On Series' Beating Heart
(5/11/15) (deadline.com) SPOILER ALERT: This story contains details of Sunday night's Revenge series finale.

It was always promised, going back to original Revenge creator Mike Kelley, that the nighttime soap series would end with two graves. Amanda Clarke aka Emily Thorne was always bound to off the dynasty nemesis who plagued her life, Hamptons queen bee Victoria Grayson (Madeleine Stowe), but we never knew who that second body would be lying next to Victoria.

Logically, fans always thought it was Amanda, and in this current TV age of complex protagonists meeting their end — read Nucky Thompson on Boardwalk Empire, Walter White on Breaking Bad, and supposedly Tony Soprano on The Sopranos — that didn't seem like a far-fetched idea. But alas, Amanda survives a bullet to the heart, the last one shot by a dying Victoria.

Talking to Deadline this morning about last night's series finale, Revenge star Emily VanCamp says, "There were several options we explored. She could have wound up in prison, but that would have been a darker way to end the show. But we had to find a happy ending for Amanda Clarke which is amazing and satisfying to fans."

That ending entailed Amanda sailing off into the sunset with her childhood love Jack, but with a twist: She is forever haunted by a dream that the life-saving heart transplant she received was from Victoria Grayson herself; a decision made by Amanda's half-sister Charlotte (Christa B. Allen). VanCamp says she knew about a month before she received the last script that this was the direction Revenge showrunner Sunil Nayar was taking the show. "We both collaborated on the ending. We invested so much time in the show that we wanted to build the best version possible," says VanCamp.

"The part about the heart was strange and we wanted to make it clear that it was a psychological idea that she couldn't leave Victoria behind. So we incorporated this in a dream sequence — it's Amanda/Emily's worst nightmare, and we had to flesh out what the dream meant. Where is it coming from? Sunil made it clear that it was a psychological frame of mind, even though she received a happy ending. The idea that Victoria will follow her for the rest of her life is an interesting one. You don't want to see Amanda get off without any kind of pain or suffering," she says.

"She doesn't have Victoria's heart — that's a strange and iffy thing. But the idea psychologically that Grayson will haunt her for the rest of her life is absolutely true. The dream is symbolic; the idea that Emily will never truly be happy. She was driven to be this person by this woman, which in turn created so much hate in this young girl. To have her gone is bittersweet in a weird way." added VanCamp.

Stowe echoed that today in a separate interview: "There was a back and forth about the heart and what was going on — if the actual heart transplant happened, or if it was more of Emily's psyche, so that the audience wasn't quite sure if she wound up with Victoria's heart."

Before VanCamp sunk her teeth into the role of cunning sociopath Emily Thorne, she was known on TV for her girl-next-door-roles on Brothers And Sisters and Everwood. Much like Rooney Mara's challenge to shed her Katherine Ross-like image for The Girl With The Dragon Tattoo auditions, VanCamp went the distance to prove to Revenge creator Kelley and EP Marty Bowen that she could play dark as a girl plotting revenge on her father's upper-crust killers. VanCamp's finesse within the action genre had graduated her to more kick-ass roles on the big screen, read her reprisal of Agent 13 in Disney/Marvel's upcoming Captain America: Civil War. Is she ready to embrace this new found image moving forward?

"I enjoy playing the girl next door as well as action roles. In order to have any kind of longevity you have to keep re-imagining yourself in this business and challenge yourself," says VanCamp. "I'm working until the end of summer on Captain America, but it's also about reading this summer and seeing what is out there. After being on TV for 12 years there's a window of opportunity to do other things and my options are opening." VanCamp must remain mum on Agent 13's story line in the third Captain America installment.

As much as fans loved Revenge, the consensus has been that Season 1 was just perfect. Arguably, Revenge was playing around with the time-jump bookend plotting (starting with a dead body in the Hamptons at a wedding in the pilot, jumping back in the past for several episodes before bringing us back to the scene later on in the season) before Breaking Bad executed it in Season 5. Conceived by Kelley as a nighttime soap in the spirit of ABC's 1980s lynchpin hit Dynasty, Revenge had its fair share of zany zigs and zags: a pregnant Amanda Clarke (Margarita Levieva) falls off a balcony and lives; Victoria fakes her death twice; Emily Thorne/Amanda Clark is shot twice during the course of the series and lives.

Commenting on the series' journey and how it impacted her as an actress, VanCamp tells Deadline, "As an actor, it's my job to show up and to portray the material. Do we have conversations if I have questions? Absolutely. We have had a collaborative environment. But at the end of the day, I'm not writing the story. Did we miss some things? Absolutely. Did we nail some things? Absolutely. Yes, Season 1 was superbly crafted and I loved Season 2 with the whole Initiative plot line, and there were stories I liked in seasons 3 and 4. I did question David Clarke (James Tupper) coming back over and over again and figuring out what that meant for the character. But it was something new to play in Season 4 and we serviced the story."

And despite its roller coaster ride, what has kept fans coming back again to again has been Revenge's 360-take on its characters.

"Yes, we were allowed to live in a heightened reality. Even though we had soap opera elements, Revenge had an emotional core," she said. "It had a really strong beating heart. Not everything was totally insane. I always tried to find the reality in Emily/Amanda's emotions and grounded it. Mike Kelley put together a group of actors that had the same desire to take this heightened reality and root it in reality. Yeah, it was crazy, but we always hoped that people were connecting to the characters. It was a soap, but with a bit of depth."
'Revenge' EP On Finale Shocker, Amanda/Emily's Fate, Mom's Return & More
(5/11/15) (deadline.com) SPOILER ALERT: This story contains details of Sunday night's Revenge series finale "Two Graves"

"We explored every single option and more," explains Revenge EP Sunil Nayar about the storyline conclusions his writing staff considered for the show's finale.

"We looked at every iteration: what if Amanda Clarke/Emily Thorne died or Victoria Grayson killed herself? Or David Clarke taking the bullet for his daughter. There were myriad options," adds the showrunner.

In the final shot, we see socialite Amanda Clarke sailing off in the sunset with her childhood beau Jack (Nick Wechsler), having survived a bullet wound to the heart after a shootout with her longtime nemesis Victoria Grayson (Madeleine Stowe), now dead. In a TV age where a number of popular complex characters meet their maker — read Walter White in Breaking Bad and Nucky Thompson on Boardwalk Empire, why not just have Amanda die? God knows, she would be in peace after the hell she weathered, i.e. losing her father twice. "Emily's inspiration for executing revenge was inspired by honoring her father. To tell this story, she deserved success when she came out of it, and to have her die as a resolution, felt wrong. If she died, then everyone who helped her out on this journey, specifically Jack and Nolan (Gabriel Mann), would be in a place of utter sadness. And that's not the right way for the show to go out."

The big huzzah that Nayar and his team hatched in Revenge's series finale is the playful notion that Amanda Clarke might actually be living off a heart transplant from Victoria Grayson — and it's just haunting the heck out of Amanda.

"We like the idea that this might be a dream; that it's possible that both of these women are technically alive, yet that they died in the same sense," says the EP.

The mystical, spooky heart wrap-up was "a big discussion" says Nayar who looped in VanCamp and Stowe. "They had strong opinions about it, but I felt we struck the right balance. The show is fueled by the nightmares that Amanda Clarke had as a child. The question of Amanda's heart will linger in the air and never have an answer. It plays with the 'two graves' Confucius philosophy and ultimately the feeling that the heart captures every moment of a person's past in the physical and metaphysical sense."

Nayar took over Revenge after series creator Mike Kelley left at the end of Season 2. Nayar, an EP vet of CSI: Miami and ABC's Body Of Proof, began working on Revenge on the onset of season 2. It was a big deal to Revenge fans, almost on par to George Lucas handing Star Wars: Episode 7 over to J.J. Abrams. Kelley always mentioned in interviews that Revenge would ultimately end with two bodies in two graves, however, didn't leave any stage notes for Nayar. Actors would remind the showrunner every now and then how Kelley intended to wrap their characters' storylines and Nayar would take their suggestions into consideration.

Stowe recalls, "Mike told me that he saw an end where Amanda and Victoria are standing face-to-face surrounded by the broken dead bodies they were responsible for. I don't know if he was speaking metaphorically." Nayar actually played this out at the end of Season 3 when the duo are standing in a cemetery. However, last night's shootout was "about these two women in a raw place, just the two of them in solitary" says Nayar versus them "being surrounded by the history of their collateral damage".

One dangling plotline that Nayar vied to wrap up in season 4 was Amanda's birth mother, Kara Wallace Clarke (Jennifer Jason Leigh) who was introduced in Season 2. Amanda never revealed her true identity to her mother, and ran her out of the Hamptons as Kara was about to off the Graysons. In addition, Amanda didn't exactly have a great relationship with her mother, who tried to drown her as a mere tot.

"It was scheduling," says Nayar about why mama Clarke never returned, "Jennifer Jason Leigh was shooting Quentin Tarantino's new movie The Hateful Eight, but we did look into her availability. Amanda's mother was a huge part of the story. Amanda would have learned a massive amount of truth, and there could have been resolutions with David," says Nayar.

Then alluding to fans' online gripes last night about the finale being too short, the EP says, "but there's a ton of stories to cram in 42 minutes and we are surrounded by those restrictions, not just in adding story, but in exploring where characters have been."

Aside from spinning fans' heads with Amanda/Emily's supposed Frankenstein heart transplant, one of the biggest payoffs for Revenge watchers was the possibility that the door might be open for a spinoff centered around the leading protag's rich hacker sidekick, Nolan Ross. At his social club, we see Nolan being approached by a young man asking for help. His C.F.O. mother has been framed for murder and embezzlement. Amanda Clarke referred this guy to Nolan. So is there a Nolan spinoff??

"That would be great," says Nayar, "but no plans right now."
The 'Revenge' storyline with Conrad and Ashley that never got to happen
(5/11/15) "Revenge" has come to a close as of Sunday (May 10). However, that doesn't mean all the drama and intrigue of the ABC series has to die with it.

Zap2it chatted with showrunner Sunil Nayar about one particularly twisted storyline involving the devilish Conrad Grayson (Henry Czerny) and Ashley Davenport (Ashley Madekwe) that he always wished could have made it onto the show.

"[Writer] Aaron Harper had a pitch -- and this was for Season 2 that I just thought was so magnificent -- that Conrad was going to adopt Ashley so she could get all of his money," says Nayar. "There are the certain moments where you're like, 'Oh, that would have been great if we could have done it.'"

Although Nayar says he doesn't have any other could-have-been twists that he regrets not including on the show, he is "sort of sad" that "Revenge" wasn't able to focus on the smaller supporting characters as much the main characters.

"The only storyline that I've always been sort of sad we didn't spend more time with, because we want to focus on our main characters ... is characters like Gina Torres, who played Natalie [Waters] in that three-episode arc, or Tommy Flanagan, who played Malcolm Black," says Nayar. "These are characters I certainly wish we could have spent more time with, but we found that their presence was going to start to shift the focus of the show."
Ratings: Good Wife Surges With Finale
(5/11/15) CBS' The Good Wife wrapped Season 6 on Sunday night with 9.2 million total viewers and a 1.2 demo rating, rising 10 and 33 percent week-to-week to hit its best numbers since Jan. 11 and match its year-ago finale.

Leading out of that, the cancelled Battle Creek (6.4 mil/0.8) ticked up a tenth.

Elsewhere….

ABC | Once Upon a Time's two-hour season finale (5.4 mil/1.7) was flat week-to-week and off 21 and 26 percent from its previous closer; Revenge's series finale (4.8 mil/1.3) ticked up and was within a tenth of its previous finale.

NBC | A.D. (4.5 mil/0.9) slipped 18 percent and two tenths, while American Odyssey (2.7 mil/0.5) was flat.

FOX | The Simpsons (2.8 mil/1.2) ticked down, Brooklyn Nine-Nine (2.6 mil/1.2) was steady, Family Guy (2.6 mil/1.2) slipped and Bob's Burger's (2.5 mil/1.2) rose two tenths.
Revenge Series Finale Recap: Did Emily Thorne Get a Happy Ending?
(5/11/15) [WARNING: The following story contains spoilers from the series finale of ABC's Revenge. Read at your own risk.]

Most people quit watching Revenge years ago, probably sometime around when time this happened. But for those who stuck it out, Sunday's series finale was when all that time and devotion was supposed to pay off -- when viewers would finally see Emily Thorne get her revenge on Victoria Grayson. And technically, the finale did satisfy that, but it was so rushed and so nonsensical that it was almost hard to believe this was really the end.

For those of you who quit watching or never even started, here's a Revenge refresher: Emily Thorne is Amanda Clarke. She really likes the infinity symbol. Her dad David was dead, but then he wasn't. Victoria was dead and then she wasn't. Victoria was dead again and then she wasn't. Emily and Jack are in love, but still aren't together for no reason whatsoever. Nolan married a crazy girl Louise. Daniel died and his ex-girlfriend Margaux joined #TeamVictoria. Courtney Love killed Emily's boyfriend Ben, because Courtney Love will do basically anything if you ask her.

Got it? Me neither. Let's move on to the finale. Victoria shows up to meet Margaux fresh from watching the lead singer of Hole stab Ben to death. Margaux gives Victoria an identity change. Victoria gives Margaux a bad case of WTF when Victoria reveals the corpse she passed off as her own was her actually mother's. Our minds right now:

Then, as Revenge does, it one-ups the crazy by having Emily confess to the murder of Victoria, who wasn't really murdered because she faked her murder by defiling her own mother's corpse (in case you were still having a hard time processing that). In Victoria's defense, her mother did deserve it. In a flashback, we see that a very sick Marion spent her last minutes alive wheezing through an absolutely brutal takedown of Victoria in which she revealed that Victoria's father is the man who raped her as a teenager.

But while Victoria is reminiscing about burning her mother's corpse, Nolan is apparently hacking into the maximum security prison where Emily has been transferred thanks to her guilty plea. He works his mojo. Emily escapes. Technology FTW! Emily wants to flee the country as soon as possible, but instead lets Jack stroke her hair and reminisce about his dog Sammy (RIP). They have sex, because being an escaped convict and talking about death in the house where your ex was murdered is hot.

When Jack is out to get breakfast, Emily leaves and puts on a crappy wig and glasses in preparation to leave the country incognito without saying goodbye. She really should have just stayed and had the awkward morning-after conversation with Jack, since Courtney Love snuck into the house and stabbed him as soon as he returned. But don't worry. The cops show up mid-stabbing and Jack is taken to a hospital, alive. But the shock of almost having her umpteenth lover murdered prompts Emily to finally realize it's time she up her revenge game plan against Victoria. Inspired, Nolan vows to use his sensei powers to take care of Margaux, and Louise arrives out of nowhere and offers to help. How did Louise know where they were? Can you really just wander into the ICU willy-nilly? Who knows/cares?

When Jack wakes up in the hospital, he's miraculously fine. In fact, he's so fine he asks David for Emily's hand in marriage. They shake hands and smile, as though Courtney Love didn't just stab Jack in the gut. And speaking of Courtney Love, she proceeds to track down Nolan and stab him in the hand. He quickly turns the tables by Tasering her. Nolan apparently had already called the cops before she showed up. And that, my friends, is the anticlimactic end of Courtney Love, assassin.

Louise then leads Emily straight to Victoria, who was prepared for such a betrayal. She had the construction zone rigged with security cameras, ensuring that if Emily does kill her, she'll go to prison for the rest of her life. Emily doesn't give a #$&!%, but before she can shoot Victoria, David shoots Victoria in the chest. As the father-daughter duo declare their love while a woman lay dying at their feet, Victoria picks up the gun and shoots Emily.

They are two sides of the same coin. Yin and Yang. Symbolism.

With absolutely no transition, all of the sudden we see Emily and Charlotte at David's grave. Cut to a flashback of Emily speaking to her father on their snowy porch as they casually mention how the judge granted him compassionate release for killing Victoria. He tells Emily to look at the infinity carving. He dies. Emily says she was meant to die and that revenge is bad. This all literally happens in the span of two minutes. You almost can't believe it's real, because it all happens so fast and makes so little sense.

In yet another abrupt cut, Emily is suddenly getting ready for her wedding to Jack. After tying the knot in front of what I assume is a room full of strangers, since Emily Thorne has exactly two friends that aren't dead, Emily and Jack announce they're going to set off and sail the world. In preparation for this, Emily gives Jack a puppy, because nothing says "fun sailing adventure" like potty training a puppy on a small ship.

Nolan, who's all sad now that he doesn't have a bunch of excuses to break the law and watch his loved ones die, is approached by a hot man in need of help proving his mother's innocence. Nolan's happy. Emily's happy. Everyone's happy. Except Victoria, Ben, Daniel, Declan, Fauxmanda, David, Aiden, Conrad, Katherine, Padma, Satoshi, Gordon, Malcolm, Pascal, Frank, Lyman, Helen, Carl, Trask, Jimmy, Edward, Colleen, Nate, the other Edward, Lee, that third Edward, Paul, Roger, Sammy and everyone else who died on this show.

What did you think of the Revenge series finale?
Revenge Series Finale: Who Lived? Who Died? Who Dressed Up As A Construction Worker?!
(5/11/15) That should have been two hours long.

We're not just saying that because we want more Revenge (which we always do). Parts of that finale just felt way too quick, and by the time we actually got to our happy ending, it almost didn't feel like we deserved it yet. Where was the Victoria-Emily cat and mouse game? Queen V just hung out at a construction site (occasionally expertly dressed like a construction worker), installed cameras, and attended her own funeral while she waited for Emily (we still can't call her Amanda, sorry) to show up to kill her.

And show up she did, but kill her she did not. We'll get to that in a minute.

Most of the hour was filled with various nonsense. Emily basically pulled a fire alarm to get out of prison, and Victoria insinuated through flashback that she might have slept with her father or stepdad, but that was never brought up again so we kind of don't care anymore.

Once Emily was out of that pesky prison, she did what we've been waiting four whole seasons for her to do: Jack.

Our hearts soared until Emily donned a wig and glasses to go off and do some last minute post-coital revenging. Meanwhile, Jack returned and was greeted by Courtney Love, who got all stabby right before the police raided the house and took him to the hospital.

Emily showed up disguised as a nurse and swore to avenge her lover, while we swore we would also get stabby if Jack died. Thankfully, he did not.

Victoria, meanwhile, was so inspired by Louise's heartfelt eulogy at her funeral that she revealed her living self by saying, "Hello, Poppet." Turns out, Louise is no longer Victoria's poppet, so she helped get let Emily into the construction site where the soon-to-be infamous (kind of) showdown went down.

Victoria's demise actually came at the hands of David Clarke, who showed up right before Emily could pull the trigger to pull his own instead, bringing Victoria down. She did not, however, go all the way down, and she decided to do the most predictable thing ever and shoot Emily from the ground, right in the heart.

It looked for a second like Emily would be taking that second grave, and we honestly started to panic. We thought we were ready for Emily to die, but we were very wrong about that. Fortunately, our panic only had to last through a commercial break, because it was revealed right after that Emily was alive and well and laying flowers on the grave of…David!

A quick flashback to wintertime showed David dying on the porch of the beach house with Emily by his side. Then, a flash forward or something found Emily preparing for her wedding.

Nolan wondered whether he would be able to move on with his life without Revenge (or probably just revenge), which is a good question because these people don't seem to know how to do anything else.

Then, Emily and Jack got married (his second wedding to "Amanda Clarke") before she gifted him with a new puppy (Sammy 2.0) and they were sailing away happily on a boat, but there were two matters yet to deal with.

First, how did Emily survive that gunshot? Apparently her heart was so damaged that she needed a transplant, so the doctors took…Victoria's heart. We were then too busy LOL'ing to understand the next part. Was that actually just Emily's nightmare, or did that actually happen? Either way…LOL.

And finally, Nolan. He was at the bar when a handsome young man approached him, and we totally thought the guy was going to hit on him (which would have been welcome), but instead he handed him a newspaper article. Apparently his mother's been falsely accused of embezzlement, and he needs Nolan's help. Nolan is the new Revenger, and we need that spinoff IMMEDIATELY.

"A stylish, witty, bisexual billionaire uses his technological expertise to exact revenge for those who have been wronged." How is that not already a show?! Give it to us now, ABC!

Anyway, that's that. Revenge is over, Emily and Jack are together forever, Victoria's dead, Emily still never directly had to kill anyone, and that's really all that we can actually hope for.

Goodbye, Revenge. You will be missed, you crazy cat.

So what did you think?
'Revenge' series finale
(5/11/15) A lot of things happened in the series finale of "Revenge." Like, a lot of things. Emily breaks out of jail, Victoria admits to burning her mother's corpse, Nolan is stabbed in the hand by a hit woman, David kills Victoria, Victoria shoots Emily (but she lives) and David eventually dies from his cancer. But the most surprising twist might just be that Emily and Jack get married.

Yes, after four seasons of fans wondering if #Jemily would finally be one, the two deeply troubled lovebirds expressed their love for each other in an official ceremony. In an even bigger twist, it seems as if the little boy standing next to Jack at the alter is their son.

However, there were definitely some mixed feelings coming from "Revenge" fans during the finale. Some were all on board for the hook-up, but others wished that it didn't happen at all.
Revenge's Most Insane Moments Ever-You'll Never Guess Our Pick for No. 1!
(5/10/15) We're just hours away from saying goodbye to one of TV's twistiest, nuttiest shows, and we're slowly realizing that we are just not ready. Victoria's not dead anymore, meaning that she and Emily/Amanda could have years of face-offs ahead of them, and we could have years of rolling our eyes while secretly reveling in the glorious nonsense.

Unfortunately, if we want to move on with our lives, we've got to face the facts that Revenge is leaving us for good after four wild seasons. We can't think of a better way to say goodbye than by revisiting a few of the show's more insane moments, from secret family connections to miraculous recoveries to pretty much anything you can imagine.

12. The one that started it all: Emily poisoning Conrad's soup: This one doesn't seem so insane now, but this was the twist that sold us on the show. Until this reveal, it was just a way-too-sudsy pilot for a soap opera we were never planning to watch again, if it even managed to stick around for very long. Now here we are, four seasons later, bowing down to Queen Emily (most of the time) and her sneaky genius ways.

11. Lydia Takes a Fall: Finding out any part of the truth about Emily is just a bad idea for anyone involved, and this was one of the first times we really saw that, when Victoria's lackey Frank ended up pushing Conrad's mistress off of a rooftop. She fell five stories and landed on a car, but she was totally fine minus a little convenient memory loss and a short coma.

10. The body on the beach…is Tyler?!: When we finally got back to where the pilot began, we didn't yet know what to expect. We had spent most of the season hating Tyler and thinking it was Daniel about to die on the beach, so it was kind of a pleasant surprise when Victoria turned over the body and it was actually Tyler.

9. Victoria Wakes Up in a Mental Hospital: Emily really stuck it to 'ole Vicky Grayson with this one. After Victoria killed Aiden (and left us all in mourning for the rest of time), Emily had her former mother-in-law committed, and that reveal with Victoria waking up in the hospital was pretty genius.

8. Emily Gets Shot, and Amnesia: Season three's premiere flash-forward found Emily getting shot on her wedding day, in her wedding dress, and falling into the ocean. Obviously the star of the show wasn't going to die, so she just ended up in the hospital without her memory for a day or two.

7. Family Connections: So many family-related moments on this show that we just decided to clump them all into one: Emily discovering that her dad was hooking up with Victoria, the revelation that Charlotte is David's daughter, the fact that Emily's mother is still alive, the introduction of Victoria's secret son, the fact that Conrad's ex-wife is Jack's real mother... This family tree may only be rivaled by the one on Once Upon a Time where the grown daughter of a 30 year-old Snow White and Prince Charming had a kid with the son of Rumplestiltskin and the grandson of Peter Pan.

6. Declan Speaks: Our team member from Long Island confirms what we always suspected: That is not how real Long Islanders speak. That is not how anyone speaks. RIP the worst accent ever.

5. Daniel Grayson's Death: Now this one was sad: Not only was Daniel about to become a father, but he had just started to patch things up with Emily and then died while trying to protect her. We didn't see it coming, and really didn't want to accept the fact that he was actually dead until it was incredibly clear that he was.

4. Conrad Kills Pascal: "I want what I've always wanted...to win at any cost." Conrad wasn't kidding when he said this, right before throwing Pascal into the propellers of a helicopter, and right before we had to not eat again for a few hours. Or days.

3. Victoria's Dead…Just Kidding!: When Grayson manor exploded, apparently taking Victoria herself along with it, we kind of ignored it because like, obviously she's not dead. The next couple of weeks made it really seem like she was actually dead, with Stowe doing a whole round of interviews and everything. Then, as it turned out, Victoria was alive and well and hiding out with Courtney Love. You got us good, Revenge. You got us good. And we're only a little bit mad about it.

2. David Clarke is Alive!: We learned that Emily's dad—whose death was the entire reason for this whole revenge quest—was alive when he helped Conrad escape prison only to then immediately murder him. That "I KNEW IT!" was a long time coming.

1. Amanda Takes a Tumble: Sure, she ended up in a coma for a minute and had to deliver baby Carl a bit early, but that's a small price to pay for falling over a banister, hitting her head on the way down, and landing in a pool of her own blood. At the same time, Aiden was tied up in a cabin somewhere, being held captive by Emily's mom, and Ashley was bein' sneaky with both Grayson men, but we've never been able to get over that ridiculous fall.

And the insanity isn't over! The series finale, in which we've been assured at least two people will die, airs tonight at 10 p.m. on ABC.
Revenge Boss Reveals Biggest Regret and The Answer Will Totally Surprise You
(5/10/15) All good thing must come to an end—even Revenge.

After four years, Emily Thorne's (Emily VanCamp) mission finally comes to an explosive end in the ABC soap's series finale, "Two Graves," airing tonight. In just a few short hours, we'll know who makes it out of the Hamptons alive, and which two characters will fill the episode title's two graves. Sob!

Ahead of tonight's series finale, showrunner Sunil Nayar reflects on his time on Revenge, from the storyline he's most proud of to the character he most wishes he would've kept around longer. And his answers might surprise you!

Is there any storyline he wishes the show would've handled differently? "There's certainly stories that we wish we had more time," Nayar admits, before pin-pointing specific characters from season four that he thinks they should've kept around longer.

"I wish we had more time with Gina Torres on the show, who played Natalie. We sort of structured that arc to be a three-episode arc. So some of those characters that burned very bright but too quickly, the Malcolm Black [Tommy Flanagan] character, there are certain ones we had great three-episode arcs for that would've been fun to keep them around, but at the end of the day, I think we told the right stories at the right pace."

Which twist is he most surprised that the show actually pulled off? While the series has had a lot of crazy moments over its four-year run, Nayar admits he's "so proud" of the final three episodes of season three, that culminated with the death of Conrad (Henry Czerny) and David's (James Tupper) surprise return from the dead. "I think it was one where the audience really wasn't sure was happening, didn't see the whole plan, and then those performance that everybody gave in those moments and everything that happened in the finale last year, there were moments that felt so great when we were in the room, they felt so amazing on the page, and then you think, 'Gosh, I really hope they convey when we put them up on the screen and I think they did even better than we had hoped.'"

Is the ending he decided on the conclusion he always envisioned or has it evolved over the course of the series? "Both," Nayar says, explaining, "All the writers and producers on the show, it's one of the things we talked about all the time, of where does this story end and how does this story end properly? What we're airing is a version of something we had talked about a lot, but as the season came into greater focus—this came into a finer resolution probably a few months ago, but once we saw what this finale was, we all knew it was the right way to go."

How does he think fans will react after it's all said and done? Nayar is confident that longtime fans are "really going to love it. There's just so much we put into it. I think the fans are going to feel insanely satisfied, really moved, and in a lot of ways, really surprised."

Because the show was always on the bubble but was not officially canceled when they were breaking the finale, did they structure the episode with it possibly being the series finale in the back of their minds? Renewal or not, Nayar says the writers broke the episode "with the idea that this is the last chapter to this story."

"Even if the show went on, we thought it's not going to go on with what the dynamic has been for the last four years," he continues. "We had high hopes especially because we love the crew of the show and wanted to keep working with them…but when I heard the news the network had decided—in tandem with what our creative hopes were—that the show had reached its logical conclusion, there's nothing in the world we would have changed with the series finale having gotten the news confirmed to us."

And fans shouldn't expect a crazy cliffhanger in the final moments, as Nayar says, "It wasn't about leaving doors open that continued this very story that people have been waiting to have a conclusion to."

Revenge's series finale airs tonight at 10 p.m. on ABC.
Revenge Producer Promises 'Satisfying and Surprising' Series Finale
(5/10/15) No more red sharpie, no more take-downs, no more Memorial Day soirees, because Revenge is officially coming to an end Sunday.

"It has been very bittersweet because we were saying goodbye to these characters – and actors – that we've spent so much time with," executive producer Sunil Nayar tells PEOPLE. "And just like the characters are trying to leave behind the people and plots that had occupied their every waking moments for five years, so was the cast and crew."

And even though the ABC drama's cancellation was just recently announced, Sunday's finale had been plotted out regardless of the show's future.

"As we approached the second half of the season, lets' call it A.D. or 'After Daniel', we crafted it with the intention that even if it wasn't the series finale, it would be the finale of the story people had been watching for four years."

But that doesn't mean the team behind Revenge was looking to tie everything up in a neat little bow.

"We wanted to show the audience we were not scared to get to the places that they may have thought we wouldn't have, like Emily announcing to the world that she really is Amanda Clark," Nayar says. "We had milestones that we wanted to hit to prove that we weren't scared of the closure and, in fact, we were promising it."

So what exactly can Nayar promise for the final episode?

"All of the series regulars have a journey and a conclusion and a bit of retribution in the series finale," he says. "I feel we really have told everyone's complete story and I think everyone's ending is both satisfying and surprising. I'm really happy with where we ended up."

The final episode of Revenge airs Sunday at 10 p.m. ET on ABC.
Revenge Finale: EP Previews Emily and Jack's 'Dark' Reunion, Other Twists
(5/9/15) The last episode of ABC's Revenge is just 34 hours away (Sunday, 10/9c), and while we've already spoiled you rotten with scoop from the finale, we've still got a few more teasers to share on the eve of Amanda's big goodbye.

Let's start with the bad news: You know that quick shot of Jack in the hospital bed in the finale promo? Showrunner Sunil Nayar tells TVLine we have every right to be worried about him.

"We called the finale 'Two Graves,' not just because it's the Confucius quote that kicked the whole thing off," Nayar explains, "but also because there will be two people in two graves by the end of the episode."

OK, now that we've gotten that out of the way, scroll down for more scoop (some of which is actually hopeful. I swear.)

SEXY TIME FOR #JAMANDA | "That's been an inevitability, the two of them coming together," Nayar admits. "It's a lovely moment, but there's still something so dark about the circumstances in which these things happen. It's the scene you've been waiting for, but it's not going to happen the way you expect it to." (Honestly, I don't care why they're doing it, I'm just glad it's happening.)

DAVID'S LAST STAND | Though Nayar won't confirm whether or not Papa Clarke succumbs to his illness — did you really expect him to? — he says we'll be blown away by David's actions in the finale. "He does a couple of things that are so dramatic and powerful, and you get a sense of what these people have become to him in the short time he's actually gotten to be with them," Nayar explains. "David's story, I think, has a really powerful and poignant resolution."

HAPPINESS FOR NOLAN? | "There's always a chance," Nayar concedes. "We strive to answer that question at the very end of the show. You'll see in what turns out to be Nolan's very last scene whether he does find happiness or not." (Anyone else find that less than comforting?)

A SATISFYING END | Despite the fact that this wasn't filmed as a definite series finale, Nayar says, "It will end as if you've finished a novel. The audience will feel that they've read the last page and closed the book. You could think, 'Now they can start writing a new novel,' but the audience should feel as though we've finished telling the story — not as if they're missing out on a thing that's going to happen."

Revenge-rs, how do you hope it all ends?
Revenge Alum Joins Unforgettable Season 4 as New Series Regular
(5/9/15) One of Nolan's exes has landed an Unforgettable new gig.

Revenge grad E.J. Bonilla — AKA Nolan's Season 2 love interest Marco Romero — is joining the A&E-bound procedural's upcoming fourth season as a series regular.

Bonilla will play Denny Padilla, a new team member at the Major Cases division and a fast-rising star within the NYPD. He's a bit rough-around-the-edges, but with a quiet side with a gentle wit. He's also a fanboy of Poppy Montgomery's Carrie.

The Denny character is one of three new roles being added to fill the void left by the departing Dallas Roberts, Tawny Cypress and Jane Curtin. (When CBS cancelled Unforgettable, many of the actors' deals lapsed, and some moved on to other gigs.)

Production on the drama's 13-episode fourth season begins next week in New York.
'Revenge' EP wants series finale to make fans 'hurt'
(5/9/15) Sorry, "Revenge" fans -- the series finale of the ABC drama is going to bring some serious pain.

Emily Thorne (Emily VanCamp) and Victoria Grayson's (Madeleine Stowe) ruthless relationship is coming to an end on Sunday (May 10), and showrunner Sunil Nayar is hoping that the finale will make viewers experience one particularly unpleasant feeling: Hurt.

"There's a kind of bittersweet happiness to everything," Nayar tells Zap2it about the finale. "That while you are happy there's a journey that's ended, it's been a hard journey to get through. Nobody gets to come out of this unscathed. I would love for the audience to feel a kind of satisfaction, completion but also a little bit of the hurt that goes with it. Because I think it's what all of these characters have felt."

More so than anyone else on the show, Emily and Victoria have gone through that hurt. They've pulled each other down every step they've taken and, according to Nayar, "their journeys had to end with regards to each other."

"There was an inevitability to what that last showdown was going to be [between Emily and Victoria]," says Nayar. "There is a definitive lasting effect of what they've done to each other that will resonate forever for both of them, and while one may lose the battle, they both kind of lost the war coming out of this. But the question is, 'Who gets to walk off the battlefield and what kind of happiness do they get?'"

The series finale of "Revenge" airs on Sunday, May 17 at 10 p.m. ET/PT on ABC.
Emily VanCamp Reprising Her Role As Agent 13 In 'Captain America: Civil War'
(5/8/15) In the wake of Revenge ending its four-season run on ABC, sources tell Deadline that actress Emily VanCamp is returning as Agent 13 aka Kate aka Sharon Carter in Walt Disney Marvel's Captain America: Civil War.

Agent 13 appeared briefly in Captain America: Winter Soldier as the superhero's next door neighbor under the alias of Kate. She is ordered by S.H.I.E.L.D. to protect him. Her storyline in Civil War is under wraps. In the comics, Sharon is the niece of Peggy Carter, Captain America's love interest in the first feature installment, who also had her own miniseries on ABC, Agent Carter, earlier this year. The films have not yet established that Agent 13 is Sharon Carter, though she is known as such by legions of Marvel fans. VanCamp is repped by United Talent Agency and Thruline Entertainment.

Captain America: Civil War opens on May 6, 2016 and is being directed by Anthony and Joe Russo who also helmed Captain America: The Winter Soldier. VanCamp is also starring in the indie feature The Girl In The Book from director/writer Marya Cohn. The final episode of Revenge "Two Graves" airs this Sunday.
If Emily kills Victoria in the 'Revenge' series finale, will it just be 'a formality'?
(5/8/15) (Video) As Victoria (Madeleine Stowe) says in the above sneak peek of "Revenge"s' series finale, she was long dead before Emily (Emily VanCamp) was even born.

Come Sunday (May 10), after four seasons of the two women duking it out, their ruthless relationship will be put to an end, or so this clip leads viewers to believe. However, if Emily does end up pulling the trigger, won't killing Victoria just be a formality? After all, isn't Victoria pretty much dead inside? Either way, Emily seems set on ending her life because, according to her, it's the ultimate revenge.

"I believe the people that hurt my family deserve to live in agony," says Emily. "But you are the one exception. For you, death is my only true revenge."

Find out what happens to Emily and Victoria during the series finale of "Revenge" airing on Sunday, May 10 at 10 p.m. ET/PT on ABC.
Revenge EP Explains Victoria's Return, Talks Emily's Series Finale 'Reckoning'
(5/4/15) (tvline.com) Heads up: Stop reading now if you haven't watched Sunday's episode of Revenge. It's about to get real spoilery up in here.

Ding dong, the witch is… not dead, apparently.

The final moments of this week's Revenge revealed that Victoria Grayson did not, in fact, perish in the fire at Grayson Manor — you know, despite what Madeleine Stowe told us — but showrunner Sunil Nayar urges fans to reserve judgment until Sunday's series finale (ABC, 10/9c).

"We're going to fill out the whole rest of [Victoria's] story in the next episode with one more fantastic revelation," Nayar tells TVLine. "You'll have a much better sense of what it was Victoria did. Emily's theory is correct, for the most part, but we saved one last detail for the final episode."

Below, Nayar talks more about Victoria's shocking return, explains Ben's death and teases what's in store for Emily/Amanda in the series finale.

TVLINE | To be honest, the fan reaction seems mixed. Some people feel cheated by Victoria's return, while others are glad to see her back. What reaction were you hoping for?

Realistically, that's exactly what I was expecting to get, but even the people who might feel cheated won't feel that way when they see the last episode. You get those last moments from these two women that the audience deserves and wants. [Faking a death is] something that other shows have done before, but we love the way we went about doing it, and the repercussions of the action of having done it. It wasn't just a cheap fake-out, and there was no other way to end the show than to have these two women in the last episode. Even people who are mad at us for doing it will watch the finale and say, "I'm actually really glad they did that."

TVLINE | Let's talk about that final moment, which we see in the promo…

It's a huge moment, one that this show has been chugging towards for four years. When we finally have that moment, it's going to be really moving. [Emily and Victoria] also realize there's an end of the line; they've gotten to the point where Emily's about to pull the trigger, which she's never done before. It's not something that's easily done, even though this is her ultimate enemy. That scene between the two of them is so charged, and the way it ends is really stunning.

TVLINE | The way Victoria asks, "Are you ready?" reminds me of how Stowe told us Victoria had a death wish.

There's an element of that, I think, but it's more so that what's happening between them is an inevitability, one which began the moment Emily showed up in the Hamptons. Victoria has lost everything, but it almost couldn't have ended any other way but this.

TVLINE | OK, let's talk about Ben: Thank you for killing him. What went into that decision?

Ben got his nose into a lot of things, but at the end of the day, he was a good guy who just wanted to do the right thing for people he cared about, and you'll see its effect on Emily going into the last episode. She has to feel culpable for this; he only died because of a path she set him on in an attempt to clear her name. There's a reckoning that comes with Ben's passing. We also thought it would be great if he realized Emily was telling the truth, then Courtney Love [hit] him in the back of the head. Brian Hallisay was super gracious about it.

TVLINE | Ah, Courtney Love… How much White Gold will we get in the finale?

She has a couple really great moments in the finale. I can promise you'll have plenty of White Gold in the finale.

TVLINE | Is she the one who stabs Nolan's hand in the promo? I thought it might have been Louise, but that's not very Louise-like behavior.

You don't know, though! Louise is a very surprising woman who does very surprising things in the finale.
Ratings: Secrets and Lies Finale Hits Highs, as Good Wife Dips to New Low
(5/4/15) The season finale of ABC's Secrets and Lies on Sunday night drew 6.4 million total viewers and a 1.7 rating, up 10 percent in audience to a series high while matching last week's season's best demo number.

Is the midseason drama eligible for renewal? As an EP shared in January at TCA, "The mystery of Ben Crawford and who killed Tom will be resolved at the end of this season. And… in subsequent seasons we'll have a different mystery. The only ongoing mystery is Detective Cornell (played by Juliette Lewis), as we sort of unpeel the layers of who she is." (Along those lines, Ryan Phillippe confirmed on Twitter that he definitely won't be involved in any possible Season 2.)

Opening ABC's night, Once Upon a Time (5.2 mil/1.7) was flat. At 10 pm, the penultimate Revenge (4.4 mil/1.2) rose two tenths.

Elsewhere….

CBS | Madam Secretary (9.7 mil/1.0) dipped in audience while holding onto last week's series low demo. The Good Wife (8.3 mil/0.9) dipped a tenth to a new demo low, while Battle Creek (6.2 mil/0.7) was steady.

NBC | A.D. (5.5 mil/1.1) and American Odyssey (3.2 mil/0.5) were flat in the demo.

FOX | Bob's Burgers (2.2 mil/1.0) ticked up, The Simpsons (3.1 mil/1.3) and Brooklyn Nine-Nine (2.7 mil/1.2) slipped two and three tenths, and Family Guy (3.7 mil/1.6) and the Last Man on Earth finale (3.5 mil/1.4) were flat.
Surprise! Revenge's Big Reveal & Our Hopes for the Series Finale
(5/4/15) Spoiler alert! Spoiler alert! Don't read on if you haven't seen the latest episode of Revenge, although we doubt there's a single one of you who didn't see this one coming:

Victoria Grayson is most definitely not dead.

We should have known, given the fact that this woman is like the Nokia phone of disgraced socialites, but we admit that we were fooled there for a week or two. While that twist was easily call-able, the episode's final bombshell was not: Just as it looked like Ben had caught the very alive Victoria redhanded , he seized up after having been stabbed in the back (literally!) by Courtney Love.

"Never go to New Jersey on business," the assassin with the amazing name of White Gold said as Ben fell to the floor. Then, she told a terrified Victoria to "shhh."

So that was weird.

It was also very unfortunate, given the fact that Ben was about to be the only person who knew for absolute sure that Victoria had faked her death, and the only person who could do anything about the fact that that meant Amanda was being wrongly imprisoned. Sure, Louise has her suspicions, but she's just about as trustworthy as Amanda right now in the eyes of most people.

Now here's our big question: Will Amanda Clarke get a happy ending in the series finale?

We've been assuming that she will, just because we assume that of most main characters leading up to most series finales, but we're beginning to really wonder if it's possible at this point. It's also unclear if she even should get a happy ending. Sure, this quest started out with noble intentions, but it got pretty muddy along the way as more and more innocent people got involved.

The finale's title is "Two Graves," which is clearly a reference to the Confucius quote that opened the pilot: "Before you embark on a journey of revenge, dig two graves." We'd be surprised if the title were not also taken literally in the finale, with at least two people meeting their ends along with the series, and it makes perfect poetic sense for it to be Amanda and Victoria after the biggest, revenge-iest showdown this show has ever seen.

While our hearts balk at the idea of Jack and Amanda not ending up together (due to her being dead), we also just kind of want Jack to escape back to Los Angeles and start his life over without all of this nonsense. We also want Nolan to go back to being his fabulous self with more brightly colored pants and a lot less murder, while Margaux's magazine quietly downsizes due to the fact that she's no longer involved in any of their biggest stories and Louise goes we-don't-care-where, as long as it's not here.

Another thing we'd be totally OK with is Amanda pulling a Dark Knight Rises, except instead of Michael Caine, it's Jack, and instead of just watching her from a distance, he runs to her, and they live happily ever after. We'd be happy with that too.

Revenge's series finale airs next Sunday at 10 p.m. on ABC.
Oh No! Revenge Was Just Canceled By ABC
(4/29/15) All revenge missions must come to an end.

Revenge has been canceled by ABC after four seasons, the network confirms to E! News. A breakout hit in its freshman season, Revenge suffered a bit of a sophomore slump and never fully recovered it, leading ABC to put a cap on Emily's (Emily VanCamp) red Sharpie of doom. Revenge's series finale will air on Sunday, May 10.

"We can officially tell our fans that this will be the end of the story," executive producer Sunil Nayar told EW.com, who first reported the news of the series' cancellation. "We've been talking to the network and we all just wanted to make sure that we felt very confident. Now that everybody has seen the finale—which is fabulous—everybody understands that as much as we all adore the show, it has hit exactly the mark it needed to to end. This is the series finale of Revenge that will be airing in a couple weeks."

Fans had predicted that this would be the final season of the show, especially after the death of one of its leading ladies. After her character blew up Grayson Manor while she was still inside, Madeleine Stowe confirmed Victoria's death in an interview with E! Online, stating, "This is my last season." But Stowe acknowledged that there were people still on the show that were hoping it would continue.

"I think that it's still up in the air for the rest of the castmembers. I think there are people who really love the show and want to go on with the show," she said. "We've had a fabulous crew. They've been with us for four years, and I'm so very close with them that I'll be rooting for them all if that's what they want to."

And when we asked about a potential fifth season for the show, Stowe said, "I think if it goes on it would have to be a reinvention."

One of the biggest hits of the 2012-12 TV season, Revenge debuted to 10 million viewers and a 3.3 rating in the all-important demo. However, ratings dropped in its second season, and a recent episode attracted just 4.5 million viewers and a 1.0 rating in the demo.

As for the series finale, Stowe previewed for us that it would be "bittersweet" ending.

"I can't give away the ending because I think it's going to be bittersweet, but I can tell you this: these woman are always going to be tied together," Stowe said.

Revenge's series finale will air on Sunday, May 10 at 10 p.m. on ABC.
'Revenge' Cancelled After 4 Seasons on ABC
(4/29/15) It's official – ABC's drama Revenge will be ending at the end of this season, with the May 10 Season 4 finale, titled Two Graves, serving as a series finale. The network is expected to begin airing promos announcing the the series' pending closing episode.

Speculation had been growing that this would be the final chapter in the revenge drama, which had been clearly building towards an end in the second half of this season, most recently killing off one of its two leading ladies, star Madeleine Stowe. Further fueling rumors was a recent ABC promo, which asked viewers to "be there for the final four episodes."

ABC topper Paul Lee has been a big supporter of the show, calling it "a critical brand" for the network, so a proper sendoff was fully expected, providing closure for fans who have invested years in its mythology. ABC may have taken time before making the announcement as there is a new project in the vein of Revenge that ABC has in the hopper, pilot The Kingmakers, also about a 20something assuming a new identity in order to investigate and avenge the death of a loved one. There was talk about the two being potentially paired together. Early buzz on The Kingmakers has been so-so, so it is unclear whether it would be able to figuratively carry the Revenge legacy.

Revenge, a contemporary take on The Count of Monte Cristo, was a breakout hit when it premiered in the fall of 2011 and drew some awards attention for Stowe. As is the case with a twisty, soapy mystery, the series gradually lost steam as major plot points were resolved and main characters killed off, with its ratings pretty soft in the final stretch.

Revenge was created by Mike Kelley, who departed after Season 2, with Sunil Nayar taking over as showrunner.
'Revenge' Cancelled After 4 Seasons
(4/29/15) It's official – ABC's drama Revenge will be ending at the end of this season, with the May 10 Season 4 finale serving as a series finale. The network is expected to begin airing promos announcing the ending of the series.
Ratings: Secrets and Lies Hits Series High, One Week Before Finale
(4/27/15) ABC's Secrets and Lies this Sunday night drew 5.7 million total viewers and a 1.7 rating, up 12 percent and two tenths week-to-week to hit a 7-week audience high and its best demo number to date.

Opening ABC's night, Once Upon a Time (5.1 mil/1.7) was flat. At 10 pm, the antepenultimate Revenge (4.5 mil/1.0) rose 15 percent in audience (to a 6-week high), while steady in the demo.

Elsewhere….

CBS | Madam Secretary (10.4 mil/1.0) slipped 9 and 29 percent, hitting a demo low. The Good Wife (8.7 mil/1.0) dipped a tenth to tie its series low, while Battle Creek (6.2 mil/0.7) was flat.

FOX | Bob's Burgers (2 mil/0.9) dipped a tenth from its last fresh outing, The Simpsons (3.3 mil/1.5) and back-from-hiatus Brooklyn Nine-Nine (2.8 mil/1.5) each ticked up a tenth, Family Guy (3.2 ,il/1.5) slipped two tenths and Last Man on Earth (3.2 mil/1.4) was flat.

NBC | A.D. (5.7 mil/1.1) slipped 11 percent and a tenth, while American Odyssey (2.9 mil/0.5) was flat.
Will 'Star-Crossed' Emily and Jack End the Series Together?
(4/24/15) With only three episodes of Revenge left, is it too much to ask for Amanda Clarke to get her happy ending? If we're talking about her love life, specifically in relation to one Jack Porter, it just might be.

When last we left Jack, he was flying to Los Angeles for a fresh start with Carl, as a too-late Emily watched helplessly from the runway. So can we hope for a Jack-Emily reunion before the season — and likely series — concludes next month? Have fun deciphering this tease from showrunner Sunil Nayar:

"Now that [Amanda's] living in the world as herself, it gives [her and Jack] a greater opportunity to be who they are to each other," he tells TVLine. "But it's also terrifying for them, because there's so much that's built in to what this relationship is. You'll see the nature of how star-crossed they are and how fate always chooses to intercede. The performances these two are giving [in these last episodes] are fantastic."

Honestly, it sounds like the Jemily 'ship could sail in either direction. One thing we do know for sure is that, save for a few well-timed flashbacks, we've seen the last of Victoria Grayson.

"You'll see some stuff in flashbacks, which will explain more about what [Victoria's] state of mind was," Madeleine Stowe tells us. "Some people feel that Victoria's story hadn't fully wrapped up, so there should be, unless something has changed, some very strong revelations which we shot. You'll get to understand her a little more."

Revenge fans, are you hoping for a Jack-Emily reunion before season's end?
Revenge's Madeleine Stowe Confirms Victoria's Post-Explosion Fate: 'This Shouldn't Be a Complete Surprise'
(4/20/15) It was the blast heard 'round the Hamptons on Sunday's Revenge, as Grayson Manor was utterly destroyed in a series of fiery explosions. But did Victoria really go down in flames, once and for all?

Unfortunately for all your Vicky sympathizers out there, the answer is yes.

"People have different theories about it all, but one thing you need to remember is that Victoria has displayed that she's suicidal," Madeleine Stowe tells TVLine. "There's always been a bit of a death wish in her. She has a history of that, so this shouldn't be a complete surprise."

Below, Stowe takes TVLine inside the mind of Victoria Grayson during her final moments, reflects on four seasons of Revenge and gives us a taste of what's to come in the ABC drama's final episodes.

TVLINE | I'll admit, I was surprised to see how it all went down. What was your reaction when you found out this was happening?

Here's the background on this: I'm very story centric, and I felt strongly at different junctures that there were perfect opportunities to end Victoria's story — once at the end of Season 1, but nobody wanted to do that. [Laughs] The other was at the end of Season 3, and I really felt her story was done there. I had a long discussion with the writers, with [showrunner] Sunil [Nayar], with some executives from ABC … and I said, "What is a compelling reason to bring her back, aside from just to bring her back? This is a perfect ending right here. It satisfies something for the audience; Emily got her revenge, put her adversary in the rubber room and Conrad's gone." But they felt there was more to tell, and they had the right to exercise that option. Going into this season, I really felt that it was time, so this was the end result.

TVLINE | So, is this the last we've seen of Victoria Grayson?

You'll see some stuff in flashbacks, which will explain more about what her state of mind was. Some people feel that Victoria's story hadn't fully wrapped up, so there should be — unless something has changed — some very strong revelations which we shot. You'll get to understand her a little more.

TVLINE | She's easily one of the most complicated characters on TV right now, I feel.

[Laughs] I don't know about on TV, but certainly on this show. She has a very difficult history that we haven't been able to tap into too often. The show really revolves around this little girl who grew up to exact revenge and the pain my character inflicted on her. So you may not sympathize with Victoria, but you will understand more about what drove her in the coming episodes. You'll also know why she was suicidal; boarding that plane in Season 1 was essentially an act of suicide, because she knew there was a chance it would be blown up.

TVLINE | Forget Emily. It sounds like you're Victoria's greatest threat, wanting her dead so many times.

I did feel that. This storyline could only go so far, unless you were going to take a radical departure — and what would that be? That David Clarke was a bad guy? I don't think they'd ever do that.

TVLINE | You probably never expected you'd get an entire season to act out Victoria and David's story in real time. How was that this year with James Tupper?

I love working with James. He's a romantic, and what was interesting was that he truly believed his character was in love with Victoria. I was like, "No, I don't think that's what they're doing." There was some back and forth about the nature of that relationship; I think ABC felt very strongly about the kind of show they believed in making, and it was successful for them, and they know their audience really well. Veering from that would have been unsettling, and for good reason. Making David Clarke a bad guy would upset the balance of everything.

TVLINE | ABC hasn't officially confirmed this to be the last season. Will people feel satisfied with the finale, either way? What kind of closure is there?

I don't know, it's hard to tell. You don't know until the end product is done. A lot of fans will find closure. The only thing I can tell you is that Amanda can never shake Victoria. These two are going to be put together for good.

TVLINE | Well, the finale is called "Two Graves," so that just made it even more ominous.

There's a lot of sweetness in it, too. I guess it depends whose prism you're viewing the show through. I happen to love Victoria. I loved her on the page, and I think there's a lot that's really telling about her. She made the decision to betray David because her son was being threatened, and that's not something a lot of people pay attention to. She's the villainess, and people are so emotionally invested in Amanda Clarke, so they can't step back and see the other side. I get her, and I understand why she would view Amanda as the enemy all the way to her grave. She's determined to go to the gave and take Amanda with her.

TVLINE | Looking back on your time in the Hamptons, do you have a favorite memory or storyline?

There are a couple. I really loved the arc and progression in Season 1. She started as a very conflicted woman. She felt terrible about the things she did to David; they really haunted her. But she was also very protective of her environment. I loved that she was trying to purge herself of her dark history, and take Conrad down in the process. I thought the season finale, when she boarded that plane, was very breathtaking. … There were also things Victoria did that I didn't necessarily agree with as Madeleine, but they served the story in a terrific way — like when she went so crazy that she killed Aiden. That helped to push the story of Revenge to its zenith.

TVLINE | Lastly, since we're laying Victoria to rest once and for all, what should we put on her tombstone?

I think she would never try to explain herself. "There are no answers." That's it. Or maybe, "Why ask why?" I tend to explain her a lot, but Victoria has never been a woman who tried to explain herself.
Ratings: ACM Awards Dominate, A.D. and Odyssey Fall, Revenge Ticks Up
(4/20/15) CBS' broadcast of the ACM Awards on Sunday night drew 15.8 million total viewers and a 3.6 demo rating, up 10 and 6 percent year-to-year and delivering its largest audience since 1998.

Facing off against the mighty kudoscast….

ABC | Once Upon a Time (5.1 mil/1.6) held onto last week's series low demo, while Secrets and Lies (5 mil/1.4) and Revenge (3.9 mil/1.0) each ticked up a tenth.

NBC | A.D. The Bible Continues (6.3 mil/1.1) dropped 19 and 35 percent, while American Odyssey (3.3 mil/0.6) fell 20 and 25 percent.

FOX | The Simpsons (3.2 mil/1.4) dipped a tenth, Family Guy (3.3 mil/1.7) rose two tenths and Last Man on Earth (3.4 mil/1.4) inched up a tenth.
Revenge Boss Previews Major Return: 'It Will Literally Blow People's Minds'
(4/17/15) (Pic) Roll out the red carpet, Revenge fans! A familiar face is returning to the Hamptons this Sunday (ABC, 10/9c), and he (or she) is planning a killer entrance.

"It's a fabulous re-entry into the show, one of the greatest sequences we've done on this show," showrunner Sunil Nayar tells TVLine. "It will literally blow people's minds what happens at the end of that episode."

But who exactly is Nayar talking about? Let's start with the obvious choices: Thanks to ABC releasing photos from the April 26 episode, we know that Roger Bart will be back as Mason Treadwell before the finale. But we'd like to think the network is a little more protective of spoilers than that, meaning it's possible someone even more important than Mason could be on the way.

We also know that Charlotte will be back in the Hamptons before the season is over — thanks to Christa B. Allen's revealing Instagam post, of course — and TVLine's super sleuth (aka intern) Ryan is convinced that the person attacking Victoria in our exclusive sneak peek is none other than Vicky's estranged daughter.

And then there are the dark-horse options: What if Conrad Grayson — like most "dead" characters on this show — isn't dead at all? And has anyone checked Lydia Davis' prison cell to see if it's empty?
Olivier Martinez -- No Criminal Charges in Car Seat Assault Case
(4/15/15) Olivier Martinez has dodged a bullet ... he will NOT be criminally prosecuted for slamming a baby car seat into an airport employee at LAX.

Law enforcement sources tell TMZ, the L.A. City Attorney will conduct an office hearing where Martinez and the LAX employee will tell their sides, and then Halle Berry's husband will probably get a warning and the case will be closed. The hearing officer could make anger management part of the deal.

You'll recall, Halle, Olivier and Nahla had just arrived at the Tom Bradley International Terminal in January when the employee tried playing amateur photog, which pissed off Olivier. He took the empty car seat and rammed it into the employee, causing him to fall backward.
Is 'Revenge' ending? Fans sense a series finale
(4/13/15) "Revenge" fans have really been put through the wringer lately with the ABC drama starring Emily VanCamp. Does that mean the show is over at the end of this season?

A week ago (April 5), Emily Thorne (VanCamp) revealed to the whole world that she is actually Amanda Clarke, daughter of David Clarke, the man the Graysons framed for financing a terrorist attack when Amanda was just a little girl. Then in Sunday's (April 12) episode, Victoria Grayson (Madeleine Stowe) and Louise (Elena Satine) found out all about the crimes Amanda committed as she sought her revenge against the Grayson family and their cohorts.

But before Victoria and Louise can do anything about it, Emily swoops in and gives a TV interview in which she makes Victoria out to be the evilest of them all. Which sets up this season's remaining episodes as the last Victoria/Emily showdown, which is only fitting if the show is ending.

Except! The episode tag had someone circling Emily's face in a newspaper photo with a red marker. Is that someone other than Victoria? Is that setting up a new "Revenge"-seeker in Season 5?

Fans were abuzz on Twitter declaring that this episode, which relied heavily on recaps of the series so far, felt like a series finale.
Ratings: Once Dips to New Low, CBS Dramas Rise, A.D. Slides But Tops Night
(4/13/15) ABC's Once Upon a Time this Sunday drew 5 million total viewers and a 1.6 demo rating, down 9 percent and a tenth from its previous outing and hitting a series low in the demo.

Leading out of that, Secrets and Lies (4.7 mil/1.3) was down a few eyeballs but steady in the demo, while Revenge (3.9 mil/0.9) dipped 7 percent and a tenth, tying its series low.

Elsewhere….

NBC | A.D. The Bible Continues (7.6 mil/1.7) and American Odyssey (4.2 mil/0.8) each fell 22 and 26 percent, though the former still led the night in the demo.

CBS | Pending adjustments due to golf overrun, Madam Secretary (11.9 mil/1.5) and The Good Wife (9.2 mil/1.2) were up sharply from their Easter Sunday outings and up a bit from their last "regular" episode. Battle Creek (6.9 mil/0.8) was up a tenth week-to-week and matched its pre-Easter broadcast.

FOX | Family Guy (3.1 mil/1.5) slipped 11 percent and two tenths, while Last Man on Earth (averaging 3.5 mil/1.3) matched last week's numbers.
Revenge Boss Previews Amanda's New Triple Threat as Season 4 Concludes
(4/10/15) (Pic) Is this really a photo of the trio destined to take down Amanda Clarke?

Revenge returns Sunday (ABC, 10/9c) with the final five episodes of Season 4, and showrunner Sunil Nayar advises TVLine to keep an eye on Victoria, Margaux and Louise, who might just be the Hamptons' versions of Once Upon a Time's Queens of Darkness. (Even though Louise looks more like an Ariel than an Ursula.)

"Louise is someone who's always looking for, not just love, but someone she can trust," Nayar says of Nolan's ex-to-be potentially joining forces with Victoria and Margaux. "Betrayal is a touchstone for her, and she's learned a lot of new facts she didn't know before — especially things that her husband didn't tell her, like who Amanda Clarke actually was."

Nayar says we can expect see a more "kinetically charged" Louise moving forward. "You're going to see her take a very interesting turn," he adds. "She'll start to question her fidelities to everybody she's met on the show and make some very dramatic decisions as we head towards the finale."

As for Victoria, Nayar promises that Amanda's longest-lasting nemesis will only be "energized" in her ongoing efforts to destroy her. "Amanda's now open to the world," Nayar says, "and there's going to be a bit of a calling on the carpet for her."
Bubble Watch: Which Broadcast Series Are In Danger Of Cancellation
(4/8/15) ABC's Revenge finds itself once again on the bubble after a lackluster season, both creatively and ratings-wise. ABC topper Paul Lee has been a big supporter of the show, calling it "a critical brand" for the network. A show that has played such an important role for network and has been a big international seller for sibling ABC Studios is likely to be given a proper sendoff for the fans who have invested years in its mythology.

Revenge's fate may be tied to that for another ABC project about a young person taking on a new identity to avenge the death of a family member, ABC pilot Kingmakers. If the new project, which has been compared to Revenge, goes to series, maybe ABC could give Revenge one final chapter that could help launch the new series.
Revenge Recruits Tom Amandes for Everwood Reunion
(4/1/15) The Graysons may be dropping like flies on Revenge, but another family — namely, the Abbots — appears to be more unified than ever.

Tom Amandes, who played Emily VanCamp's TV dad Dr. Harold Abbot on The WB's Everwood, will guest-star in an upcoming episode of the ABC drama, though details about his character are currently unavailable. Amandes' recent work includes recurring roles on Parenthood and Scandal.

VanCamp broke the news herself, tweeting out this picture of herself and Amandes on set: Photo.

But the photo, while glorious, also raises a few major questions: For example, why is Emily in court? And why does she appear to be wearing a prison jumpsuit? Could the fourth — and potentially final — season of Revenge really end with Ms. Clarke behind bars?
Ratings: Once Ties Low, Last Man and Secrets and Lies Slip, Good Wife Steady
(3/30/15) ABC's Once Upon a Time this Sunday drew 5.4 million total viewers and a 1.7 rating, down 7 percent and two tenths and tying its series low in the demo.

Leading out of that, Secrets and Lies (5.1 mil/1.3) was down 9 percent and two tenths, while Revenge (4.3 mil/1.0) only dipped one tenth.

Elsewhere….

CBS | Based on slightly scrambled, time-delayed numbers subject to change, Madam Secretary (10.6 mil/1.3), The Good Wife (8 mil/1.0) and Battle Creek (5.8 mil/0.8) all ticked down a bit in audience while steady in the demo.

NBC | Coverage of the iHeart Radio Music Awards (5.2 mil/1.7) matched last year's numbers.

FOX | This week's double pump of Last Man on Earth averaged 3.44 mil and a 1.3, down 24 and 28 percent.
Ratings: Last Man Tops Night, Secrets and Lies Ticks Up, Battle Creek Dips
(3/23/15) A double helping of Fox's Last Man on Earth this Sunday drew 4.5 million total viewers/1.9 rating and 4.1 mil/1.6, winning the night in the demo and besting/matching its week-ago numbers in the 9:30 time slot.

Fox's only other original, Bob's Burgers (2.2 mil/1.0), was flat.

Over on ABC, Once Upon a Time (5.7 mil/1.8) and Revenge (4.4 mil/1.1) dipped in audience while steady in the demo. Secrets and Lies (5.5 mil/1.5) ticked up a tenth.

CBS' Madam Secretary (10.4 mil/1.3) dipped 8 percent in audience but ticked up in the demo. The Good Wife (8.2 mil/1.0) dropped a few eyeballs while steady in the demo. Battle Creek (6 mil/0.8) slipped 12 percent and a tenth.
Christa B. Allen on Baby Daddy's Messy Finale and Charlotte's Revenge Future
(3/18/15) The fight for Danny Wheeler takes a tasty turn in Wednesday's Baby Daddy winter finale (ABC Family, 8:30/7:30c) as Riley and Robyn finally lay their cards — and condiments, apparently — on the table.

"The crew rigged up these ketchup and mustard packets with tiny little straws in them," Christa B. Allen tells TVLine of Robyn and Riley's rink-side food fight, pictured above. "That was definitely a highlight for me."

Things really come a head when Riley decides it's time to tell Danny how she feels, but according to the episode's official synopsis, that doesn't go too smoothly: "When Danny realizes Riley knew he loved her but still dated Ben, will he follow his heart to the girl of his dreams or will his pride stand in the way?"

Allen, of course, can't say exactly how the episode ends, but she notes that no matter what happens to the love triangle, "Riley and Robyn are still co-workers. They still see each other every day, so there are lots of possibilities there."

Meanwhile, Allen remains M.I.A. on ABC's Revenge ever since Charlotte left for rehab in 2014, and even she doesn't know when her character might return to the Hamptons.

"I haven't heard anything," she says. "But I know that they're still waiting to hear on their next season pickup, so I think it'll depend largely on that. … They do try to keep their options open on that show."

For now, Allen is enjoying her arc on Baby Daddy, which could come to an abrupt end tonight, depending on how Danny reacts to Riley's confession. After spending six years on Revenge, Allen says, "It's nice to go to work and just laugh."

Baby Daddy fans, how do you hope the Robyn-Danny-Riley love triangle works out tonight? And Revenge fans, any idea what might eventually bring Charlotte back to the Hamptons?
Ratings: Last Man, Family Guy and Once Slip; Revenge and Good Wife Steady
(3/16/15) Fox's Last Man on Earth this Sunday drew 3.7 million total viewers and a 1.5 demo rating, down 16 and 21 percent week-to-week.

Opening Fox's night, Bob's Burgers (2.3 mil/1.0) slipped two tenths. The Simpsons (3.6 mil/1.5) and Brooklyn Nine-Nine (3 mil/1.4) each ticked down a tenth, while Family Guy (3.5 mil/1.7) dropped 12 and 19 percent.

Elsewhere….

ABC | Once Upon a Time (5.8 mil/1.8) slipped 13 and 14 percent, landing just above the series lows (5.7 mil/1.7) set by the winter finale. Secrets and Lies (5.3 mil/1.3) dipped 12 percent and one tenth, while plucky Revenge (4.8 mil/1.1) held steady.

CBS | Madam Secretary (11.2 mil/1.2) inched up a tenth, while Good Wife (8.8 mil/1.0) and Battle Creek (6.7 mil/0.8) were flat.
Amber Valletta Joins ABC Drama Pilot 'Boom'
(3/12/15) Revenge and Legends alumna Amber Valletta is set to co-star opposite Chace Crawford and Don Johnson in ABC drama pilot Boom, from producer Tony Krantz and ABC Signature. Written by Josh Pate and Rodes Fishburne and directed by Jonas Pate, Boom examines the biggest oil discovery in American history which has triggered a geopolitical shift and an economic boom in North Dakota on a scale not seen since the 1849 California Gold Rush. The show tracks the epic pilgrimage of a young, ambitious couple, Billy (Crawford) and Cody (Rebecca Rittenhouse), to the oil fields of the Bakken seeking their fortune and a better life. Actress-model Valletta, repped by CAA, John Carrabino Management and attorney Ziffren Brittenham, plays oil tycoon Hap's (Johnson's) glamorous, brilliant young new wife, an ex-Goldman Sachs oil-desk type with a masters from Wharton who also is his sharp-as-ice business partner.
Dilshad Vadsaria Joins Fox's 'Frankenstein'
(3/11/15) Dilshad Vadsaria (Revenge) has been cast in a lead role in the Fox pilot Frankenstein, from Rand Ravich, Howard Gordon and 20th TV. Taking inspiration from the basic Mary Shelley mythology of a man brought back to life by scientists playing God, Frankenstein centers on Ray Pritchard (Philip Baker Hall), a morally corrupt retired cop who is given a second chance at life when he is brought back from the dead. Vadsaria — repped by Kohner, Kass Management and attorney Michael Fuller — will play Mary Goodwin, the beautiful, brilliant young woman who, with her brother Otto, have built a cyber empire. Her other TV credits include Greek and Murder In The First.
Courtney Love to Recur on Revenge - But Who Brings Her to Town?
(3/11/15) Fresh off her dramatic multi-episode turn on Fox's Empire, Courtney Love is rockin' another role, on ABC's Revenge.

Per People.com, Love will play — wait for it — "White Gold," a jetsetter who is brought to the Hamptons by (well, of course) Margaux.

Love's recurring Revenge gig kicks off Sunday, March 29.
Ratings: Revenge Returns Up; Secretary, Good Wife Hit Lows; Last Man Drops
(3/9/15) On this first Sunday of Daylight Savings Time, when families, conventional wisdom tells us, are outside tossing a Frisbee instead of plunked in front of the TV box….

ABC's Revenge returned to 4.8 million total viewers and a 1.0 demo rating, up 28 percent and a tenth from its winter finale (which led out of Resurrection's 3.9 mil/1.0).

Opening ABC's night, Once Upon a Time (6.6 mil/2.1) and Secrets and Lies (5.9 mil/1.4) each ticked down a tenth.

Elsewhere….

CBS | Madam Secretary (10.8 mil/1.1) and The Good Wife (9.1 mil/1.0) both ticked down to series lows. Battle Creek (7 mil/0.8) dipped 7 percent and two tenths from its debut.

FOX | Bob's Burgers (2.5 mil/1.1), The Simpsons (3.7 mil/1.6) and Brooklyn Nine-Nine (3.1 mil/1.4) slipped three, two and four tenths in the demo, respectively. Family Guy (4 mil/2.0) surged versus its previous outing (opposite the SNL special). Last Man on Earth (4.3 mil/1.8) dropped 26 and 25 percent from its solid premiere.
Madeleine Stowe Reflects on Losing Her Father to Multiple Sclerosis
(2/5/15) Revenge star Madeleine Stowe says she was just 5 years old when her family was rocked by her father's multiple sclerosis diagnosis.

"I remember he deteriorated very rapidly," the actress, 56, tells PEOPLE of her father, Robert. "By the time I was 6, he was on crutches. By the time I was 7, he was in a wheelchair."

Stowe says she and her siblings grew up learning to tie their father's shoes, dress him, and bathe him.

"That was the heartbreak he went through – losing his faculties," she says. "I felt guilt. I felt empathy. I wanted him to survive."

Though her father died when she was just 23, Stowe now hopes she can help MS patients and their caretakers cope with the disease in ways that her own family was not able to at the time.

Stowe has teamed up with Genzyme, the makers of a MS medication, for the campaign Lights, Camera, Take Action on MS.

The hope is that "[people] can not only learn their treatment options, but more importantly share their stories and connect with one another," says Stowe. "I wish my father could have had some of these opportunities that are available now."

For more of Madeleine Stowe's touching story, pick up the latest issue of PEOPLE, on newsstands Friday.
8 Questions with...Gina Torres
(1/29/15) (backstage.com) The "Suits" and "Hannibal" star opens up to Backstage about soap operas, Madeleine Stowe, and the moment she found her voice—in an audition room.

Tell us about your latest projects.

I'm in the middle of an arc on "Revenge." It's fantastic. I've primarily worked with Madeleine Stowe, and I've been a fan of hers for quite some time. It's so wonderful when you meet someone whose aesthetic matches up and you get to work and play. That's been quite fun. Never did I think I'd be working with Madeleine Stowe on a nighttime soap. And I love nighttime soaps!

What have you learned about yourself on "Revenge"?

That I love the work more than anything. I love however it comes. I love doing the nighttime soap, the emotional, psychological, hard stuff that I got to tackle on "Hannibal." I love the chess game that I do on "Suits." I just love every bit of it and that I get to do it.

Who do you have an acting crush on?

Other than Madeleine Stowe? Wow, there are a couple people out there. It's hard right now; I have a 7-year-old daughter and I'm working, so I haven't seen a grown-up–person's movie in a long time! I'm so behind, it's really embarrassing. Eddie Redmayne is fantastic. Cate Blanchett—always. She's my forever crush.

How did you get your SAG-AFTRA card?

My first time on camera was "One Life to Live." I mourn for actors coming up that the daytime soap opera is becoming extinct. It's theater onscreen. And in soap operas you have very little rehearsal time! It's you and your cast mates and a guy in a booth and a lot of pages of dialogue. You really have to rely on yourself to make your most truthful choices. You're not coddled; there's no babysitting.

What is your worst audition horror story?

I would say the most fascinating audition I had was for a musical. I was told to prepare a song. And we get out there, a group of girls, and they asked us to walk across the stage like a showgirl and walk back. It was the stereotypical scene from movies about auditions for musicals! There's this disembodied voice coming from a dark theater and it's telling you to do this and that. And I'm standing there thinking, You've got to be kidding me. I'm not really living this right now. They dismissed us and I wasn't having it. And I walked down center stage and shouted over the footlights, "Excuse me! I was told to prepare a song—would you like me to sing?" "Oh! Yes, oh of course!" And I did. I don't know where that came from but I just refused to be dismissed. I wouldn't say I recommend that to people. I don't want young actors to read this and go, "Well, Gina Torres did this." I just thought, No, not today. It took a lot of work for me to get there. To prepare, to be ready, to be on time, to get on the NYC subway, change into my leotard—and I just was not in the mood to be dismissed. The moral of that story is, you choose your battles. And sometimes wonderful things happen. You find your voice.

So how do you typically prepare for an audition?

It depends on what it is, on how much is asked of me. Whether it's a musical or a lot of pages of dialogue, it's really just about time put in. And the subject—there are things I know very little about. And then other things where I feel I've got this. Like, I've been working up to this chick for a long time! I've been doing it for a while, so my well is deeper and I can read something and figure out what's required.

Which of your performances has left a lasting mark on you?

Recently there are two. Certainly Bella Crawford on "Hannibal." I went on such a journey with her in her sickness and how Bryan Fuller wrote her so beautifully, with so much grace and integrity. I just wanted her to be an homage to all the people out there who are dealing with illness. And my character on "Huge" on ABC Family five years ago. I learned so much about that world and the dysfunction of overeating and it was a real eye-opener. I had so many hopes for that show; it didn't survive, but I think we did make an impression on those people that did watch it.

What do you wish you'd known before you started acting?

I don't think I would change anything. There is that thing where you can learn rather quickly or not at all: Losing a job is not the end of the world. Your job is the one you get! You don't get somebody else's job, and nobody gets yours. Nobody took your job. They just got theirs.
Fast National ratings for Sunday, Jan. 25, 2015
(1/26/15) The 63rd Miss Universe pageant scored big gains in the Fast National ratings for Sunday, Jan. 25, 2015, doubling its audience from the most recent broadcast in November 2013 (which aired on a Saturday). The pageant carried NBC to a win among adults 18-49 for the night.

Also Sunday, the finale of "Galavant" was up some over last week for ABC, and "Resurrection" and "Revenge" also improved a little. A two-hour block of "CSI" was pretty steady for CBS, but FOX's comedies were on the low side.

Sunday hour by hour:

7 p.m.
CBS: "60 Minutes" (9.1 million viewers, 5.8/10 households)
ABC: "America's Funniest Home Videos" (7.25 million, 3.8/6)
NBC: "Dateline" (6.7 million, 4.3/7)
FOX: "Mulaney" (1 million, 0.6/1)/"The Simpsons" rerun (1.7 million, 1.0/2)
18-49 leader: America's Funniest Home Videos" (1.7)

8 p.m.
CBS: "Undercover Boss" (8.8 million, 5.4/8)
NBC: Miss Universe (7 million, 4.3/7)
ABC: "Galavant" season finale (4.3 million, 2.4/4)
FOX: "The Simpsons" (3.4 million, 1.9/3)/"Brooklyn Nine-Nine" (2.8 million, 1.6/3)
18-49 leader: Miss Universe (1.7)

9 p.m.
CBS: "CSI" (8.2 million, 5.1/8)
NBC: Miss Universe (7.4 million, 4.3/7)
ABC: "Resurrection" (3.7 million, 2.3/4)
FOX: "Family Guy" (3.2 million, 1.9/3)/"Bob's Burgers" (2.5 million, 1.4/2)
18-49 leader: Miss Universe (2.0)

10 p.m.
NBC: Miss Universe (8.4 million, 5.0/9
CBS: "CSI" (8.2 million, 5.2/9)
ABC: "Revenge" (3.75 million, 2.6/4)
18-49 leader: Miss Universe (2.3)
Karine Vanasse Lays Out Margaux's Plan to Destroy Emily
(1/25/15) Like so many scorned Hamptonites before her, Margaux made her first official Revenge declaration last Sunday — and now, it's time to put that plan into action. Emily Thorne, she is coming for you.

"She's emotional, and she has nothing left to lose," Karine Vanasse tells TVLine of Margaux's mental state as we head into tonight's episode (ABC, 10/9c). "She can be quite reactive, and she's not just going to wait for someone else to take care of things."

Just as Margaux explained to Victoria last week, the first step in her plan is to find evidence against Emily, though she'll quickly discover that's easier said than done.

"Right now, she only knows Victoria's version of the facts, so she needs to prove that this girl went too far," Vanasse explains. "She'll realize that everyone around her is backing Emily up, so Margaux will start to ask, 'Why is everyone protecting this girl? What is it about her?'"

Margaux will also learn that, excluding the tiny Grayson incubating inside her, she's basically alone in her struggle. Not even Victoria, whom Margaux "respects and admires," is offering to lend her support. (And speaking of that tiny Grayson, don't expect to see Margaux sporting a baby bump anytime soon.)

"It's strange because, episode-by-episode, we really only move forward one day," Vanasse says with a laugh. "So Margaux's really not that pregnant. For the moment, I don't need a baby bump. I can still fit in Margaux's beautiful dresses and pants. We're not moving on to pregnancy fashions yet."

Fortunately, there is one long-awaited moment we can get excited for tonight: another spectacular Margaux-Emily face-off.

"Saying I'm going to go after her is one thing, but saying it to her face is another," Vanasse points out. "It's a game of cat and mouse. Margaux doesn't know everything the audience knows about Emily, so she doesn't really know what she's getting herself into."

Revenge fans, how do you feel about Margaux and her plan? And how do you hope the rest of Season 4 unfolds?
Emily VanCamp Admits the TV Death of Her Real-Life Boyfriend Was "Brutal and Awful"
(1/23/15) A funny thing happens when you kill off a leading man on a TV show: The fans get a bit…crankydoodle. Wait, that's not the word. What is it? Oh yeah…PISSED. Or so says Emily VanCamp.

"I think they're pretty pissed at us!" Emily says of Revenge fans after the shocking death of Daniel, played by her real-life boyfriend Josh Bowman. "Our fans are angry. I mean, you know, it was something that was discussed a while back, and it was a way to move the story forward. And you know, we lose people on this show. It's brutal and it's awful because we all love each other and we really do get along, so it's just brutal."

Josh's character Daniel died in the show's winter finale last month, when he took a bullet for Emily's character Emily—right after learning he was going to become a father. (All the tears!)

"It was a huge bummer," co-star Nick Wechsler says of Josh's departure. "We all loved [Josh], and he's a lot of fun to have around, and he was great. I think he got even better over the course of the show."

The upside?

"[It shows that] they [the writers] are not afraid to go in any direction on this show," insists Gabriel Mann, "and then they are swinging for the rafters for the second half of this season." (Hence the reason some incredibly smart people are saying Revenge is better than ever.)

While still grieving the on-screen death of her off-screen boyfriend, Emily and her lovely Revenge co-stars—Gabriel (Nolan), Nick (Jack), Karine Vanasse (Margaux), and Elena Satine (Louise)—spent a rare night out together at an ABC party. And despite the fact that Nolan got hitched to Louise in the latest episode, let the record show: Gabriel Mann is still 100 percent Team Nemily (Nolan and Emily).

"I've been waiting four years for that to happen!" he cracked. So will it? Well, don't shoot the messenger, Nemily fans, but it doesn't sound like that's on the writers' radar for the time being.

"[Emily's] always just got so much going on in the love department!" VanCamp explains. "But we've got this new character Ben… He sort of swoops in there for a minute. We'll see where that goes. I think right now she's just trying to figure out how to be somewhat of a normal human, so she's dabbling in different things. But I think we all know at her core, it was always Aiden or Jack, and Aiden's gone, and they're developing this… I do think that these two (Jack and Emily), no matter what has happened, there's such a deep love and connection there, that we actually are starting to explore a little bit more which I think the fans will be really excited about."

And since Revenge has been so revitalized this season—in part thanks to the return of Emily's presumed dead father James Tupper—Emily says she's also up for a return from dear ol' mom.

"I mean, Jennifer Jason Leigh is so amazing!" she gushes. "I would love to have her come back, but I don't know what they have planned in terms of that. I think they've just been wanting to explore this new and crazy relationship with the father she thought was dead for all these years…There are so many things that happened, you know, and like everything she's been doing this for is right in front of her all of a sudden. It's kinda tragic and sad in a lot of ways."

And such good TV.

Revenge's next episode airs Sunday. #RIPDaniel #NeverForget
Revenge's Carolyn Hennesy Previews Spat With Emily, More 'Atomic Bombs'
(1/23/15) Sunday's Revenge saw the arrival — in the flesh, this time — of Carolyn Hennesy's wickedly enjoyable Penelope Ellis, and Hennesy tells TVLine she still has plenty of poison left to spill.

"She's s even more of a monster in real life [than in Louise's hallucinations]," Hennesy says. "She's a delightful southern pecan praline with a worm in the middle. My basis was Olivia de Havilland as Miriam in Hush…Hush, Sweet Charlotte. She's nothing but sweetness and pearls and concern when there's someone in the room other than her daughter, but when she's alone with Louise, she's nothing but an impaling pole."

Read on for Hennesy's full Q&A, previewing Penelope's rough encounters with Emily and Nolan, as well as her potential long-term plan.

TVLINE | I've got to be honest, this character feels like it was written for you.

Charm-with-fangs is a great thing for me to play. You smile big, but the sharpened molars are dripping poison. I don't know if it's good or bad, but that just seems to be a specialty of mine. It's not only in my wheelhouse — it is my wheelhouse. As they say, the snake gets the best shoes and the best lines.

TVLINE | And I assume there's more to be learned about the Ellis' history?

There will be, yes. There are other atomic bombs to be dropped in Louise's life.

TVLINE | And what's Penelope's relationship with Nolan? She clearly sees through the sham.

It's very antagonistic. Nolan understands exactly who she is, so he hates her, and rightfully so. He really is Louise's knight in shining armor, and now that they've gotten control of the money from Penelope, we're left wondering what lengths she'll go to to get it back. It's all about the money.

TVLINE | Sunday's episode description says Emily will help Louise with the "skeletons in her closet." Can we expect an Emily-Penelope face-off?

[Laughs] There is, indeed, a face-off. There's a wonderful roundtable dinner scene where I get to work with my favorite child, with Lyman, who's really going places — as opposed to Louise, who's just going straight to hell.

TVLINE | Now that she's got herself a place in the Hamptons, how long can we expect her to stick around? Maybe… forever?

I want her there forever, too! It has thus far been a five-episode arc, of which we've seen four. Five comes up on Sunday, so we'll see. Whatever happens, if it doesn't go Penelope's way, I'm hoping she doesn't take it lying down. She's capable of much more than we've even seen.
Revenge Gets Real
(1/19/15) Kim Richards (The Real Housewives of Beverly Hills) will guest-star in Revenge's Jan. 25 episode, E! Online reports, playing Stephanie, a member of Nolan's new beach club.
Nick Wechsler Talks Emily and Jack: 'We're Slowly Getting There'
(1/19/15) Could Revenge's fourth season end with a Jack-Emily reunion?

With the threat of Malcolm Black finally behind them, it's time for Emily and her fellow Hamptonites to look towards the future, which, for Jack and Emily, could also mean looking towards their past.

"We weren't going to push that," Nick Wechsler tells TVLine of Jack and Emily's romantic relationship in Season 4, especially so soon after Aiden's death. "Jack's been hanging back, waiting for her to feel ready, but he's been into her this whole time. We're slowly getting there."

In fact, Wechsler says we can expect to see some Emily-Jack sparks in the neat future: "In an episode we just shot, there are some larger strides made in that direction."

Of course, there is still that little matter of Ben being all up in Emily's business — she seemed to warm up to him after Sunday's big rescue — but Wechsler assures us that Jack "will try" to keep Bemily from happening.

In other Jack news, it sounds like the Hamptons' golden rookie will soon strike up another surprising friendship.

"[Louise is] about to meet Jack, which should be really fun," Elena Satine tells us. "I wonder what they have in store; I really don't know."

Revenge fans, are you hoping for a Jack-Emily pairing by season's end? What do you expect from Jack's interactions with Louise? And what are your thoughts on Ben?
Fast National ratings for Sunday, Jan. 18, 2015
(1/19/15) The AFC Championship game drew huge numbers for CBS in the Fast National ratings for Sunday, Jan. 18, 2015, blowing out the other networks the way the New England Patriots blew out the Indianapolis Colts.

The big ratings for the game also gave a big boost to "Scorpion," which easily drew its biggest audience (though it fell off significantly in its second half-hour). ABC was the only other network to run originals, and "Galavant," "Resurrection" and "Revenge" all were fairly steady (albeit low).

CBS drew 31.6 million viewers and a 17.2 rating/27 share in households in primetime, pending updates for its live NFL telecast. ABC (3.85 million, 2.4/4) was the best of the rest, followed by NBC (3.55 million, 2.3/4) and FOX (2.9 million, 1.7/3).

CBS scored a 10.3 rating in the 18-49 demographic. FOX (1.1) was the only other network to get above a 1.0. NBC scored a 0.9 and ABC a 0.8.

Sunday hour by hour:

7 p.m.
CBS: AFC Championship - Colts/Patriots (42.3 million viewers, 22.5/36 households)
ABC: "America's Funniest Home Videos" (4.8 million, 2.8/4)
NBC: "Dateline" (4.2 million, 2.6/4)
FOX: NFL runover/"Mulaney" (4.3 million, 2.7/4)/"The Simpsons" rerun (2.6 million, 1.7/3)
18-49 leader: AFC Championship (13.5)

8 p.m.
CBS: AFC Championship (39.2 million, 20.9/32)
ABC: "Galavant" (3.4 million, 2.0/3)
NBC: Movie - "Bridesmaids" (3 million, 1.9/3)
FOX: "The Simpsons" rerun (3 million, 2.0/3)/"Brooklyn Nine-Nine" rerun (2.3 million, 1.4/2)
18-49 leader: AFC Championship (12.9)

9 p.m.
CBS: AFC Championship (30.5 million, 16.9/26)
ABC: "Resurrection" (3.2 million, 2.1/3)
NBC: "Bridesmaids" (3.1 million, 2.0/3)
FOX: "Family Guy" rerun (2.5 million, 1.5/2)/"Bob's Burgers" rerun (2.4 million, 1.4/2)
18-49 leader: AFC Championship (10.4)

10 p.m.
CBS: "Scorpion" (14.35 million, 8.5/14)
ABC: "Revenge" (4 million, 2.7/5)
NBC: "Bridesmaids" (3.9 million, 2.5/4)
18-49 leader: "Scorpion" (4.3)
Revenge Stars on Emily's Reveal, Jack's Fate and the Next Death: 'It's a Big One'
(1/17/15) As we delve deeper into the second half of Revenge's fourth — and potentially final — season, we find ourselves wondering: Will everyone soon know Emily's secret? How will characters' loyalties shift? And, of course, who will live to find out?

TVLine caught up with four of Revenge's key players for the scoop…

JACK V. BLACK | Is Daniel saving a spot for Jack in Revenge heaven? Nick Wechsler tells TVLine we should be "fairly worried" about the Hamptons' new rookie cop, as Malcolm Black is "going to come after whoever it is that [killed Kate]. I'll be honest, he's coming after me. He's coming after all of us." As for Emily, Wechsler says Jack will be very much involved in rescuing her from Malcolm's clutches. "It's a team effort," he explains. "Jack will be damned before he lets anything happen to her."

BODY COUNT | Looking for comfort about Jack's fate? You won't get it from Gabriel Mann. The real-life Nolan Ross tells TVLine, "Any one of us could be gone without proper circumstance. They have no qualms about anyone dying on this show. … We're going real, real, real big this year. It feels like anything further from this show [beyond Season 4] would need to be a variation on what this is. Whether that involves these same characters, or new characters, none of us really know." As for who might soon be six feet under, Mann says, "It's a big one. Our creator, Mike Kelley, envisioned the end of the series as a beach covered with the bodies of our characters, with Emily and Victoria climbing over them to get to each other."

KNOWLEDGE IS POWER | Now that Margaux knows the truth about Emily — or at least "the truth through Victoria's eyes," as Karine Vanasse explains to TVLine — she's going to be faced with a major decision: "Should she release this information? And if so, how should she do it?" The truth has also opened Margaux's eyes to the amount of damage, both emotional and physical, Emily has caused. "Everyone has experienced so much loss because of this girl," Vanasse says, "so Margaux's like, 'We have to stop her.'" (That said, a "brief" scene between Margaux and Jack might just quell Daniel's baby mama's rage because "she doesn't want to betray Jack.")

LOUISE 2.0 | Prepare for a whole new Louise moving forward. "She's not going to let herself be a fool," Elena Satine tells TVLine, following last week's reveal that her family's been drugging her. And speaking of family, we're finally about to meet Louise's mother (played by Carolyn Hennesy) in the flesh. That reunion will peel back their "abusive" relationship and reveal why Louise has been so focused on Victoria all this time. "I don't believe there's an ulterior motive with Victoria," Satine explains. "Louise is just a lost girl looking for acceptance." As for Louise's future with Nolan, Satine says, "My only hope is that we stay on each other's good side."
ABC's Paul Lee On 'Revenge' Future, Singing Shows, 'Shark Tank' Negotiations
(1/15/15) What a difference a year makes. Last January, ABC boss Paul Lee faced TV critics after all of the network's new fall series had either been cancelled or were on life support. This time, ABC is coming off a strong fall, boasting a string of successes including top-rated new drama in How To Get Away With Murder, top new comedy Black-ish, rising sophomore The Goldbergs, promising midseason comedy Galavant, and a No. 1 ratings position on three nights, Wednesday, Thursday and Friday.

Diversity was a focal point of the panel, with Lee reiterating again the network's commitment to have shows that reflect the changing demographics and ethnographics of America. ABC's bet on diverse new shows has largely paid off, with freshmen Murder, Black-ish and Cristela given full-season orders, and there is more of that on ABC's midseason slate, John Ridley's racial relations drama American Crime and Asian family comedy Fresh Off The Boat.

American Crime is conceived as a limited/anthology series, as is upcoming crime mystery drama Secrets & Lies. "We love having more limited series on the network, that allows for a mixed economy and allows us to bring a different kind of storytelling and a different talent to it." That said, the network has a mechanism in place, with American Crime possibly keeping core cast for a second cycle and Secrets & Lies possibly doing a second season with Juliette Lewis and her cop character. Both shows would tackle new cases.

Lee was asked to address Eddie Huang's recent comments that Fresh Off The Boat, which was based on his memoir, does not reflect his voice. "We love Eddie," Lee said. "He's a firebrand… But the show is a comedy, not a documentary of his book."

On Fresh Off The Boat, which was assigned the super-tough Tuesday 8 PM slot after previews at 8:30 PM and 9:30 PM on Wednesday, it will not face the same threshold as the network's Wednesday comedies when ruling on a second-season pickup, Lee said, sounding confident the family comedy "will find an audience."

A returning ABC series that has been finding it harder and harder to hold an audience, Revenge, is not in immediate danger of cancellation. Lee noted a ratings uptick in the episodes leading to the fall finale and that Revenge is more than a show, "it's a critical brand for us." While short of saying that Revenge would be coming back, Lee noted that "we have some great storylines coming up" and that "there is a way to reinvent the show." After the session he noted that Revenge was originally picked as a limited series but at the time that was not a model the network was pursuing.

Lee was more committal on the future of veteran procedural Castle, which he said would be coming back.

While other networks are often evasive when it comes to ownership of their programming, Lee has been open about ABC's drive to launch successful franchises that it owns. "We wanted to build up the studio," he said, noting how many of the key ABC series come from the studio, including virtually all dramas.

After a few misfires in the singing competition genre, most recently Rising Star, ABC will stay away from singing reality series for the foreseeable future, Lee said.

Lee had a funny response to Sony hack leaks that revealed some intense re-negotiations with Shark Tank star Mark Cuban. "We love our sharks," Lee said. "It's brilliant when you have a show, and the idea is that these are the best negotiators in the world, and then you have to negotiate with them. But I'm thrilled that my head negotiator, Jana Winograde, is as good as the great sharks out there. I'm optimistic, we will be in good shape."

Also today, ABC announced that the spring cycle of Dancing With The Stars will debut on March 16. Still no premiere date for horror drama The Whispers, which will launch in late spring, using the NBA Finals as a launch platform, transitioning into summer.
Fast National ratings for Sunday, Jan. 11, 2015
(1/12/15) The 72nd annual Golden Globes scored well in the Fast National ratings for Sunday, Jan. 11, 2015. The fast nationals are off slightly from last year's awards, but only by 7 percent, pending updates.

The Globes weren't quite strong enough, however, to give NBC a win for the night as CBS got a huge bump from an NFL playoff game that took up the first hour of primetime. Also Sunday, FOX's comedy lineup was up from its last nigh without an NFL lead-in, but "Galavant" took a hit for ABC in its second week.

CBS averaged 18.5 million viewers and a 10.9 rating/17 share in households in primetime, pending updates for its live NFL telecast. NBC (14.5 million, 8.6/13) finished second, also pending updates. ABC (4.2 million, 2.5/4) came in a distant third, beating out FOX's 3.1 million viewers and 1.8/3.

CBS currently leads the 18-49 demographic as well with a 4.5 rating, just ahead of NBC's 4.3. FOX posted a 1.4 and ABC a 1.0.

Sunday hour by hour:

7 p.m.
CBS: NFL runover (36.6 million viewers, 20.5/31 households)
NBC: "Golden Globe Awards Arrivals" (9.5 million, 5.8/9)
ABC: "America's Funniest Home Videos" (6 million, 3.4/5)
FOX: "Mulaney" (1.3 million, 0.9/1)/"The Simpsons" rerun (1.9 million, 1.2/2)
18-49 leader: NFL runover (11.4)

8 p.m.
NBC: Golden Globe Awards (17.6 million, 10.4/15)
CBS: "60 Minutes" (17.35 million, 10.5/16)
ABC: "Galavant" (4.1 million, 2.2/3)
FOX: "The Simpsons" (4.4 million, 2.4/4)/"Brooklyn Nine-Nine" (3.3 million, 2.0/3)
18-49 leader: Golden Globe Awards (5.2)

9 p.m.
NBC: Golden Globe Awards (16.6 million, 9.7/15)
CBS: "Madam Secretary" (11.6 million, 7.2/11)
FOX: "Family Guy" (4.1 million, 2.5/4)/"Bob's Burgers" (3.3 million, 2.0/3)
ABC: "Resurrection" (3.1 million, 2.0/3)
18-49 leader: Golden Globe Awards (5.2)

10 p.m.
NBC: Golden Globe Awards (14.1 million, 8.6/15)
CBS: "The Good Wife" (8.5 million, 5.4/9)
ABC: "Revenge" (3.65 million, 2.5/4)
18-49 leader: Golden Globe Awards (4.4)
Revenge's New Regular
(1/5/15) The Hamptons' craziest new resident is here to stay.

Elena Satine, who joined Revenge at the start of its current season as Louise, has been promoted to series regular on the ABC drama, according to The Hollywood Reporter.

During Louise's short time in the Hamptons, the southern belle has hooked up with the late, great Daniel; attempted to kill his baby mama Margaux; and is now working as a spy for Victoria — and she's just getting started.
Fast National ratings for Sunday, Jan. 4, 2015
(1/5/15) "The Celebrity Apprentice" outperformed its most recent debut by a good amount in the Fast National ratings for Sunday, Jan. 4, 2015, rising six tenths of a point in adults 18-49 over the 2013 premiere. The improvement helped NBC finish second in the demo for the night behind FOX, whose NFL wild-card game ran into primetime and gave "The Simpsons" and "Brooklyn Nine-Nine" big boosts.

Also Sunday, the premiere of "Galavant" posted ratings in line with what "Once Upon a Time" had been drawing in the 8 o'clock hour, but "Resurrection" and "Revenge" both returned low. "Madam Secretary," "The Good Wife" and "CSI" were all on par with their season averages for CBS.

Sunday hour by hour:

7 p.m.
FOX: NFL runover/"The OT" (37.6 million viewers, 20.4/32 households)
CBS: "60 Minutes" (7.5 million, 4.9/8)
ABC: "America's Funniest Home Videos" (6.1 million, 3.3/5)
NBC: "Dateline" (4.2 million, 2.7/4)
18-49 leader: NFL runover/"The OT" (12.6)

8 p.m.
CBS: "Madam Secretary" (11.55 million, 7.0/11)
FOX: "The Simpsons" (10.5 million, 5.9/8)/"Brooklyn Nine-Nine" (6 million, 3.5/5)
NBC: "Dateline" (8.3 million, 5.0/8)
ABC: "Galavant" series premiere - two episodes (7.3 million, 4.0/6)
18-49 leader: "The Simpsons" (4.6)

9 p.m.
CBS: "The Good Wife" (10.2 million, 6.5/10)
NBC: "The Celebrity Apprentice" season premiere (6.7 million, 3.9/6)
FOX: "Family Guy" (5.5 million, 3.2/5)/"Bob's Burgers" (3.95 million, 4.2/7)
ABC: "Resurrection" (4.1 million, 2.5/4)
18-49 leader: "Family Guy" (2.8)

10 p.m.
CBS: "CSI" (8.5 million, 5.4/9)
NBC: "The Celebrity Apprentice" season premiere (6.9 million, 4.3/7)
ABC: "Revenge" (3.9 million, 2.6/4)
18-49 leader: "The Celebrity Apprentice" (2.4)
Olivier Martinez -- Battery Suspect After LAX Melee
(1/4/15) Oliver Martinez is the named suspect in a battery investigation after things got out of control at LAX ... TMZ has learned.

We're told Olivier, Halle Berry and 6-year-old Nahla arrived at the Tom Bradley International Terminal at 1:45 Sunday afternoon for a flight out. According to LAX Airport Police, the photogs got too close to the family.

An airport employee was also in the crowd, though it's unclear if he too was trying to snap a pic. Cops say Olivier was holding an empty car seat and allegedly shoved it against the employee, causing him to fall backward.

The employee was treated at the scene and taken to a hospital. We're told he complained of abdominal pain. He's filed a battery report.