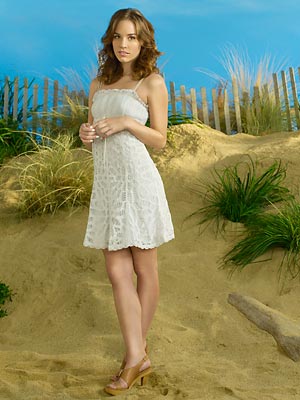 Actor Name: Christa B. Allen
Revenge Character Name: Charlotte Grayson
Given Birth Name: Christa Brittany Allen
Nickname:
Birth Date: November 11, 1991
Birth Place: Wildomar, California, USA
Star Sign: Scorpio
Height: 5' 5" (1.65 m)
Weight:
Marital Status:
First Revenge Episode: Pilot
Photos Section: Visit Here!
Flimography: Click here! to read about her other roles
Website Links: Visit Here!
Merchandise: Visit Here!
Parents:
Siblings: Has four older brothers: Bryan, Derrick, Tyler and Steven. She also has four older stepbrothers: Matthew, Jason, Patrick and Brady.
Schooling: Was home-schooled. Started attending acting lessons at the age of 9.

Trivia:
Plays the guitar.

Is friends with actress Katelyn Pippy.

She has played the teenage version of Jennifer Garner's character in two separate films: 13 Going on 30 (2004) and Ghosts of Girlfriends Past (2009).
---
Quotes:
---
About the character: Charlotte Grayson
Net Worth: $100 Million Dollar Trust Fund
Occupation: High School Student/Socialite
Desire: To be defined by her character instead of her family fortune, and to break free from her overbearing mother.

Charlotte Grayson (Christa B. Allen) is her father's pride and joy, the youngest daughter of the Grayson clan-- a rich coquettish teenager always on the prowl for fun. But Charlotte's no dummy, as she defies expectations with her perfect academic record at school. Charlotte easily fits right in with the "mean girls" of the Hamptons, but there's a curiosity streak that draws her to the troubled boys from the "wrong side of the tracks." Throughout the summer, as she dives head first into forbidden romance, Charlotte constantly struggles to get away from the condemnatory eye of a mother who's honest affection has always eluded her.
---
About the actor: Christa B. Allen
Christa B. Allen knew at an early age that she wanted to be in front of the camera. After acting in several commercials, a student film and voiceover, her big break came when she was cast as the Young Jennifer Garner at age 13 in the film 13 Going on 30. She later played opposite Garner and Matthew McConaughey in the New Line film, Ghosts of Girlfriends Past.

Allen recently starred in the independent film One Kind Day, and will play the lead role in the upcoming independent comedy/horror films Detention of the Dead and Deadly Sibling Rivalry.

On television she has played guest roles on Cold Case, CSI and ABC's Grey's Anatomy.

- - - - - - - - - - - - - - - - - - - - - - - - - - - - - - -
Add Bio Info
Change Bio Info
Delete Bio Info