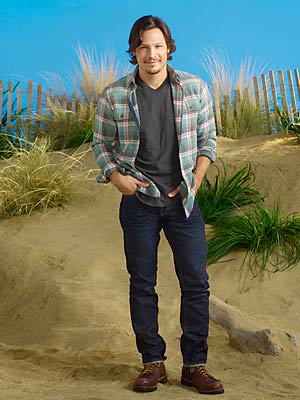 Actor Name: Nick Wechsler
Revenge Character Name: Jack Porter
Given Birth Name: Samuel Nicholas Wechsler
Nickname:
Birth Date: September 3, 1978
Birth Place: Albuquerque, New Mexico, USA
Star Sign: Virgo
Height: 5' 7" (1.70 m)
Weight:
Marital Status:
First Revenge Episode: Pilot
Photos Section: Visit Here!
Flimography: Click here! to read about his other roles
Website Links: Visit Here!
Merchandise: Visit Here!
Parents:
Siblings:
Schooling:

Trivia:
While in Albuquerque, he performed in several theatrical productions at the local Performing Arts Center.

Is the 5th of eight sons.

Auditioned for at least 4 different roles on Roswell before he was offered the part of Kyle

He has almost 300 CDs
---
Quotes:
---
About the character: Jack Porter
Net Worth: Roughly $40k after selling the Amanda, receiving his father's life insurance, and getting current with the Stowaway's mortgage.
Occupation: Owner/Bartender at The Stowaway
Desire: Live a simple, happy life with the girl of his dreams.

Jack Porter (Nick Wechsler) is a blue-collar son of a dock worker who's spent his entire adult life helping his father manage the Stowaway Tavern, a local hangout for the common folk of Montauk. Though he's loyal to the core, Jack's always had aspirations of escape—nomadic dreams of sailing around the world and carving out an adventure of his own, but dedication to his hard luck family has always conspired to keep him landlocked. When fate (and a yellow Lab) brings Emily Thorne into his life, Jack is unable to shake a déjà vu-like connection to her. With intimate knowledge of Emily's former life as the little girl he knew as Amanda Clarke, Jack's growing interest in the strangely familiar new girl could throw a serious wrench into Emily's carefully crafted agenda.
---
About the actor: Nick Wechsler
Nick Wechsler played the lead role in the feature film "Fling," directed by John Stewart Muller. His numerous television credits include regular and recurring roles in such series as "Roswell," "It's Always Sunny in Philadelphia," "Without a Trace" and "Vanished," as well as guest starring roles in "Chase," "Past Life," "The Sarah Connor Chronicles," "Crossing Jordan," "Cold Case," "Tru Calling" and "Malcolm in the Middle." He has also played lead roles in made-for-television movies "Chicks, Man," "Perfect Game" and "Full Circle."

His work on stage includes roles in productions of "Rebel Without a Cause," "A Midsummer Night's Dream," "One Flew Over the Cuckoo's Nest," "Waiting for Godot," "Hansel and Gretel," "Pippin," "Asleep on the Wind," "Harvey," "You Can't Take it with You" and "The Actor's Nightmare."

One of eight brothers, Wechsler grew in Albuquerque, New Mexico. He moved to Los Angeles to pursue acting shortly after graduating from high school.

- - - - - - - - - - - - - - - - - - - - - - - - - - - - - - -
Add Bio Info
Change Bio Info
Delete Bio Info