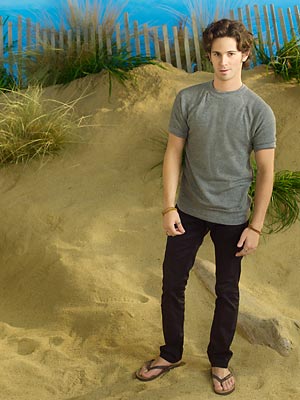 Actor Name: Connor Paolo
Alternate Names: Conor Paolo
Revenge Character Name: Declan Porter
Given Birth Name:
Nickname:
Birth Date: July 11, 1990
Birth Place: New York City, New York, USA
Star Sign: Cancer
Height: 5' 6" (1.68 m)
Weight:
Marital Status:
First Revenge Episode: Pilot
Photos Section: Visit Here!
Flimography: Click here! to read about his other roles
Website Links: Visit Here!
Merchandise: Visit Here!
Parents:
Siblings:
Schooling:

Trivia:
His father is a writer and his mother is a musician.

Attends the professional performing arts school featured in the movie Fame.

Attends a high school on the West Side of Manhattan when he isn't working.

Listens to punk music, as well as hip-hop and classic rock.

His favorite television show is "The Simpsons" (1989).

Heritage is Italian and part German.
---
Quotes:
---
About the character: Declan Porter
Net Worth: $50.00
Occupation: Bus Boy at The Stowaway
Desire: To build a future with Charlotte Grayson and to shake his past as a poverty stricken bus boy.

Declan Porter (Connor Paolo) is Jack's troubled kid brother. Well-intentioned but rough around the edges, he's an outsider among his peers, frustrated with the lot he's been dealt in life. Declan is both intrigued and aroused by the wealthy world of the elite vacationers that populate his town every summer, and his interest finds a target in the sassy but good hearted Charlotte Grayson.
---
About the actor: Connor Paolo
A native New Yorker, Connor Paolo was discovered at age six by theatrical director Michael Counts after he refused to leave the loft space where Counts' spectacular walk-through production of the Odyssey – "Wine Blue Open Water" – had just been performed. Counts asked Paolo to join his troop Gales Gates et al that night.

Paolo can also currently be seen as Erik Van der Woodsen in the popular TV series "Gossip Girl." On the big screen, he most recently starred as Martin in Jim Mickle's film, "Stake Land." He worked with Clint Eastwood on "Mystic River," did looping with Martin Scorsese on "The Gangs of New York," and spent two months in Morocco with Colin Farrell, Angelina Jolie and Val Kilmer playing young Alexander in Oliver Stone's film of the same name.

Between 1996 and 2003, Paolo performed six shows with Gale Gates et al… everything from guerilla theatre on Wall Street to happenings on the steps of the Metropolitan Museum of Art to an interactive, multi-media extravaganza in the Whitney Museum of American Art at Altria. He also played Nathan in "The Full Monty" on Broadway, and appeared as Dill (the young Truman Capote) in the Ford Theatre production of "To Kill a Mockingbird."

On the small screen Connor landed the recurring role of Travis on the ABC soap "One Life to Live,"but also took a turn to the dark side by playing Zachery Connor, a 12-year-old rapist murderer, on "Law & Order: SVU."

Connor's past theater and film work includes appearing as the Duke of York in the Public Theatre's production of Shakespeare's "Richard III" (with Peter Dinklage); as Jon in Stephen Belber's "Tape" and in the dual roles of Marshall and Percy in Morris Panych's "7 Stories" (both with the Strain Theatre Company); supporting roles in Oliver Stone's "World Trade Center" (with Nicholas Cage), "The Winning Season" (with Emma Roberts) and David Gordon Green's "Snow Angels" (with Kate Beckinsale & Sam Rockwell); and leading roles in the independent films "Favorite Son" (with Pablo Schreiber) and "Camp Hope" (with Bruce Davison, Andrew McCarthy and Dana Delany).

- - - - - - - - - - - - - - - - - - - - - - - - - - - - - - -
Add Bio Info
Change Bio Info
Delete Bio Info