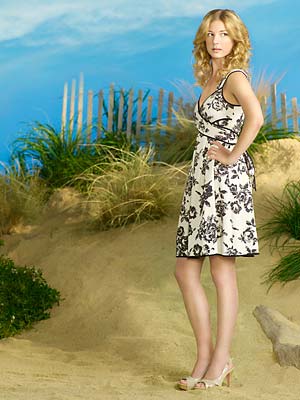 Actor Name: Emily VanCamp
Alternate Names: Emily Van Camp, Emily Vancamp
Revenge Character Name: Emily Thorne / Amanda Clarke
Given Birth Name: Emily Irene VanCamp
Nickname:
Birth Date: May 12, 1986
Birth Place: Port Perry, Ontario, Canada
Star Sign: Taurus
Height: 5' 8" (1.73 m)
Weight:
Marital Status:
First Revenge Episode: Pilot
Photos Section: Visit Here!
Flimography: Click here! to read about her other roles
Website Links: Visit Here!
Merchandise: Visit Here!
Parents:
Siblings: Katie (22), Alison (20), and Molly
Schooling:

Trivia:
Is a ballet dancer.

Is a photographer. When she was first cast on "Everwood" (2002), her first big splurge was on a F100 Nikon Camera.

Was named one of E! Online's Sizzlin' 16 in 2003.

Big ice hockey fan, Montreal Canadiens team especially.

She is a talented horse rider. Learning Spanish.

Dream pets are huge dogs.

Favourite supermarket section is the frozen foods, where they keep the ice cream.

Lived in a suburb of Montréal

Grew up speaking French and is fluent in the language.

"Teen" named her one of the top actresses under the age of twenty.

Ex-boyfriend Chris Pratt played her brother on "Everwood" (2002).
---
Personal Quotes:
"The spotlight does put pressure on certain aspects of my life. I've given up looking for a boyfriend. That's not to say I won't be intersted if the right guy comes along. But I'm not in a hurry."

"The people on Everwood are unbelievably talented and down to earth. And to top it off, people seem to really like the show. I wake up every day stunned that I get to do this for a living."

"You put the picture of the ideal person in your head and then someone comes along and they don't fit that ideal at all. But somehow there is something about them that is so attractive. Everyone that I have fallen for has not fit that ideal at all."

"I don't dig parties. I rather sit at home with my friends and a good movie. Movie night with my girlfriends are the best I know."

"I'm in a driving school now and will get the licence in May. My mom is already planning of buying an extra safe car so that I wouldn't get into an accident."

"Really good movies come from Spain and it is my dream to get a role from one of those."

"I've been dancing my entire life. Jazz, hip hop, ballet. And then there's tap dancing. I love to tap. My ultimate dream is to do a musical like 'Singin' in the Rain.'"

"At a party, I am the kind of girl who will wait until the end of the night before I really get going. I'm a little anti-social at first, but I'm not immune to dancing on tables either."

"My idea of a perfect pet is a really, really big dog! Huge! Unfortunately, I can't have pets right now. There's just not enough time with my schedule. For a while there I thought about getting a cat, but even that seems unfair."

"If I could meet anybody in the whole world, dead or alive, it would be Audrey Hepburn. She is my idol. I've been watching her movies since I was a little kid".
---
About the character: Emily Thorne
Net Worth: How much is unclear, only Emily Thorne knows…
Occupation: Devotes her time to various charities and philanthropic endeavors.
Desire: To gain access into Grayson Global in order to find proof of her father's innocence and get revenge on every person responsible for his downfall, especially the Graysons.

Emily Thorne (Emily VanCamp) is the newest arrival in the Hamptons this summer. By all appearances, she's a friendly and sophisticated "girl next door," whose disarming charm and generosity allows her seamless access to the restricted circles of Hamptons high society. But the affluent, exclusive world she's immersed herself in is tied to a dark family history and Emily Thorne is anything but what she seems. As a nine year old girl, Emily's father was framed for a horrific crime by the friends and coworkers he trusted and sentenced to a life in prison. Emily never saw her father again and spent her childhood consumed by rage, loss, and betrayal. Now 17 years later, Emily has returned under an assumed identity with one endgame—REVENGE, every social overture a carefully planned chip at the foundation of her sworn enemies, until their lives come crashing down around them. Emily's goal is unwavering and her sharp mind is always five steps ahead, but when her past begins to catch up, her true heart may get caught in the crossfire.
---
About the actor: Emily VanCamp
Emily VanCamp first won over audiences on the WB's critically acclaimed drama "Everwood,"starring opposite Treat Williams and Gregory Smith. More recently she starred in the Hallmark Hall of Fame television movie, "Beyond the Blackboard," based on the book Nobody Don't Love Nobody by Stacey Bess.

VanCamp previously starred on ABC's acclaimed hit drama series "Brothers & Sisters," opposite Sally Field, Rachel Griffiths, Rob Lowe and Calista Flockhart. She was the female lead in the ABC miniseries "Ben Hur," as Esther, a strong, the love interest of Ben Hur and daughter of slave Simonides. The four-hour miniseries aired in Canada, and will air in the United States later this year.

In 2009 VanCamp starred in the thriller film "Carriers," opposite Chris Pine, Piper Perabo and Christopher Meloni. Other recent film credits include "The Ring 2," co-starring with Naomi Watts and Simon Baker, the Sundance Film Festival hit "Lost and Delirious," "A Different Loyalty," with Sharon Stone, and "Black Irish," with Melissa Leo, Michael Angarano and Brendan Gleeson. VanCamp also portrayed young Jacqueline Kennedy Onassis in the miniseries "Jackie O: A Life Story," and was a series regular on the WB series "Glory Days."

Born and raised in Port Perry, Ontario, VanCamp has been performing as a dancer since the young age of three. At 12, she attended the prestigious L'École Supérieure de Danse du Québec, the official training program of Les Grands Ballet Canadiens.

VanCamp currently resides in Los Angeles.

- - - - - - - - - - - - - - - - - - - - - - - - - - - - - - -
Add Bio Info
Change Bio Info
Delete Bio Info