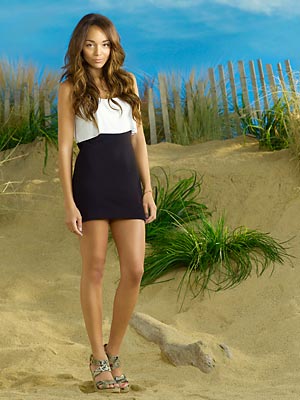 Actor Name: Ashley Madekwe
Revenge Character Name: Ashley Davenport
Given Birth Name:
Nickname:
Birth Date: 1981
Birth Place: London, England, UK
Star Sign:
Height: 5' 8" (1.73 m)
Weight:
Marital Status:
First Revenge Episode: Pilot
Photos Section: Visit Here!
Flimography: Click here! to read about her other roles
Website Links: Visit Here!
Merchandise: Visit Here!
Parents:
Siblings:
Schooling: GCSE in Drama and BTec from BRIT School of Performing Arts as well one year foundation course at LAMDA. Attended the Royal Academy of Dramatic Art in London

Trivia:
Ashley is flamenco and period dancer.

Ashley is a mixed Nigerian-Swiss-British actress
---
Quotes:
---
About the character: Ashley Davenport
Net Worth: $4,357.82 + $50k worth of designer clothes and shoes
Occupation: Assistant and chief party planner for Victoria Grayson
Desire: To become one of the wealthy Hamptons elite she spends so much time working for.

Ashley Davenport (Ashley Madekwe) is a social climber on the rise and Emily's closest friend in this world. She has the skinny on all the inner circles of the Hamptons, and access to all events in the elite social scene. Making a name for herself as the go-to event planner, Ashley hopes to gain entrée into Victoria Grayson's good graces and solidify her status amongst the Hamptonites. But being close friends with Emily will eventually prove to have an unseen price.
---
About the actor: Ashley Madekwe
Ashley Madekwe made her U.S. debut starring in the CW's drama "The Beautiful Life," alongside Mischa Barton, Corbin Bleu and Elle MacPherson.

She landed her first film role in Lennie James' "Storm Damage"as a teenager, after which she won a place at London's Royal Academy of Dramatic Art. She graduated from RADA in July 2005.

Despite classical training and a significant body of stage work, Madekwe is most recognized for her television roles, including Bambi in the "Secret Diary of a Call Girl," shown in both the UK and the U.S. In the UK she has played leading roles in "W10 LDN," "Drop Dead Gorgeous," "Trexx," "Flipside" and "Raising Baby Rio," among others.

Film credits include "How to Lose Friends and Alienate People," "Woody Allen's "Cassandra's Dream" and "Venus."

Madekwe's theatre credits include "93.2FM" (Royal Court), "The Indian Boy" (Royal Shakespeare Company), "Prayer Room"(Edinburgh Lyceum/Birmingham Rep), "Flight Path"(Out of Joint/Bush Theatre) and "Little Sweet Thing"(Hampstead Theatre).

- - - - - - - - - - - - - - - - - - - - - - - - - - - - - - -
Add Bio Info
Change Bio Info
Delete Bio Info