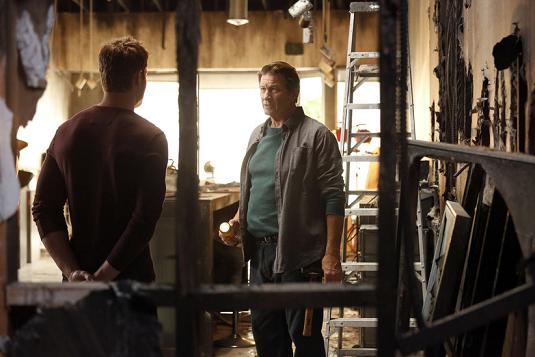 Title: Payback
Season: 3
Episode #: 3.14
Episode: 58
First Air Date: March 9, 2014 (10pm)
DVD: Revenge: The Complete Second Season
DVD: Season 3 Coming September 2014
Instant Video: Season 2
HD Instant Video: Season 2
Writer: Sunil Nayar & Christopher Fife
Director: Romeo Tirone
Guest Stars:
Karine Vanasse as Margaux LeMarchal
Justin Hartley as Patrick Osbourne
Stephanie Jacobsen as Niko
Brett Cullen as Jimmy Brennan
Gail O'Grady as Stevie Grayson
Holly Hawkins as Dr. Angela Sturman
Rosemary Dominguez as Maid
Tina Casciani as Larissa

Music:

---
Fan Rating: --/10 (Average of all fan submitted ratings)
Synopsis:
Emily's mysterious blackouts put everything and everyone she loves at risk; Victoria is confronted by two ghosts from the past.
(From ABC)
While Emily's mysterious blackouts threaten everything and everyone she holds dear, Victoria confronts two formidable ghosts from her past.

(Recap From ABC)
Emily has tests done on her brain to get answers as to why she's been having blackouts. Security footage at the Southfork shows Conrad escorting Emily to her room, but he didn't go inside until the next morning. Emily gets a call from a Los Angeles-based number. It's Stevie Grayson (guest star Gail O'Grady), who says she's in town and she's ready to process her divorce. It seems these two had a phone chat about terminating the marriage to Daniel. Too bad Emily doesn't recall it.
Stevie realizes that Conrad is behind Emily's divorce story. He's looking to make amends for his past misdeeds. He also wants to give Victoria her proper comeuppance. The two Mrs. Graysons meet up at a clothing shop for a less-than-pleasant chat.
Emily tries to make love to Aiden while in a confused sate, but he tells her he's headed for London. That's a trip he never takes. Niko knocks him unconscious. She ties him up. She wants to avenge her father's death. She'll do so not by killing him. No, she plans to eliminate Emily.
Victoria learns there's been a fire at the art gallery. She finds Patrick standing amongst the ruins. The contractor who interrupts their discussion is a familiar face. It's Jimmy Brennan. This was all Patrick's plan. He wants to kill the guy until he learns that Victoria hid the pregnancy and kept him away from his son. He now wants to get to know his father.
The newly-unemployed Daniel has lots of free time on his hands. He vows to throw his sister an epic birthday bash. Emily finds herself in the middle of the party while dealing with the aftershocks of yet another blackout. She learns from Conrad that her stay at the Southfork was a result of her telling him she felt unsafe around Daniel. She still doesn't know Conrad's master plan though.
Birthday girl Charlotte has her dad give her a job at Voulez. Daniel wants to use his sis as a spy. Conrad is taking over the magazine. This is much to Margaux's dismay. She's off to Paris to confront her father. In other news, Victoria is shocked to see Jimmy Brennan talking to Charlotte at the party. She's further horrified when the guy thinks she's interested in him. Speaking of being horrified, Emily is stunned to see via video footage how she freaked out on Nolan. She doesn't recall their exchange.
Emily finds Aiden thanks to a clue left by Niko. The two ladies engage in an epic battle. Emily gets the upper hand, but Aiden talks her out of going for the kill. He lets Niko know that her father died by his own code. He pleads with her to go. She does. Aiden wonders why Emily planted the sword in the first place. It's because of her mental break. She's losing control. Aiden advises her to get help before she does something else she regrets.
A furious Victoria confronts Patrick at the gallery. Jimmy overhears their conversation. He can't believe he didn't figure all this out sooner. A venomous shouting match takes place. Things turn violent when Jimmy lays hands on Victoria. Patrick slams dear old dad's head against a hard surface. He wants to call an ambulance. Victoria stops him as she hovers over a dying Jimmy. The police ultimately believe the contractor died from a head wound received after a fall from his ladder. This gives Patrick no solace.
Nolan talks to Emily about something she was already considering. Her blackouts may not be related to her recent trauma. The results of her recent medical tests support this theory. No, this could be a family thing. After all, Emily's mother had a psychotic break which had her trying to drown her own daughter. Could Emily have genetic mental issues, too?
Jack and Stevie bond over their mutual distaste for Conrad. Their chat has the first Mrs. Grayson canceling her plans to return to L.A. She lets Victoria know that Grayson Manor was purchased before her divorce from Conrad was final. That means she owns the place. She wants Victoria out by the end of the week. She also assures Conrad that they are not partners in any of this. Stevie returns to the Stowaway to ask Jack about the stories he mentioned about Conrad. She has a special interest here. Why? Well, Stevie is Jack's mother.