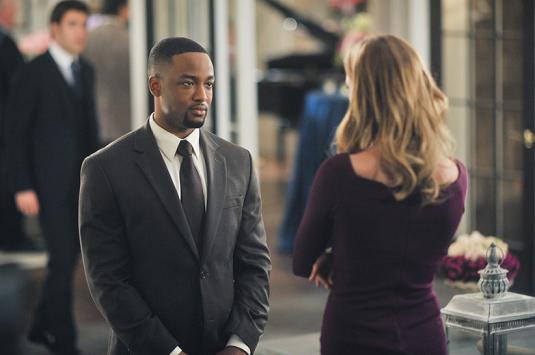 Title: Illumination
Season: 2
Episode #: 2.16
Episode: 38
First Air Date: March 17, 2013 (9pm)
DVD: Revenge: The Complete Second Season
Instant Video: Season 2
HD Instant Video: Season 2
Writer: Michael Foley & Sallie Patrick
Director: Bobby Roth
Guest Stars:
Emily Alyn Lind as Young Amanda
James Tupper as David Clarke
Collins Pennie as Eli
Kendall Clement as insurance adjuster
Jamila Jones as Marta
Akinsola Aribo as Young Eli
Michael Tennant as Wes Rogers
Bruno Amato as Fred Harris
Lindsey Haun as foster mom

Music:
Quantic "Archipelago"
Jay Marsh "Have A Taste"
---
Fan Rating: --/10 (Average of all fan submitted ratings)
Synopsis:
Jack is suspicious when Conrad and Victoria start a charity in Amanda Clarke's name; once again, Emily's past catches up with her.
(From ABC)
The queen and king of smoke and mirrors, Victoria and Conrad, make a calculated move, starting a charitable foundation in the late Amanda Clarke's name. But little do they know that Jack is not buying it and has a plan of his own. Meanwhile, Emily's past catches up to her again.

(Recap From ABC)
Episode 216 Highlights
• Emily burned down her foster when she was a child
• Eli James, Emily's foster brother, shows up after a call from Charlotte
• Eli knows Emily's true identity
• Conrad and Victoria are using a charity foundation as a front to keep the government out of their assets
• Jack learns Nolan was the one who rescued him and starts to distrust him
Full Summary
When she was a little girl, Amanda Clarke's father, David, used to read her a story about a match that was used to strike up a flame. Playing with fire is something Amanda did while in foster care. Her foster brother, Eli James, used to protect her so that she wouldn't get in trouble for playing with matches. Amanda promised that she wouldn't let anything separate them. That changed when she burned down their house. In the present day, Emily reveals to Aiden the news about her foster brother showing up at the cemetery. She hasn't seen him in 14 years. She can't help but wonder why he's returned and what he wants.
Victoria and Conrad are starting up a foundation in Amanda Clarke's name. Jack is onboard with this plan. Emily, too. She offers her services to be a co-chair. Victoria will take this under advisement. At the moment, she's busy entertaining Amanda's foster brother, who notices the double infinity tattoo on Emily's arm. The queen invites Eli James to the inaugural event. As for Emily, she wants to get to the Stowaway to have a chat with Jack. Too bad Eli gets there first. He knows her true identity. Emily offers him money to leave town. She also says she can wipe away his criminal past.
Conrad wants to put Aiden on the board of Grayson Global as his successor. He's setting him up to be a future fall guy. Daniel is having a crisis of faith about all this. He nearly gets into a bar fight until Aiden stops him from going down a bad path. Conrad observes this scene from afar. He invites Aiden to the inaugural event for the Amanda Clark Foundation. Jack will be in attendance, too. But first he tracks down the owner of the boat that was used to save him the night of the explosion at sea. He learns that the person who rescued him fits the description of Nolan.
At the charity event, Nolan blows away Eli's criminal record with the press of a button. Emily then presents her former foster brother with a cashier's check for $100,000. Eli pockets the check but isn't ready to leave the party just yet. He's busy schmoozing and spending time with Charlotte. Declan isn't too thrilled about the latter. He tells Charlotte to give him a call when she's not so preoccupied. In an effort to get rid of Eli, Emily tells Ashley about his sketchy past. Unfortunately, Victoria isn't about to take the word of Emily Thorne.
Daniel flips out when he learns his dad appointed Aiden treasurer of the Amanda Clarke Foundation. Conrad assures his son that it's for the best, as the entire foundation is a front to keep their assets out of the reach of the government. They'll lead the Initiative to believe that Aiden swiped all their money. Speaking of swiping money, Eli hands the check for $100,000 over to Victoria as his contribution to the fund. Before Emily has time to digest this, Jack steps up to the microphone to thank the Graysons for all that they've done. Victoria speaks next to announce the name of her new co-chair: Eli James.
Jack confronts Nolan about being the one who rescued him after being shot. He says his speech at Grayson Manor was all about him practicing lying through his teeth like his so-called friends have been doing to him. Nolan provides evidence that the person who rescued him was Kenny Ryan. It's a good story, but the look on Jack's face indicates that he may not buy it. Still, he lets Nolan know that he's sorry he ever doubted him.
After some prodding from Aiden, Daniel opens up to Emily about how the Initiative is forcing him to be a pawn in their next plot. He also reveals that his parents are hiding their money inside the Amanda Clarke Foundation. Over at Grayson Manor, Conrad says they raised nearly $5 million for the charity. Victoria ponders the idea of having Mr. Trask at the Initiative solving the problem of Emily Thorne for her. Speaking of Emily, she has Nolan use Carrion to access the Graysons' account at the foundation to bankrupt them. Sounds like a plan.
Nolan hacks into the first few levels of the Grayson account with ease thanks to his magic program. He hits a roadblock on one of them though. Nolan has seen this once before. Flashbacks show him telling David Clarke all about a hacker legend that goes by the name "Falcon." This is the person the Graysons needed to pull off their master frame job. Nolan says the Falcon is back. He wrote the code that's currently protecting the bank account. Nolan says this is the man who sealed her father's fate. Emily takes this news in stride. She now knows it's time to go bird hunting.