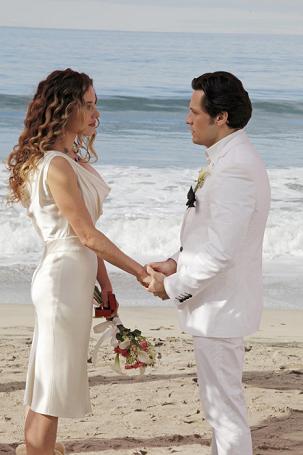 Title: Union
Season: 2
Episode #: 2.13
Episode: 35
First Air Date: February 10, 2013 (9pm)
DVD: Revenge: The Complete Second Season
Instant Video: Season 2
HD Instant Video: Season 2
Writer: Michael Foley & Ted Sullivan
Director: Wendey Stanzler
Guest Stars:
Margarita Levieva as Amanda Clarke
Barry Sloane as Aiden Mathis
James Tupper as David Clarke
Dilshad Vadsaria as Padma Lahari
Michael Trucco as Nate Ryan
Wendy Crewson as Helen Crowley

Music:

---
Fan Rating: --/10 (Average of all fan submitted ratings)
Synopsis:
Amanda and Jack's wedding stirs up emotions as Emily thinks about what might have been; Daniel faces complications at Grayson Global; Conrad starts a new chapter.
(From ABC)
Emotions run deep when Jack and Amanda's wedding reminds Emily of what could have been. Meanwhile, things for Daniel get complicated at Grayson Global, and Conrad begins a new chapter.

(Recap From ABC)
ē Aiden discovers Colleen has been dead for six years
ē Amanda tells Conrad she has been the one secretly video taping him
ē Jack and Amanda exchange vows on the beach
ē Daniel kills his relationship with Emily for now
ē Victoria shoots and kills Helen Crowley
ē Padma is working for the Initiative because they threatend her father
Full Summary
A long time ago, a young Amanda Clarke had a pretend wedding on the beach with her first true love. Her handsome groom was a young Jack Porter. She made rings made out of pipe cleaners to mark the happy occasion. In the present day, Amanda Clarke is preparing for her real wedding to the current love of her life: Jack Porter. What the prospective groom doesnít know is that person he exchanged vows with on the beach isnít the same girl heís marrying. That Amanda Clarke is now known as Emily Thorne.
Nolan determines that the video of Aidenís sister dying from an overdose was made six years ago. There was nothing anyone could have done to stop it. The video was shot in a condemned apartment building in Jersey City. Emily tracks Aiden to the building offering to help, but a call from Nolan stops them cold. Colleen is buried in a field 20 miles from where they are. Aiden visits his sisterís grave. He vows to kill whoever did this, but Emily says thatís not the way to honor Colleen. Aiden doesnít want to hear this. He leaves Emily standing alone in the field.
When Emily learns that Jack partnered with Conrad Grayson to save the Stowaway, she wants Amanda to convince him to get out of the deal. She cuts a check thatíll cover the capital Conrad laid out plus interest. After some prodding, a clean-shaven Jack accepts the check but Conrad doesnít bite. He reveals his plans to turn the Montauk waterfront into a casino-heavy hot spot. He promises to squash Jack in the process. When Amanda learns about this, she shows Conrad an incriminating video that sheíll make public if he doesnít relinquish his share of the Stowaway. Conrad realizes that this is the person who has been making his life so difficult.
Conrad lets Jack know that he changed his mind regarding his plans for the Stowaway. Nate Ryan isnít very happy to hear about this. He wants to know if the deal would be back on if the Porter boys were out of the picture. In happier news, Nolan presides over a beach wedding thatís been a long time coming. Emily gives Amanda the pipe cleaner ring she made for Jack when they were kids. Jack Porter and Amanda Clarke finally exchange their real vows in a moving moment that brings tears of anguish to Emilyís eyes.
Victoria realizes that the Initiative is manipulating her son to be a pawn in whatever evil scheme they are currently hatching. She recalls how she turned her back on a desperate David Clarke when he had no one else to turn to. Victoria asks Conrad for a copy of every document detailing transactions he made for the Initiative to convince Daniel heís in danger. Her plan works. She lays out how the Initiative was behind the downing of Flight 197. Daniel finally believes her. Heíll play along with his motherís plan to neutralize the problem. Itís a plan thatís overheard by Helen Crowley who watches the scene from afar thanks to a hidden camera.
Fearing for the safety of those he cares about, Daniel lets Emily know that he doesnít think they should rekindle their relationship. In truth, heís the only one in danger at the moment. Helen Crowley lets Victoria know that sheís replaced her sonís regular driver with someone who will do her bidding. She wants the evidence. What Helen soon realizes is that the queen knew the Initiative was watching. It was all part of Victoriaís plan to lure Helen to her pool house where she pulls out a gun. Helen doesnít believe Victoria can truly kill a person in cold blood. BANG! Helen was wrong.
The Initiative used Aidenís sister as leverage to get her baggage handler dad to load the bomb onto Flight 197 at Heathrow. Nolan wonders if they are pulling a similar scheme on Padma. Against Emilyís advice, he tips his hand. Nolan lets Padma know that heís onto her, but doesnít know why she did what she did. They sneak out of the office knowing that itís bugged. Padma reveals that the Initiative was holding her father until she found the Carrion code. Fortunately, Nolan gave her an incomplete version of it.
Aiden apologizes to Emily and vows to make the Initiative pay on their terms. In other news, Victoria summons Daniel to the pool house. The two of them are standing over Helenís dead body when Conrad arrives wanting to spill the news about Amanda Clarke. Speaking of Amanda, Jack ropes Declan into watching baby Carl so he can sail off to Nantucket for some alone time with his new wife. The two honeymooners are very happy together on the open seas. They have no idea that Nate Ryan has cut their radio wire in what appears to be the groundwork of something more diabolical to come.