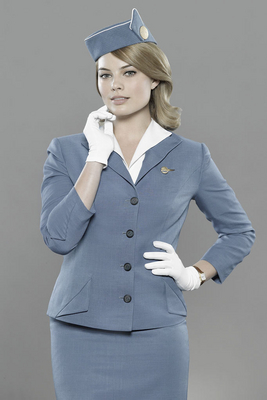 Actor Name: Margot Robbie
Pan Am Character Name: Laura Cameron
Given Birth Name: Margot Elise Robbie
Nickname:
Birth Date: July 2, 1990
Birth Place: Gold Coast, Queensland, Australia
Star Sign: Cancer
Height: 5' 6" (1.68 m)
Weight:
Marital Status:
First Pan Am Episode: Pilot
Flimography: Click here! to read about her other roles
Parents:
Siblings:
Schooling:

Trivia:
Quotes:
About the character: Laura Cameron
Innocent/Enthusiast

STRENGTH: Adventurous - Eager to take on any and every new experience.

WEAKNESS: Naďveté - A level of inexperience, which often leads her right into trouble.

Laura is that pretty girl from high school; sweet, intelligent, well meaning. But oblivious to her own charms; she often unwittingly leaves a trail of heartbreak behind her. As the newest member of our Pan Am crew, Laura's enthusiasm and curiosity abound. But her unquestioning openness to any new adventure often lands her in dangerous waters. Fortunately, her older sister, Kate, along with the other stewardesses, is there for guidance and rescue.
About the actor:
Having captivated audiences in Australia with her gripping on-screen presence, Margot Robbie is setting out to emerge as a breakout star in the U.S. with her role as Laura on ABC's "Pan Am." She will portray a runaway bride who recently fled a life of domestic boredom to take to the skies.

In Australia, Robbie is most recognized for her role as Donna Freedman on the television soap opera "Neighbours," which chronicled the lives of the residents of Ramsay Street in the fictional Australian suburb of Erinsborough. Her role garnered her two Logie Award nominations for Most Popular New Female Talent and Most Popular Actress.

Born in Australia, Robbie grew up on the Gold Coast, splitting her time between the beach and her grandparents' farm, but moved to Melbourne when she began acting professionally at the age of 17. Robbie will reside in New York for production of "Pan Am."

- - - - - - - - - - - - - - - - - - - - - - - - - - - - - - -
Add Bio Info
Change Bio Info
Delete Bio Info