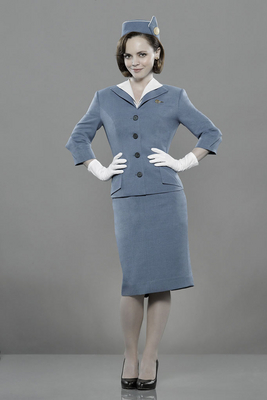 Actor Name: Christina Ricci
Pan Am Character Name: Maggie Ryan
Given Birth Name:
Nickname: Squant
Birth Date: February 12, 1980
Birth Place: Santa Monica, California, USA
Star Sign: Aquarius
Height: 5' 1" (1.55 m)
Weight:
Marital Status: Owen Benjamin (Engaged)
First Pan Am Episode: Pilot
Flimography: Click here! to read about her other roles
Parents: Ralp and Sarah Ricci
Siblings: Rafael (born 1971), Dante (born 1974), and Pia (born 1976)
Schooling: Glenfield middle school (Montclair, NJ), Morristown-Beard School (Morristown, NJ)

Trivia:
Her parents divorced after she filmed Addams Family Values (1993). She has not spoken with her father since.

Is on the national board of VOX-Voices for Planned Parenthood, which works to promote the mission of Planned Parenthood to young adults. She will also be appearing in national ads for Emergency Contraception.

Had to turn down the role of Ronna in Go (1999) because of scheduling conflicts.

Her father, before becoming a lawyer, was a lay practitioner of "primal scream therapy"--wherein it was believed that patients could purportedly scream their way to a psychological breakthrough. While growing up, Christina could hear the screaming coming through the the vents in her room (her father did his therapy sessions at home), and would act them out in front of her mother.

On December 4 1999, she appeared on "Saturday Night Live" (1975) as the guest host, in which she parodied Britney Spears and the Olsen twins. During one of her skits, she accidentally punched actress Ana Gasteyer in the face. The skit was a parody of the "Sally Jessy Raphael" (1985) show, in which she played a 13-year-old runaway who sleeps with dogs, and required her to fake- punch Sally (Gasteyer), but accidentally hit her for real. While she initially reacted by putting her hands over her mouth in surprise, she maintained her professionalism and quickly fell back into character.

Drives a Porsche Boxster.

Was originally slated to play the lead in Ghost World (2001), but by the time it was filmed she was too old for the part and had moved on to other projects. Thora Birch took over the role.

Co-hosted a 10 volume educational video series entitled "Bug City" in 1998.

Tiny at just over five feet, Ricci stopped growing when she was ten years old.

Nicknamed Squant by her siblings because of a childhood fascination with the Native American hero Squanto, who helped the first European settlers in America.

She was the fourth child of Ralph and Sarah Ricci. Her siblings are Dante, Pia and Rafael.

Her best friend is actress Gaby Hoffmann.

First nude scene was in the movie Prozac Nation (2001) in which she requested a closed set and had co-star Michelle Williams present to ensure that she did everything properly.

Auditioned for the role of Young Amy in Little Women (1994) and Claudia in Interview with the Vampire: The Vampire Chronicles (1994). Both roles went to Kirsten Dunst instead.

Never formally studied acting.

Was personally thanked by Monster (2003) co-star Charlize Theron at the 2004 Academy Awards.

Presented "Best Kiss" with Ashton Kutcher at the 2001 MTV Movie Awards.

Presented an award at The 71st Annual Academy Awards on March 21, 1999.

Wore braces when she was younger.

Underground Hip-Hop heroes Sean Daley (of the group Atmosphere, who makes many references to her in his lyrics) and MURS have released a collaborative album entitled "Felt: A Tribute to Christina Ricci".

Audtitioned for the role of Ellie Creed in the film Pet Sematary (1989), but lost the part to Blaze Berdahl.

Her paternal grandfather was of Italian descent. The remainder of her ancestry is Scots-Irish.

Finnish doom metal band Reverend Bizarre song "Goddess Of Doom" is a tribute to her.

As of February 2005, had been on "The Tonight Show with Jay Leno" (1992) seven times.

Was roommates with Michelle Williams while filming Prozac Nation (2001) with her.

Originally had the part of Desi Brable in O (2001), but had to drop out due to scheduling conflicts. The part ended up going to Julia Stiles.

Was considered for the role of Velma Dinkley in Scooby-Doo (2002).

Is good friends with her Sleepy Hollow (1999), Fear and Loathing in Las Vegas (1998), and The Man Who Cried (2000) co-star Johnny Depp.

Won Favorite Actress in a Horror Film for Sleepy Hollow (1999) at the 2000 Blockbuster Entertainment Awards and Favorite Supporting Actress in a Suspense for Bless the Child (2000) a year later at the 2001 Blockbuster Entertainment Awards.

Pennsylvania rock band Anthrophobia has a song about Christina on their 1999 release, "In The Zero To 3 Movement." The song is called "Ricci" and it appears as track 3.

Auditioned for Martin Scorsese's Gangs of New York (2002).

Favorite poets are Dylan Thomas, Edgar Allan Poe and Rainer Maria Rilke.

Her favorite bands are the Red Hot Chili Peppers, Tom Petty, Ramones, The White Stripes, Weezer, R.E.M. and The Pixies. She also likes 1980s rap.

Her favorite movies are My Own Private Idaho (1991), Pulp Fiction (1994), The Lord Of The Rings, Gangs of New York (2002) and The Hours (2002).

Her favorite actress is Amanda Plummer and her favorite actors are Viggo Mortensen and James Woods.

Her favorite shows are "The X Files" (1993),"Law & Order" (1990), "The Simpsons" (1989), "Friends" (1994) and "Will & Grace" (1998).

Was turned down four times for the role of Lolita in Lolita (1997), which eventually went to Dominique Swain.

Turned down the role of Lauren in The Rules of Attraction (2002) because of the rape scene in the beginning, which she found gross and offensive. Shannyn Sossamon took over the role.

Finds comfort in falling asleep watching The Lord of the Rings: The Fellowship of the Ring (2001).

Says that The Ice Storm (1997) was the first role she really wanted and eventually got.

Is, to the day, 30 years younger than Michael Ironside.

Was #97 on VH-1's "100 Greatest Kid Stars" (2005).

Received the Half-Life Award at the Palms Hotel & Casino on June 16, 2006 in Las Vegas, Nevada at the CineVegas Film Festival.

Turned down the role of Dora Diamond in Loser (2000).

Attended Glenfield middle school in Montclair, New Jersey.

Lived in Montclair, New Jersey when she was younger.

Briefly attended Morristown-Beard School, an exclusive preparatory school in Morristown, New Jersey. (Other attendees include former "Bachelor" star Prince Lorenzo Borghese).

Is a muse for artist Mark Ryden and appears in many of his paintings including one entitled "Christina".

During filming of Black Snake Moan (2006), grew close with co-star Samuel L. Jackson. The two remain good friends to this day.

To this day, has only appeared in one sequel.

Suffers from botanophobia (fear of plants). Admits to being especially afraid of houseplants.

Suffered from anorexia as a teenager.

Lives in the popular Los Angeles neighborhood of Silverlake. Other Silverlake locals include Beck, Bo Barrett, Jason Lee, Rachel McAdams and Ryan Gosling.

Joined RAINN (Rape Abuse Incest National Network) as a National Spokesperson in April 2007.

Ranked #66 on the Maxim magazine Hot 100 of 2008 list.

Was allegedly stalked by Gerard Way, later of band My Chemical Romance, when she lived in New Jersey. Way stated that it was just that they shopped at the same record shop and he was really "into her".

Has three dogs.

Pop Punk band The Adorkables perform a popular tribute song entitled "Christina Ricci" on their album entitled "...She Loves Me Not". Christina has said that she likes the song.

Was engaged to Owen Benjamin (March-June 2009).

Is in a relationship with photographer Curtis Buchanan (July 2009).

Her last name is pronounced, "Ree-ch-ee".
Quotes:
I spend a lot of time with my mother. When I'm doing movies, she's always with me. We spend days being bored in an apartment together waiting for someone to call and say I'm needed for a shot. Because we're together so much, we have to get along. We have to find ways to get to know each other. We've gone through a lot of stuff, you know, and I think we're pretty close.

"I can be young and cute when I want to be, and I can be really mature when I want to be. It's kind of weird, like I'm the incredible changing girl, which is good because I can relate to adults and to people my age." [1995]

If I hadn't gone into acting, I would have been one of those weird runaways on Hollywood Boulevard. No, it'd be uglier. I'd probably be dead.

I'm very shy. I can't even act that well when the camera's not on. I get really embarrassed.

I don't have any training, and I don't believe in training. Of course, people who don't have any training always say that.

[About Marilyn Manson's band] "I hate the things they preach. They found a gimmick that sells. The fact that they're making money off all these teenage kids who actually believe in their message is disgusting."

For years, I hated myself. I covered the mirrors in my house. I literally couldn't have a mirror in my room. I still can't sit in a restaurant or someplace where I can catch my reflection. I get so paranoid.

I certainly hope I'm not still answering child-star questions by the time I reach menopause.

I'm not perfect-looking and I don't say the right things, I'm a little different, nothing really special, but I guess I come across as a little more real to people and that comes through on the screen. I know I look young, but with the right make-up I can look older. I definitely feel older.

My dream role would probably be a psycho killer, because the whole thing I love about movies is that you get to do things you could never do in real life, and that would be my way of vicariously experiencing being a psycho killer. Also, it's incredibly romantic.

I like playing people who are so afraid and ashamed of who they are and so disgusted by everyone around them that they decide to become the ultimate extreme of what they're afraid they are.

I don't think I'll be reformed until I'm well into my fifties.

You have to excuse me because I AM a teenager, so I'm allowed to sound illiterate and make stupid comments like 'I'm not into hard-core feminism'.

I think the main reason a lot of child stars don't make it is that it's hard to see someone as cute and then all of a sudden see them as having more depth. I guess I was just lucky that, when I was little, nobody thought I was that cute.

(On smooching Johnny Depp) "We actually had some sex scenes, which was very strange. In front of 20 people on the set, with someone who was 27, who you met for the first time when you were nine. It was a little weird."

"I know he's got a girlfriend, but I could so corrupt him. He would be a hot date, and that is what I need right now. I have met him, so I know what I am talking about here. He's a nice, home-loving boy with a great body and great eyes. And when he reads this, he's probably going to run a mile." [about her crush on Josh Hartnett]

"There are two sides of me. One is the professional side. When I'm working, I'm not a kid - and can't be. Otherwise no one would take me seriously. When I'm not working, I think I'm a normal 15-year-old." [1995]

Remember who you are. It's really okay to be who you are.

My first kiss was with the most chivalrous little boy I ever met in my life. It was in kindergarten. There was this kid who was really a jerk, and he wouldn't let me get on the school bus. He was about to hit me when this little boy named Nicky shoved me down, stood up and took the blow. So Nicky instantly became the kindergarten stud. The day he got hit for me, I lined up all the little girls, and everyone kissed him. That was my way of thanking him.

I'm not mainstream-looking. I'm not very skinny. I'm not ...like....beautiful. The point of mainstream movies is to cast someone that everyones' going to love. Because of my persona, I'm controversial. I don't do anything in my real life to deserve that. I don't drink, I don't do drugs. But studio people don't want to put me in their movies. They think I might offend.

I never did drugs - they made me feel awful physically. Of course, I experimented, but soon I thought, 'This is not worth the shame spiral the next day'. I'm the kind of person who, if I went to a slumber party and smoked a cigarette, I assumed my parents were going to die as punishment. So I'd have to call my mom, tell her I'd smoked and feel really bad.

"Things were all about appearances. We were supposed to be socialites when we grew up. She's not like that now, but my mother used to say things like, 'When you're older, you can go on a scotch-and-steak- diet'. My dad was also very image-conscious." [On being brought up by her parents]

Everybody asked, 'How do you feel about playing a bitch?' And I'd say, 'If you knew anything about human nature, you'd realize that for this girl, being like that is a total front for being unhappy'.

All my other relationships have been three months. I used to always cheat on my boyfriends. For no reason...Just to create a little drama. And now I don't need that. I don't need that. I don't need any more drama.

I remember when I was little, all the mothers saying once you're 13 you have to stop working because there are no roles for teenagers. But I think I was lucky because just when I got to be a teenager, there started to be a lot more roles for kids my age. For a while it did look like I would have to keep doing kids' movies to stay in the business, but then when I was 15, The Ice Storm (1997) came along.

I got ugly. Throughout my childhood, my favorite rejection was 'She looks too healthy.' They wanted that really gaunt, runaway girl kind of look. I was like, 'Mom, I thought you could never be too healthy.' She said, 'Ignore them'.

I don't want to spend the rest of my life trying to play catch up or being half-heartedly enthusiastic about a project. I really want to do things that actually make me happy, instead of feeling like I'm whoring myself out. So I'm really considering doing television, because I'd probably get to play a much more satisfying role on a regular basis, as opposed to getting one great part every couple of years.
About the character: Maggie Ryan
Scrapper/Realist

STRENGTH: Resourcefulness - Makes the impossible possible—just try and tell her "no"; we dare you.

WEAKNESS: Admitting mistakes - Knows how to order a beer in fifteen different languages but "I'm sorry" is not in her vocabulary.

Maggie has struggled all her life to better her standing in the world. Ambition runs through her veins and now that she's reached Pan Am, she has no intention of looking back. Maggie is attracted to the glitz and glam of this whole new world: exotic places, fascinating people, adventure and opportunity. As for her scrappy side, some would say she's an instigator, that she relishes defying authority—all true; she wants to see what the world looks like standing on its head. The ultimate survivor, Maggie Ryan makes her own luck, climbs out of every hole (even those she's dug for herself) and never ever pulls a punch.
About the actor:
Christina Ricci is one of Hollywood's most respected young actors whose talent and poise are well beyond her years.

This fall, in addition to her role in ABC's "Pan Am," Ricci will also appear in Tom Brady's "Bucky Larson: Born to Be a Star," opposite Stephen Dorff and Nick Swardson, a comedy about a small-town nerd who stumbles upon a family secret.

Upcoming, Ricci co-stars in an adaptation of Guy de Maupassant's short story, "Bel Ami," opposite Robert Pattinson, Kristin Scott Thomas and Uma Thurman. She recently made her Broadway debut in Donald Margulies' Tony-nominated "Time Stands Still," opposite Laura Linney, Brian d'Arcy James and Eric Bogosian, about an injured war photographer and journalist.

Ricci's performance at age seven in a school Christmas play caught the attention of a local theatre critic, who suggested to her parents that she consider an acting career. She made her professional acting debut a year later in "Mermaids" in the pivotal role of Cher's youngest daughter and Winona Ryder's sister. As a child actor, Ricci won over audiences and critics alike with her winning portrayal of the strangely adorable Wednesday Addams in "The Addams Family." Her performance so delighted the film's creators and movie fans that Ricci was given an expanded role in the sequel, "Addams Family Values." She went on to star in the surprise hit of the summer 1995 season, "Casper," for which she received the prestigious NATO ShowEast Star of the Year Award and the Star of Tomorrow Award from the Motion Picture Booker's Club.

In 1997 Ricci made a seamless transition into more mature roles, receiving great acclaim in Ang Lee's ensemble film, "The Ice Storm," co-starring Kevin Kline, Sigourney Weaver, Joan Allen and Elijah Wood; then starring as Dedee Truit in the scathing comedy "The Opposite of Sex," a performance that won her the Best Actress Award at the Seattle Film Festival; and as "Layla" in Vincent Gallo's "Buffalo 66." She was later nominated for a Golden Globe Award, an American Comedy Award and an Independent Spirit Award for Best Actress for her work in "The Opposite of Sex," and earned a National Board of Review Best Supporting Actress Award for her combined efforts in "The Opposite of Sex," "Buffalo 66" and John Waters' "Pecker."

Additional film credits include Larry and Andy Wachowski's "Speed Racer"; Mark Palansky's "Penelope"; Craig Brewer's "Black Snake Moan"; a critically acclaimed performance in Patty Jenkins' "Monster," opposite Academy Award winner Charlize Theron; Wes Craven's "Cursed"; Woody Allen's romantic comedy "Anything Else"; Sally Potter's "The Man Who Cried"; and a memorable cameo in Terry Gilliam's "Fear and Loathing in Las Vegas." Additionally, Ricci starred opposite Johnny Depp in Tim Burton's "Sleepy Hollow," for which she won the Blockbuster Entertainment Award.

Television credits include a recurring role on "Ally McBeal," a guest appearance on "Grey's Anatomy" -- for which she received an Emmy nomination -- and a guest appearance on "Saving Grace."

Ricci currently serves as the National Spokesperson for the Rape, Abuse & Incest National Network (RAINN) and is a member of the organization's National Leadership Council. RAINN is the nation's largest anti-sexual assault organization, operating the National Sexual Assault Hotline in partnership with over 1,100 rape crisis centers across the country. RAINN also carries out programs to prevent sexual assault, help victims and ensure that rapists are brought to justice.

- - - - - - - - - - - - - - - - - - - - - - - - - - - - - - -
Add Bio Info
Change Bio Info
Delete Bio Info