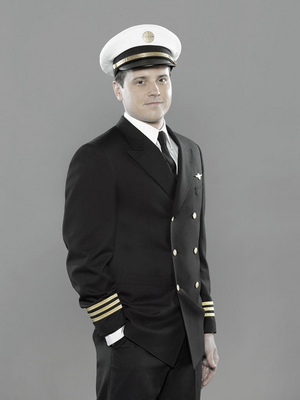 Actor Name: Michael Mosley
Pan Am Character Name: Ted Vanderway
Given Birth Name:
Nickname:
Birth Date: September 16, 1978
Birth Place: Iowa City, Iowa, USA
Star Sign: Virgo
Height:
Weight:
Marital Status: Anna Camp (February 2010 - present)
First Pan Am Episode: Pilot
Flimography: Click here! to read about his other roles
Parents:
Siblings:
Schooling: Cedar Falls High School, community acting classes, American Academy of Dramatic Arts

Trivia:
Former guitarist of Cedar Falls band 'Hostage Boy'.

Gained theatrical experience in the "47 Seconds" Drama Troupe which advocated the prevention of child abuse and domestic violence.

Former guitarist for band 'Hostage Boy' of Cedar Falls, Iowa, with one demo released to date.

One of two actors who attended Cedar Falls High School and community acting classes and went on to be in professional film. The other, T.G. Boleyn, was an actor in the "47 Seconds" drama troupe with Mosley. Both are advocates for child-abuse prevention.

Attended The American Academy of Dramatic Arts in New York from 1998 to 2001.
Quotes:
About the character: Ted Vanderway
Self-Assured/Playboy

STRENGTH: Loyalty - Goes to bat for his friends and would never leave a woman in the lurch.

WEAKNESS: Women - Says it all.

Coming from a prominent family, Ted is bullish and self-assured, traits which don't always serve him well; his ego can bruise more easily than he thinks. A self-proclaimed womanizer, he's quick with the compliments but not so adept at handling the emotions.
About the actor:
Born in Iowa City, Iowa, Michael Mosley is an alumnus of the American Academy of Dramatic Arts in New York. Upon graduating from AADA, he started his professional acting career in New York City, performing at numerous theatres, including the Soho Playhouse, Cherry Lane Theatre, Studio Dante, and Manhattan Theatre Club, where he played a lead in Itamar Moses' play, "Back Back Back."

Although theatre was one of Mosley's true passions, he was also drawn to film and television. One of his first recurring television roles was on "The Education of Max Bickford," starring Richard Dreyfuss, Marcia Gay Harden and Katie Sackhoff. During this time, Mosley also booked a role in the film "Swimmers," opposite Cherry Jones, Robert Knott, Sean Hatosy and Sarah Paulson. In 2006 he booked a recurring role on "Kidnapped," an NBC series opposite Timothy Hutton, Dana Delaney, Jeremy Sisto, Olivia Thirlby and Delroy Lindo. Later that year he also appeared in a pilot for NBC that was being produced by Bill Lawrence. Lawrence would later remember him and cast him as a series regular in the 9th season of "Scrubs."

Mosley starred as Drew Suffin on the farewell season of "Scrubs." His role as the cynical, anti-social, med school dropout garnered him critical acclaim. He went on to appear on ABC's "Happy Endings," TNT's "The Closer," NBC's "Law & Order: LA," and had a three-episode guest arc on the FX series "Justified." On the film front, Mosley was seen in "The Proposal" as Chuck, alongside Sandra Bullock and Ryan Reynolds, in the "The Accidental Husband" as Declin, starring Uma Thurman, Jeffrey Dean Morgan and Colin Firth, and in 20th Century Fox's "27 Dresses" with Katherine Heigel.

In addition, Mosley recently shot an indie thriller entitled "Restive" in Crawford, Texas with first time writer/director Jeremiah Jones, starring alongside Marianna Palka, Ivan Sandomire and Christopher Denham.

- - - - - - - - - - - - - - - - - - - - - - - - - - - - - - -
Add Bio Info
Change Bio Info
Delete Bio Info