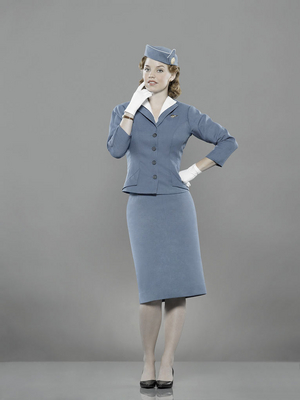 Actor Name: Kelli Garner
Pan Am Character Name: Kate Cameron
Given Birth Name: Kelli Brianne Garner
Nickname:
Birth Date: April 11, 1984
Birth Place: Bakersfield, California, USA
Star Sign: Aries
Height: 5' 5˝" (1.66 m)
Weight:
Marital Status:
First Pan Am Episode: Pilot
Flimography: Click here! to read about her other roles
Parents:
Siblings:
Schooling:

Trivia:
Quotes:
Suddenly, I'm 14 years old at a friend's bar mitzvah, and I'm doing a limbo dance in a really short skirt. Afterwards, this guy comes up to me and says, 'Well, aren't you cute,' and he gives me his card. Turns out he was in the film business, and six months later I was doing TV adverts and trying out for movies.

OK, sure, I have a body. I've had one since I was 16. But the attention it brings me, in life as well as in the industry, makes me really uncomfortable.

I'm mostly cast as the Lolita type, either a blonde bombshell Lolita, or the girl-with-black-hair-who-smokes-weed Lolita. Either way, I'm inevitably the sexpot.

Hollywood can be an ugly place, and it can do ugly things to you. I want to avoid that side of it as much as possible, and I also want to do so much more with my life than just act. Like travel, read books, open my own bakery.

I really feel with this film that I've been able to show my soul rather than my body. And that's a big relief. (On her role as the titular Real Girl in Lars and the Real Girl.)
About the character: Kate Cameron
Adventurer/Rebel

STRENGTH: Tenacity - Won't accept failure, will never stay down in a fight.

WEAKNESS: Over-achiever - Always has something to prove.

Competitive by nature, Kate has lived in the shadow of her younger sister, Laura, all of her life. Kate rebelled against the life that was chosen for her, that of a wife, a mother and instead spread her own wings to fly. Joining Pan Am was her escape; at least until Laura signed on. Now Kate must learn to manage her past with her present. But she takes on an even greater challenge when she agrees to spy for the CIA; a role which makes her unique as she navigates a whole new world of espionage and intrigue.
About the actor:
Kelli Garner is one of today's rising stars, having already impressed audiences in film and stage work that spans both drama and comedy.

On screen Garner notably starred as real-life actress Faith Domergue, opposite Leonardo DiCaprio's Howard Hughes, in Martin Scorsese's award-winning "The Aviator," and opposite Ryan Gosling in Craig Gillespie's "Lars and the Real Girl." She also appeared as the voice of Marcie in Hoyt Yeatman's "G-Force" for producer Jerry Bruckheimer, in Ang Lee's "Taking Woodstock," and in the television series "My Generation."

Other film credits include Stephen Herek's "Man of the House," Mike Mills' "Thumbsucker," Jason Matzner's "Dreamland," Hunter Richards' "London," Larry Clark's "Bully" and Todd Louiso's "Love Liza," with Philip Seymour Hoffman.

On stage Garner most recently starred off-Broadway as the young Nina in the Classic Stage Company's production of Chekhov's "The Seagull," directed by Viacheslav Dolgachev, with Dianne Wiest and Alan Cumming; in Bert V. Royal's play, "Dog Sees God," directed by Trip Cullman; and in Eric Bogosian's play, "1+1," at NYSAF (New York Stage and Film) and directed by Mark Brokaw.

- - - - - - - - - - - - - - - - - - - - - - - - - - - - - - -
Add Bio Info
Change Bio Info
Delete Bio Info